8 июня 2016 Российские аукционы искусства и фотографии
8 июня 2016
Список художников / Полный каталог
---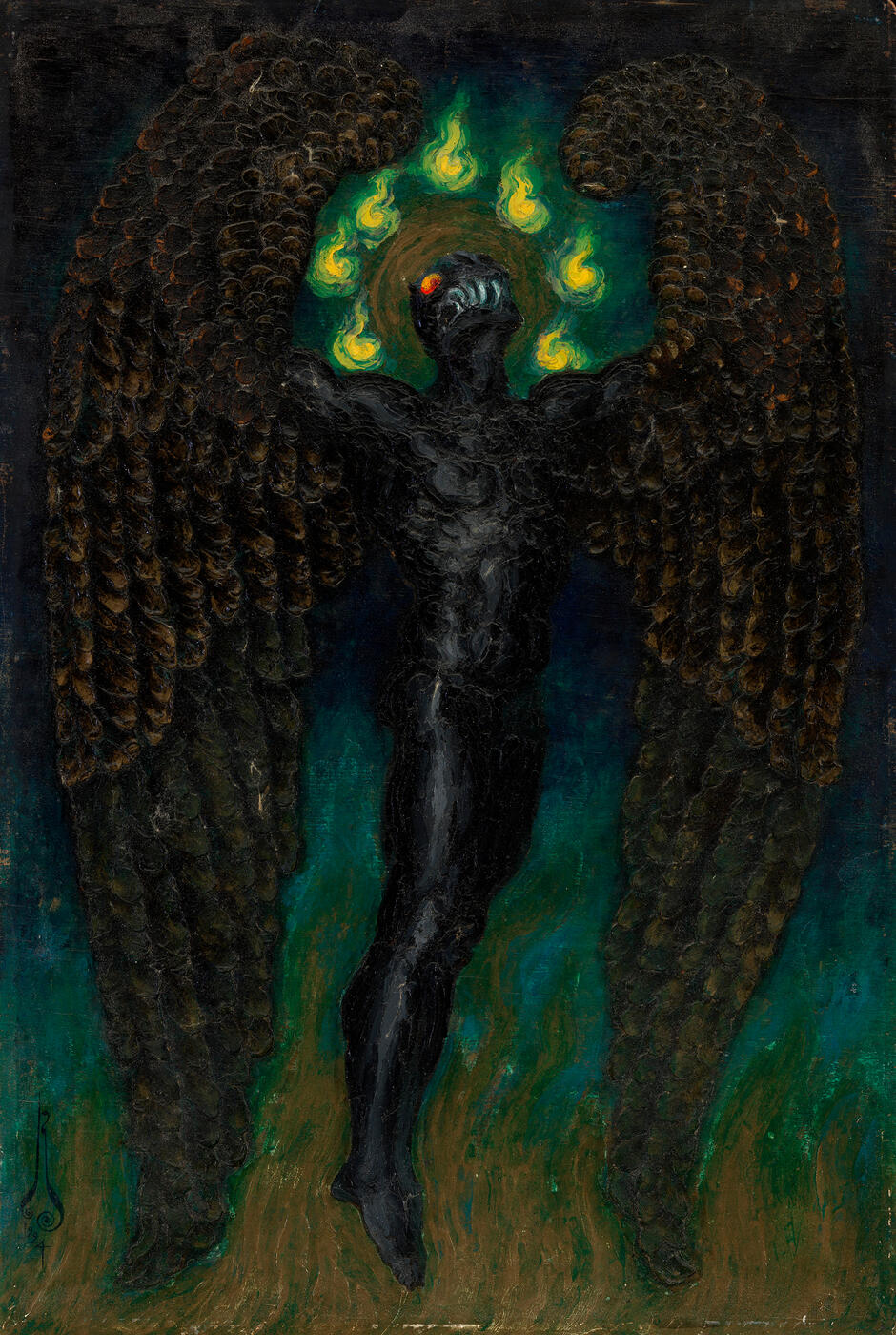 *§ 54. KALMAKOV, NIKOLAI (1873-1955)
L'ange rebelle, signed with a cipher and dated 1924.

Oil on board, 53.5 by 35.5 cm.
60,000-90,000 GBP

Provenance: With Galerie Motte, Paris, c. 1964.
Collection of the film director and actor Kenneth Anger, USA.
Acquired from the above by a previous owner in 1998.
Russian Art, Christie's New York, 18 April 2007, lot 65.
Acquired at the above sale by a previous owner.
Russian Art, Sotheby's London, 22 April 2010, lot 344.
Acquired at the above sale by the present owner.
Private collection, USA.

Exhibited: Nicolas Kalmakoff, Galerie Motte, Paris, 7 February–5 March 1964.

Literature: Exhibition catalogue, Nicolas Kalmakoff, Paris, Galerie Motte, 1964, p. 12, No. 46, listed.
J. Bowlt, Yu. Balybina, Nikolai Kalmakov i labirint dekadentstva. 1873–1955, Moscow, Iskusstvo – XXI vek, 2008, p. 269, illustrated.

L'ange rebelle by Nikolai Kalmakov is one of the few surviving works from the artist's "Infernal" series, which dates from the beginning of the 1920s. Its theme, which Kalmakov first introduced to his art in the 1910s, when St Petersburg society were entranced by Austrian esotericist Rudolf Steiner and his notions of anthroposophy and the "authority of Lucifer", became the painter's most attractive, mysterious and "forbidden" motif. At every stage in his artistic journey, Kalmakov turned to depictions of the Prince of Darkness and his army, always interpreting such visions as a mystical revelation. However much the world and artistic predilections changed around him, Kalmakov's own priorities remained unaltered. In 1924 a large exhibition of the artist's work took place in Brussels. Some 133 works were exhibited at the Le Roy gallery, including depictions of Lucifer and fallen angels. While one cannot say with certainty that the painting L'ange rebelle offered here was part of that exhibition, the very fact that it was executed in 1924, shortly after he completed the triumphant devil in Satan, undoubtedly attests to his unflagging interest in the occult.

Here, the composition is unmistakably influenced by the characters of Satan and his rebel angels from John Milton's epic poem Paradise Lost; they rise into the sky in flame, to clash with God and once again be cast down from Heaven. The entire body of this black fallen angel is directed upwards in a frenzy-like manner. His powerful athletic torso extends out of the one-dimensional composition to create an unexpected effect, while enormous scaly wings shimmer with gold like an encrustation on the surface of the canvas.

The dark night sky on the background of the figure appears as a rugged relief, and seems to vibrate due to a flickering combination of varying shades of blue, green and almost black. Everything here is exaggerated and improbable: the disproportionate wings that seem to sprout from the figure's arms, his toothy grin, his fiery halo. Kalmakov's whimsical fantasy is toying with the extreme, ignoring the principles behind artistic processes and order. Yet the outcome of this game played out on the edges of pictorialism is a peculiar and unnerving sense of some perversion and vice; distortion and oddity both jar and allure our gaze.

It is no coincidence that the French Slavic scholar and collector René Guerra once described Kalmakov's painting as "demonic symbolism and esoteric magic". Indeed, L'ange rebelle, presented here at auction, is the finest confirmation of that.
---
Notes on symbols:
* Indicates 5% Import Duty Charge applies.
Ω Indicates 20% Import Duty Charge applies.
§ Indicates Artist's Resale Right applies.
† Indicates Standard VAT scheme applies, and the rate of 20% VAT will be charged on both hammer price and premium.