MacDougall's Russian Art Auctions 25 марта 2015 г.
25 марта 2015
Указатель художников / Полный каталог
---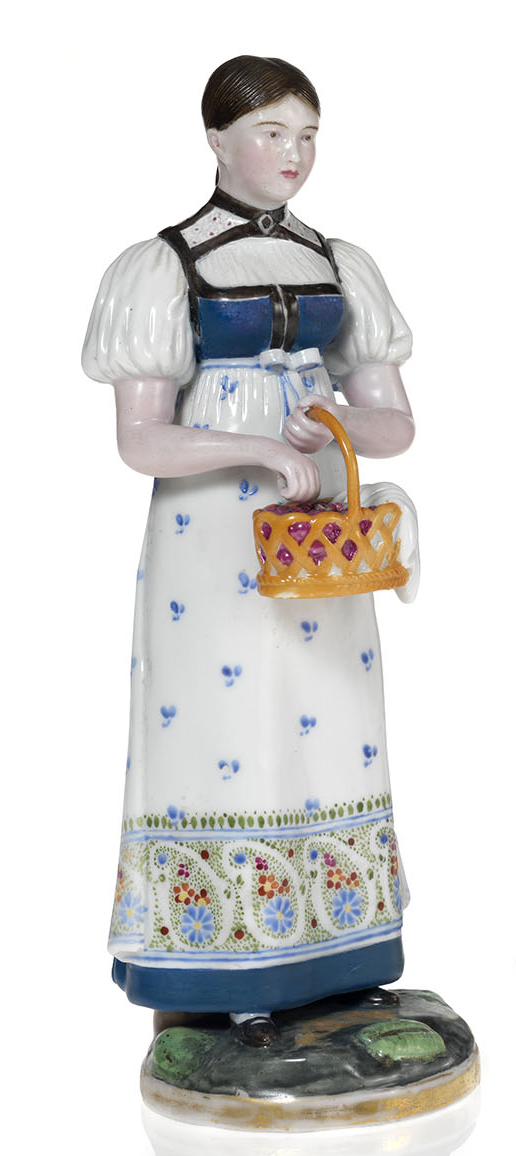 * 47.
A Porcelain Figurine of a Berry Gatherer


3,000—5,000 GBP

GARDNER MANUFACTORY, MOSCOW, EARLY 19TH CENTURY
Height 21 cm.

with underglaze manufactory marks, further incised with a number '2'

In the figurines made by Russian porcelain factories the typical 19th century idealisation of folk types was not an attempt to create an impression through stylisation of the models, nor was it artificially lending dignity to the figurines, but rather it was a sincere desire to reproduce reality as it appeared to the patriotic craftsmen. It is for this reason that Russian craftsmen were so often drawn, with such love, to portraying their fellow countrymen. In 1929 the art critic and writer Ivan Lukash remarked: "All images of Empire and styles have left delicate traces of themselves on porcelain and if there was nothing left of Russia, but shards of porcelain, it would still be possible to represent her splendour and nobility, harmonious beauty and manliness, shining strength and appealing femininity <…> Old Russia was not just powdered wigs: she was porcelain too. The little known and half-forgotten art of ceramics harbours the special dignity and charm of the Russian Empire, its unconsciously gentle breathing and very light footfall. <…> Russia was always garlanded in delicate porcelain" (Ivan Lukash, Porcelain Russia. On Exhibition at Sèvres, Paris, 1929. p. 3).

In the 19th century the miniature porcelain scene introduces figures of peasants in Russian sleeveless dresses, long shirts and bast footwear. From the mid-19th century the number of "simple folk" characters expands to include various subjects from peasants' everyday life; so, in this collection there are figures representing an old peasant woman spinning, peasants repairing and making bast shoes, playing the balalaika and pouring tea, peasant children playing outdoor games etc. Moreover, the same much-loved characters were produced both at the Popov factory and the Gardner factory. Thus, the figurines represented in the collection Old Man Making a Bast Shoe (or Peasant Making a Bast Shoe) and Peasant Woman Spinning (The Spinstress) (lot 85) were made at the Gardner and Popov manufactories at the same time and painted in identical manner.
---
Примечания к символам:
* Указывает, что применяется импортная пошлина в размере 5%.
Ω Указывает, что применяется импортная пошлина в размере 20%.
§ Указывает на то, что применяется право на перепродажу художников.
† Указывает на то, что применяется стандартная схема НДС, и