MacDougall's Russian Art Auctions 25 марта 2015 г.
25 марта 2015
Указатель художников / Полный каталог
---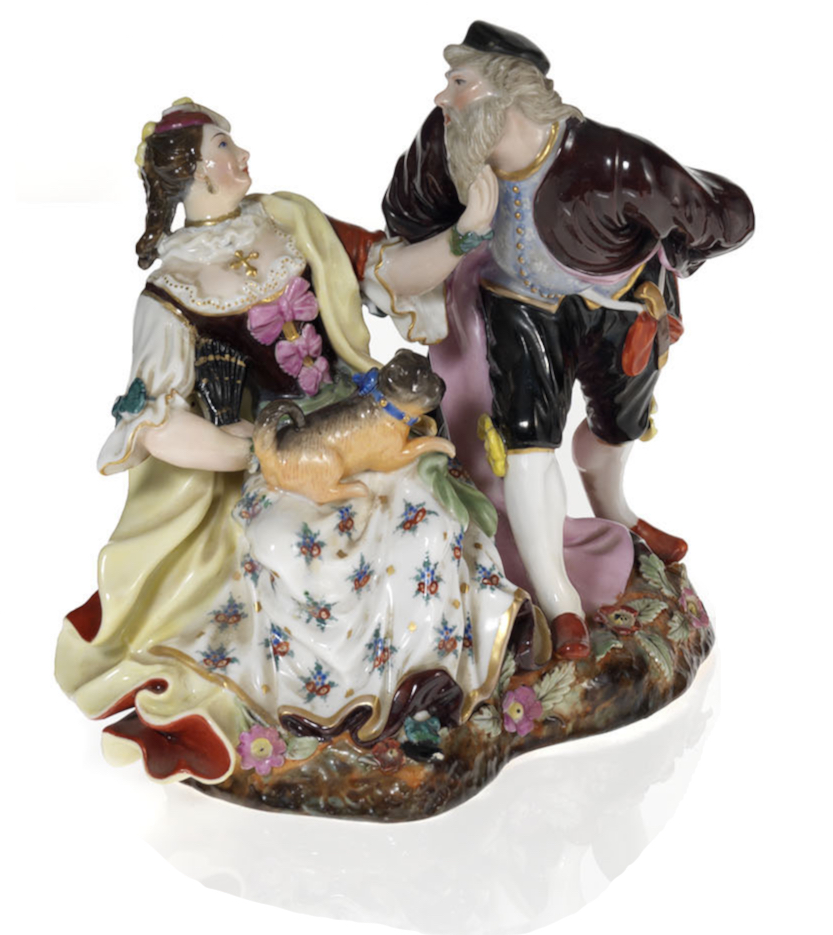 * 23.
A Porcelain Composition of Colombina and Pantalone


7,000—9,000 GBP

POPOV MANUFACTORY, MOSCOW, FIRST QUARTER 19TH CENTURY
Height 16.5 cm.

with blue underglaze and impressed manufactory marks

From the beginning of the 18th century it became especially popular among sculptors and artists to portray characters from the Commedia dell'arte. Amongst them porcelain objects are particularly prominent. Master craftsmen turned images of jugglers and acrobats, dancers and actors, pierrots and harlequins into exquisite porcelain statuettes. Figurines of Skomorokh, Colombina and Pantalone, Pierrot and Harlequin were highly sought-after among aficionados and collectors of porcelain.

The owners of these elegant knick-knacks took pleasure in showing off their figurines by giving them a place in their entrance halls and reception rooms, on their cabinets, fireplace mantels and in girandoles. The fairytale fantasy world of the theatre found its way into the most remote corners of castles and palaces. A sculpture group of Colombina and Pantalone made in 1741 at the Meissen porcelain factory by Johann Kändler became the archetype for compositions of this name produced by various European and Russian manufactories. In the present case, a departure from the Meissen model is introduced by a little dog appearing on Colombina's lap and her holding a fan instead of a mask. Compared with the Meissen, the Popov figure is more brightly coloured and as such successfully combines the Historicist style prevalent in Russia at the time with the lightness and ethereal quality of the Rococo style.
---
Примечания к символам:
* Указывает, что применяется импортная пошлина в размере 5%.
Ω Указывает, что применяется импортная пошлина в размере 20%.
§ Указывает на то, что применяется право на перепродажу художников.
† Указывает на то, что применяется стандартная схема НДС, и