4 июня 2014 Russian Art Auctions
4 июня 2014
Список художников / Полный каталог
---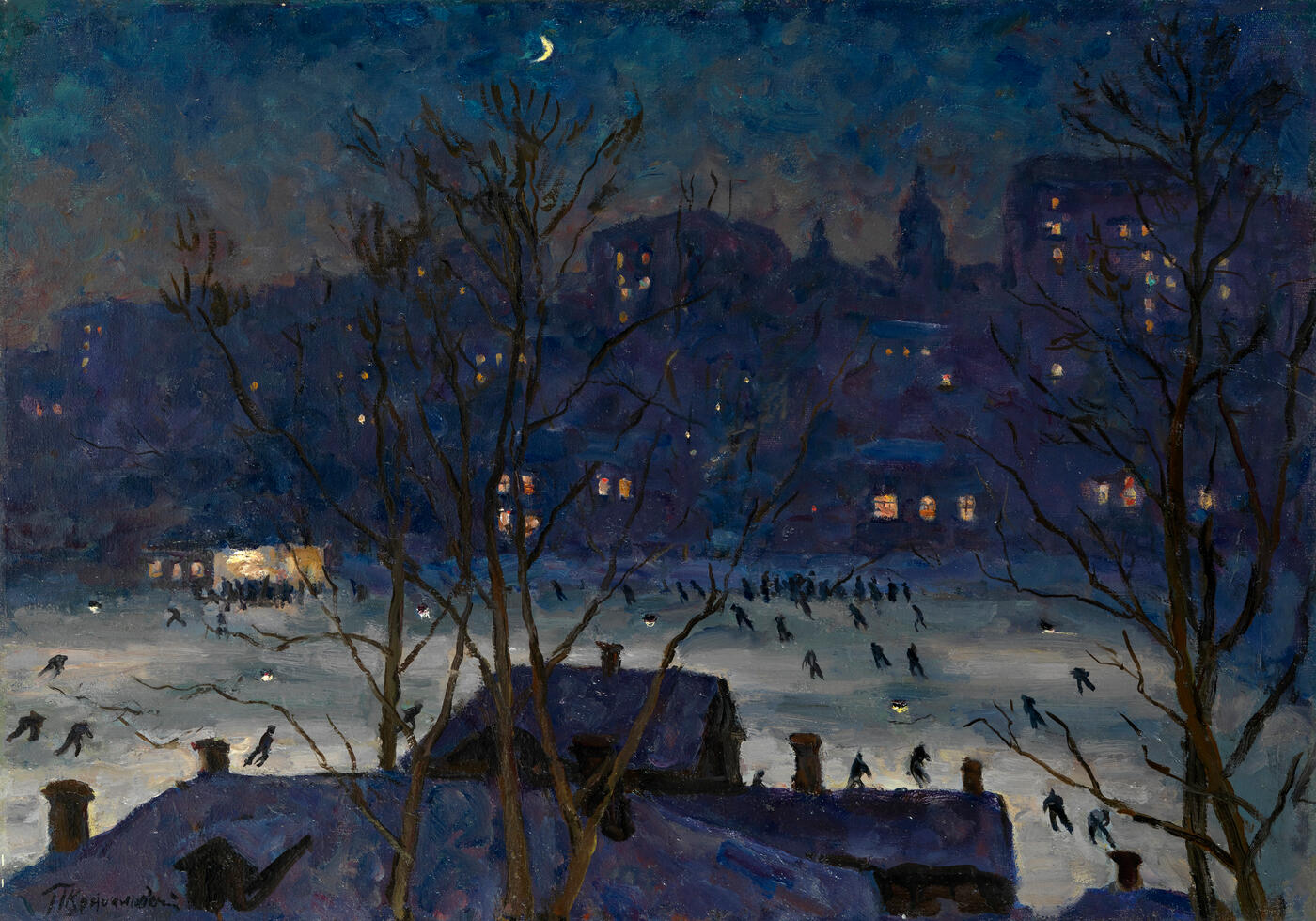 * 59. KONCHALOVSKY, PETR (1876-1956)
Dynamo Ice Rink, signed, also further signed, numbered "1502" and dated 1948 on the reverse.

Oil on canvas, 62.5 by 89.5 cm.
250,000-300,000 GBP

Authenticity certificate from the Petr Konchalovsky Foundation.
Authenticity has also been confirmed by the experts A. Kiseleva and I. Geraschenko.

Literature: Konchalovsky. Khudozhestvennoe nasledie, Moscow, Iskusstvo, 1964, p. 151, listed as "zhi 1210".
M. Neiman, P.P. Konchalovsky, Moscow, Sovetskii khudozhnik, 1967, listed under works from 1948.

Petr Konchalovsky's Dynamo Ice Rink addresses one of his favourite themes in the 1930s and 1940s – Moscow skating rinks. Konchalovsky created a whole series of works depicting winter sports on the ice at Patriarch's Ponds, not far from his studio (Little House by the Ice, On the Ice), and at Dynamo stadium.

Such scenes had been a stock-in-trade of artists for centuries, but they found new life in the work of Soviet artists thanks to the cult of mass sport and healthy leisure pursuits, which arose in the USSR during the 1930s. The invariably upbeat and joyful mood of Konchalovsky's paintings offers a romanticized vision of contemporary Moscow. The painter strikes a balance between the optimistic depiction of Socialist reality required of every artist at the time, and his own artistic and human credo, while avoiding internal conflict.

The associations evoked by Dynamo Ice Rink, have less to do with the capital's main stadium (Dynamo was the venue for sports parades and all the most prestigious sporting contests of the time), and more to do with yet another corner of the city, beloved of Konchalovsky. The artist does not show the main arena, but the so-called "Little Dynamo" in front of Upper Maslovka street and Petrovsko-Razumovskaya Alley, where the Maslovka artists' colony was situated.

The panoramic composition offers a view onto the ice-covered field, seemingly glowing from within, and across the city at evening, half moon suspended above the silhouettes of houses and warm light twinkling in the windows. The lively and dynamic figures of the skaters, features of the background houses, even the branches of the trees through which the artist looks are painted schematically, without detail. "People whirl around the skating rink like tea leaves in a saucer" (On the Ice, Vasily Lebedev-Kumach) and this combination of chaotic motion in an impressionistically soft landscape with a strong graphic structure provides the overall mood of the canvas. Konchalovsky convincingly transmits the dynamics and the romance of skating by night, but what he most wanted to do in this picture was undoubtedly to convey the light and airy quality of the environment and the colourful spectacle of a frosty winter evening in the city. This is what the picture achieves, creating a truly marvelous Moscow landscape, imbued with the spirit of the time.


---
Примечания к символам:
* Указывает, что применяется импортная пошлина в размере 5%.
Ω Указывает, что применяется импортная пошлина в размере 20%.
§ Указывает на то, что применяется право на перепродажу художников.
† Указывает на то, что применяется стандартная схема НДС, и