4 июня 2014 Russian Art Auctions
4 июня 2014
Указатель художников / Полный каталог
---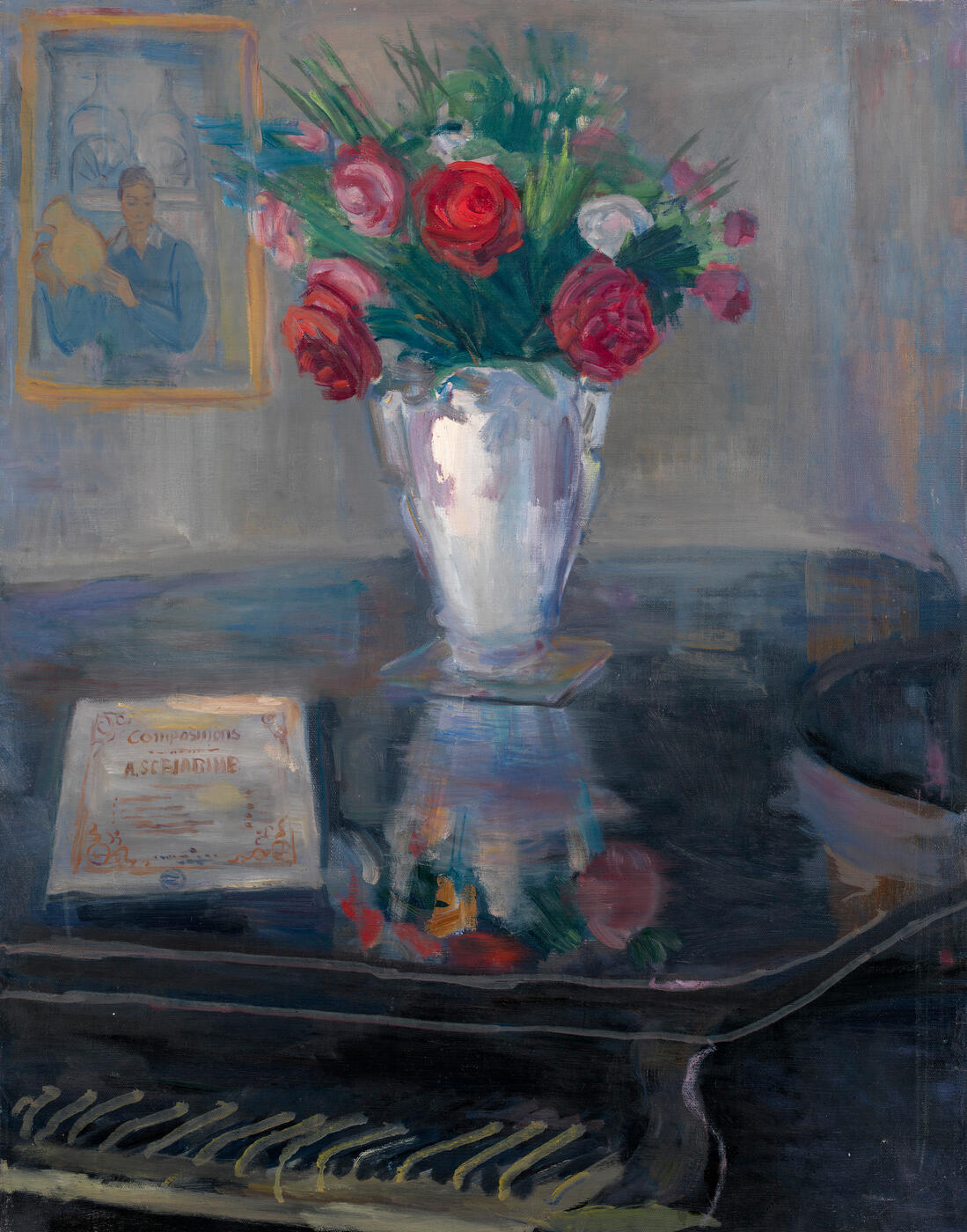 * 20. KUZNETSOV, PAVEL (1878-1968)
Still Life on a Grand Piano with a Portrait of E. Bebutova, titled in Cyrillic and numbered "341" on the reverse.

Oil on canvas, 99 by 78 cm.
200,000-300,000 GBP

Provenance: Collection of the artist's family.
Acquired from the above by the present owner.
Authenticity of the work has been confirmed by the expert V. Petrov.

Pavel Kuznetsov is one of the finest and most sensitive Russian painters of the first half of the 20th century. The colours in Still Life on a Grand Piano with a Portrait of E. Bebutova are rich and deep and are based on an astonishingly beautiful interplay of cool tones with warmer highlights. Kuznetsov's efforts to explore and understand colour provided inspiration for several generations of Russian artists. His name was connected with the legendary Blue Rose and Mir iskusstva groups which became symbols of Russian figurative art's Silver Age.

Kuznetsov's work is often characterised by the masterly way he conveys reflected light to create a special, captivating atmosphere. The narrative of the objects depicted is no accident. The exercise book on the lid of the grand piano containing a score by Scriabin, a composer Kuznetsov loved and revered, the familiar vase that is in much of his work and the reproduction of Portrait of Bebutova on the wall are all indoor trappings from the world of the artist. The whole tenor of the painting is extraordinarily musical. The essence of the mood conveyed in Still Life on a Grand Piano with a Portrait of E. Bebutova defines the general character of the artist's work: deep and philosophically considered.
---
Примечания к символам:
* Указывает, что применяется импортная пошлина в размере 5%.
Ω Указывает, что применяется импортная пошлина в размере 20%.
§ Указывает на то, что применяется право на перепродажу художников.
† Указывает на то, что применяется стандартная схема НДС, и