5 июня 2013 Russian Art Auctions
5 июн. 2013
Указатель художников / Полный каталог
---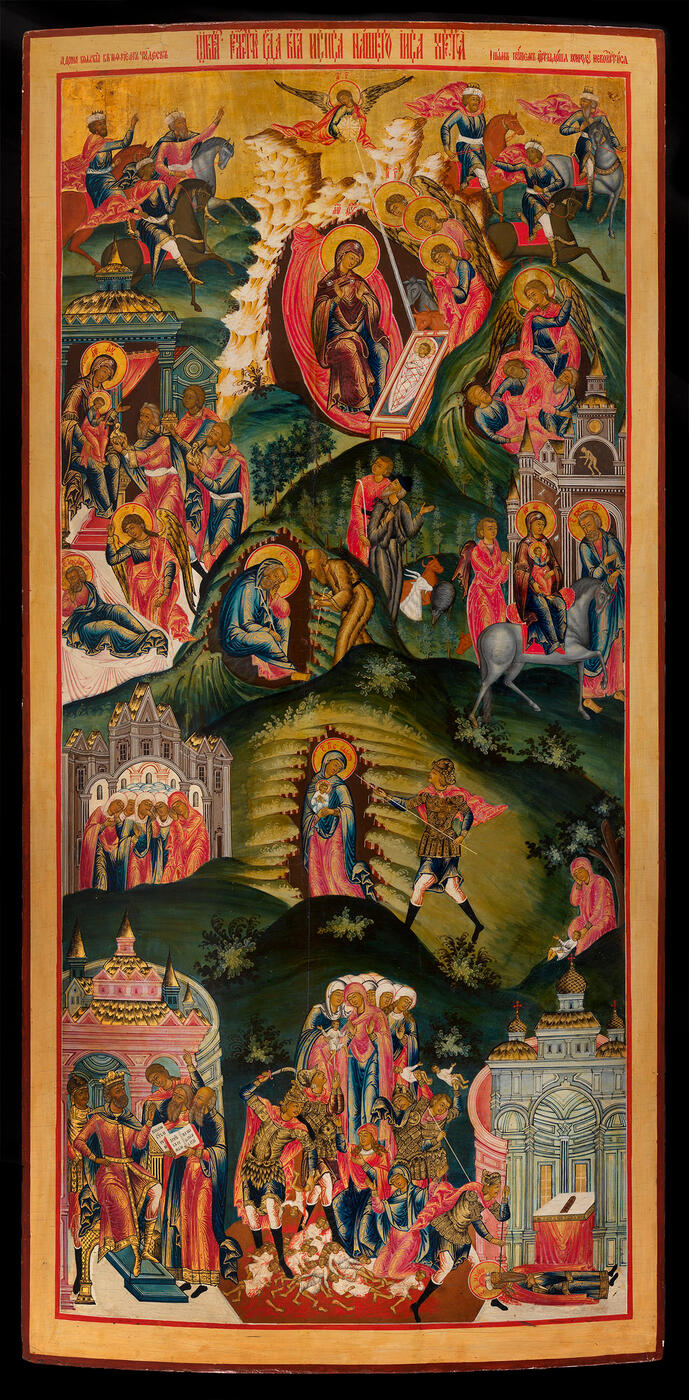 603. A LARGE ICON OF THE NATIVITY OF CHRIST
YAROSLAVL PROVINCES, END OF THE 18TH TO BEGINNING OF THE 19TH CENTURY.

143 by 68 cm.
20,000–30,000 GBP

Related Literature: For similar works, see Ikony Yaroslavlya XIII - serediny XVII vekov. Shedevry drevnerusskoi zhivopisi v muzeyah Yaroslavlya (Yaroslavl Icons of the 13th - Mid 17th Centuries. Masterpieces of the Old Russian Painting in the Yaroslavl Museums), Moscow, 2009, vol. 2, cat. 182, pp. 350-357.

This bright, joyful icon was painted around the late 18th to early 19th century in the Yaroslavl region and dedicated to the Feast of the Nativity of Christ. The vertical structure easily accommodates the distinctive Yaroslavl iconography. This version, distinguished by its exceptional narrative completeness, is best exemplified by the mid-17th century icon from the circle of Joseph Vladimirov which has the following subjects: the Journey of the Magi, the Nativity of Christ, the Adoration of the Magi, the Angel appearing to the sleeping Magi, the Angel appearing to the sleeping Joseph, the Flight into Egypt, Herod calling for the Scribes advice, the Massacre of the Innocents, Mothers bewailing the slaughtered Innocents, the Flight of St. Elizabeth with the infant John the Baptist into the desert, St. Elizabeth hiding with the infant in the mountain cleft and the murder of the chief priest Zacharias.

The colours used in the icon contain every shade of green, red and rose, the figures' garments are meticulously ornamented with gold, and although the bottom third of the icon is taken up with the Massacre of the Innocents scene, the icon as a whole lacks dramatic effects.

There is an unusual iconographic feature in the upper part of the Flight into Egypt scene; a homunculus in the temple's dark arch appears to throw human body parts onto the Mother of God and Christ child below. This very rare detail gives this image the mark of uniqueness.


---
Примечания к символам:
* Указывает, что применяется импортная пошлина в размере 5%.
Ω Указывает, что применяется импортная пошлина в размере 20%.
§ Указывает на то, что применяется право на перепродажу художников.
† Указывает на то, что применяется стандартная схема НДС, и