5 июня 2013 Russian Art Auctions
5 июн. 2013
Указатель художников / Полный каталог
---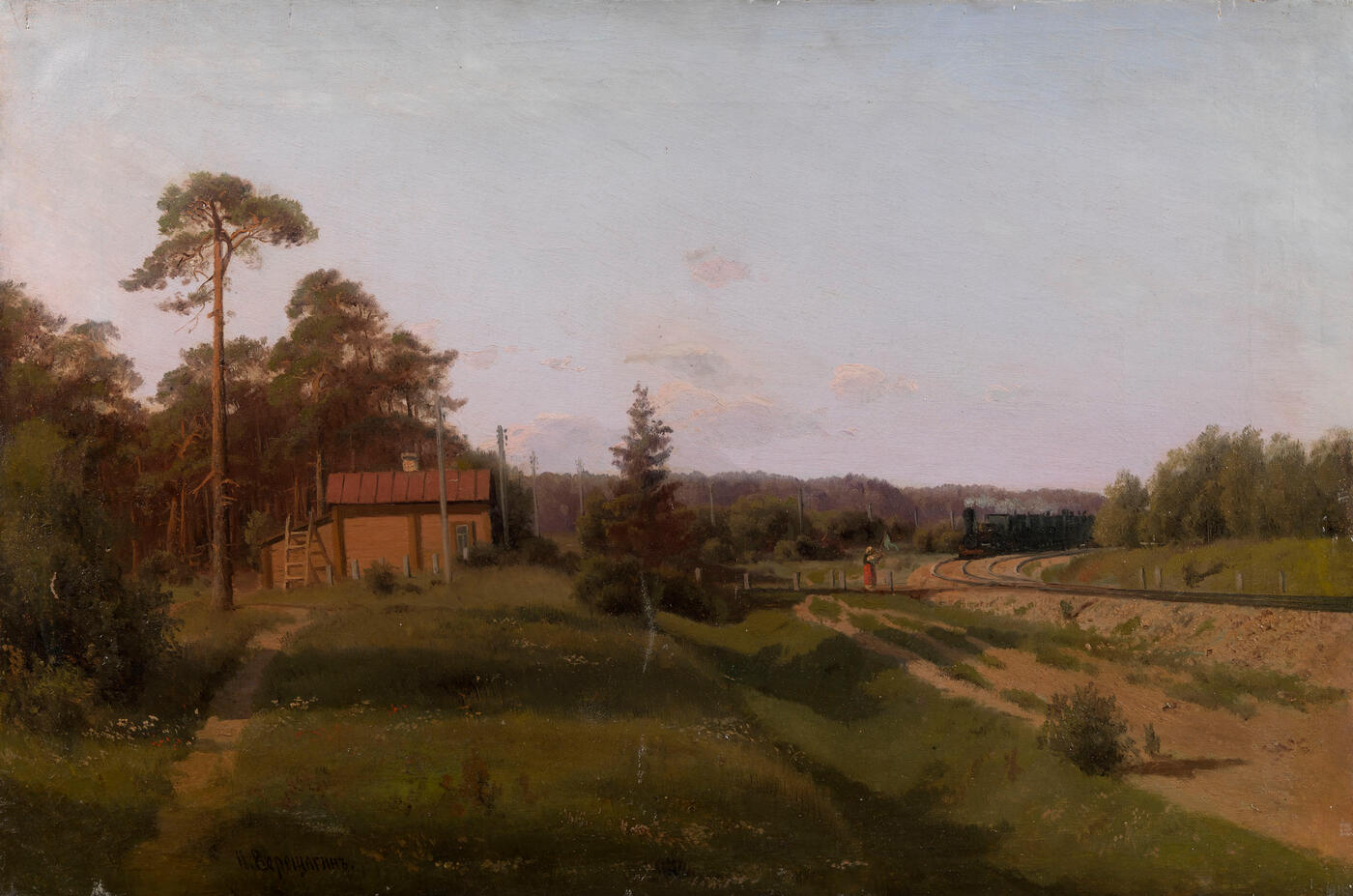 * 128. VERESCHAGIN, PETR (1836-1886)
Locomotive, signed.

Oil on canvas, 49.5 by 74 cm.
80,000–120,000 GBP

Provenance: Anonymous sale; Estate Auction (to benefit victims of the Bernie Madoff hedge fund scandal), Kodner Galleries Florida, 20 May 2009, lot 200.

Authenticity of the work has been confirmed by the expert V. Petrov.

Locomotive is one of the most lyrical of Petr Verschagin's compositions on the subject of the arrival of the railway in the Russian provinces which captivated him in the 1970s. A remarkable landscapist, Vereschagin devoted his life to the depiction of the most varied towns in Russia. He travelled widely, painting studies and making sketches. His best studies and paintings are views of St Petersburg, Moscow, Kiev, the Crimea, Nizhny Novgorod, Perm, Tiflis, Baku, Pskov, Kazan, Vladimir, Vyborg which he showed annually at academic exhibitions necessitating the artist to search for new places to depict every year.

"Roads, roads, roads..." by his own recognition, Vereschagin admitted that it sometimes seemed as if "his whole life was one long road, as if someone is chasing him, urging him to see as much as possible. And having caught sight of one, he would take up his brushes and paints before a blank canvas". Thus, when the railway network began to replace the old relay stations all over Russia, unlike many of his peers, the artist welcomed this progress with enthusiasm. In the 1870s he even purposefully went to make sketches of the river Chusovaya, along which a railway was at that time being built. He then spent an entire decade producing paintings from these numerous studies, sensitively incorporating these new historical realities into the charming Ural landscapes. These works include View of the Chusovaya River at the Crossing of the Bridge and the Ural Railway and Urals, Chusovaya Station from the collection of the State Literature Museum, Moscow and Arkhipovka, a depiction of a construction train, from the collection of the Perm Museum of Fine Arts. The present lot also belongs to this series.

This small landscape is a view of a provincial road, lost somewhere is the vast expanses of Russia, which Vereschagin conveys without recourse to the sharp linear manner sometimes seen in his urban landscapes. The warm evening light pours over the path leading towards the solitary house, the sandy railway embankment, lush summery grasses, pines and copses running into the horizon. The sleepy evening silence is broken only by the railway, along which a locomotive is racing, steam pouring from its funnel, a harbinger of a new, unprecedented life. The artist is enamoured of this motif which combines the dynamism of modernity with eternal calm, whilst the deliberate simplicity of the "themeless" foreground, the expanse of sky and prosaic landscape fill the composition with honesty and spirituality. The invariably high quality of Vereschagin's painting and the motif so characteristic of its time make Locomotive a fine example of the Russian landscape school during its transition from academism towards a more emotive style.


---
Примечания к символам:
* Указывает, что применяется импортная пошлина в размере 5%.
Ω Указывает, что применяется импортная пошлина в размере 20%.
§ Указывает на то, что применяется право на перепродажу художников.
† Указывает на то, что применяется стандартная схема НДС, и