MacDougall's Russian Art Auctions 27-30 мая 2012 г.
27 мая 2012
Список художников / Полный каталог
---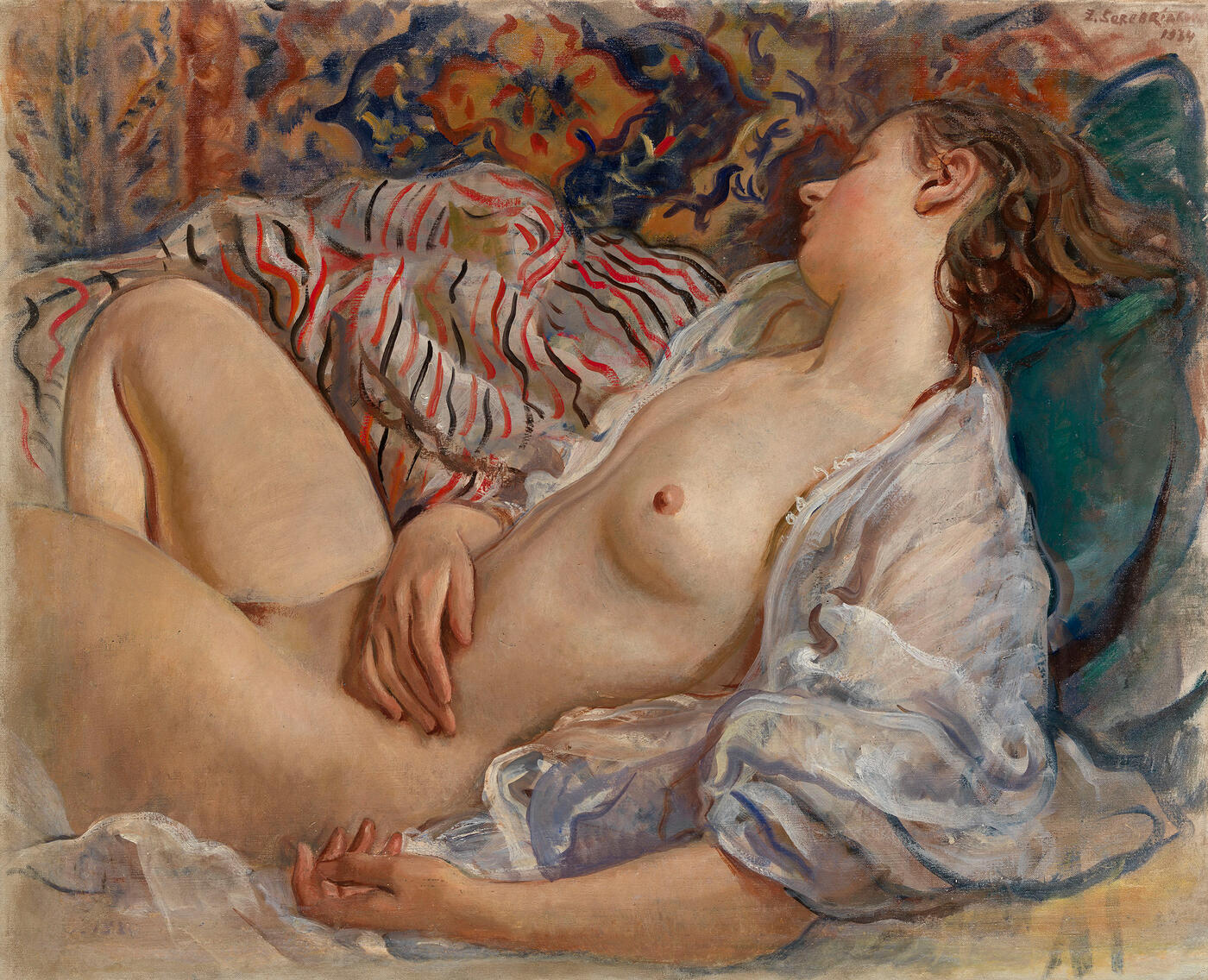 *§ 11. SEREBRIAKOVA, ZINAIDA (1884-1967)
Sleeping Nude (Katya), signed and twice dated 1934, once indistinctly.

Oil on canvas, 65 by 80 cm.
900,000–1,200,000 GBP

Provenance: Anonymous sale; The Russian Sale, Sotheby's London, 10 May 2000, Lot 65.
Acquired at the above sale by the present owner.
Private collection, Europe.

Authenticity of the work has been confirmed by the experts A. Kiseleva and I. Geraschenko.

Related literature: For another version of the same composition, see Zinaida Serebriakova (1884–1967), Syseca, Malakoff, 1995, p. 15.

The present work by Zinaida Serebriakova is an undoubted masterpiece among her famous nudes. Here the artist deploys a distinctive freedom and fluidity in her development of a classic theme in world art – the depiction of a sleeping sitter. Taking up the imagery of the sleeping Venuses of the Venetian masters, the nymphs of Boucher and the bathers of Cabanel and Renoir, Serebriakova does not reduce her model to some anonymous heroine of ancient mythology, rather, it is the "stolen moment" that interests her, catching a young girl, languid and flushed from sleep, at her most natural and without artifice. It is notable that the model here was the artist's 22 year-old daughter Katya, her favourite sitter since the 1920s.

We need only cast our minds back to the celebrated 1923 work in the Peterhof Museum, Katyusha on a Blanket, with the figure of the sleeping child sprawling across a vivid blue background, which initiated a whole series of similar works. Later too, in the best works of Serebriakova's Petrograd and Paris periods we encounter this same, invariably smiling, mischievous young thing. Undressed and standing by the bed (Katyusha Nude, 1922); leaning on the balustrade, head thrown back and draped in a red shawl (Nude Leaning on Balustrade, 1929); sleeping, arms spread theatrically, amidst a mass of red and blue drapery (Nude, 1928); or lying peacefully on the bed-sheets (Nude, 1927). Yet the particular characteristics of the scene and the degree of finish in each of these works are always different, governed by whatever challenge Serebriakova has set herself. Thus the picture now offered for auction, painted with an extraordinarily free hand and splendid understanding of the female form, is among the most developed and finished of the artist's works. Serebriakova achieves an overarching harmony in the composition, finding equilibrium between volume and linear rhythm and introducing colour and variation with the drapery. The delicate light effects and the warmth of the skin tone are particularly enhanced by the background of plain green cushions and the busily patterned blanket and rug hanging on the wall behind. Intoxicated by her ravishing model, Serebriakova creates an unreservedly sensual image of the naked young woman, accurately capturing the complex pose with a supple contour line and conveying the delicate, graceful sinuosity of her body. According to Alexander Benois, who in his letters often wrote admiringly of Serebriakova's "peerless nudes", this magnificent painting, full of internal movement, is animated "not by a generalised sensuality but by something specific, which we recognise from our literature, from our music, from our personal experiences. This is truly the flesh of our flesh. Here is that grace, that comfortable languor, that cosy, domesticated side to Eros – all of which are actually more alluring, more subtle and sometimes more perfidious, more dangerous than what Gauguin found on Tahiti and in search of which blasé Europeans left their pampered life at home and set off in the footsteps of Pierre Loti, across the whole of the white, yellow and black world" (Alexander Benois, Khudozhestvennye pis'ma, 1930–1936. p. 175).

This Sleeping Nude from 1934 is a kind of summation of Serebriakova's many years of experimentation and study in the genre. It combines an expressivity in the silhouette with painterly accomplishment in the brushwork allowing us to confidently assert that this represents one of the peaks of Serebriakova's distinctive style.
---
Notes on symbols:
* Indicates 5% Import Duty Charge applies.
Ω Indicates 20% Import Duty Charge applies.
§ Indicates Artist's Resale Right applies.
† Indicates Standard VAT scheme applies, and the rate of 20% VAT will be charged on both hammer price and premium.