MacDougall's Russian Art Auctions, 1 декабря 2011 г.
1 декабря 2011
Список художников / Полный каталог
---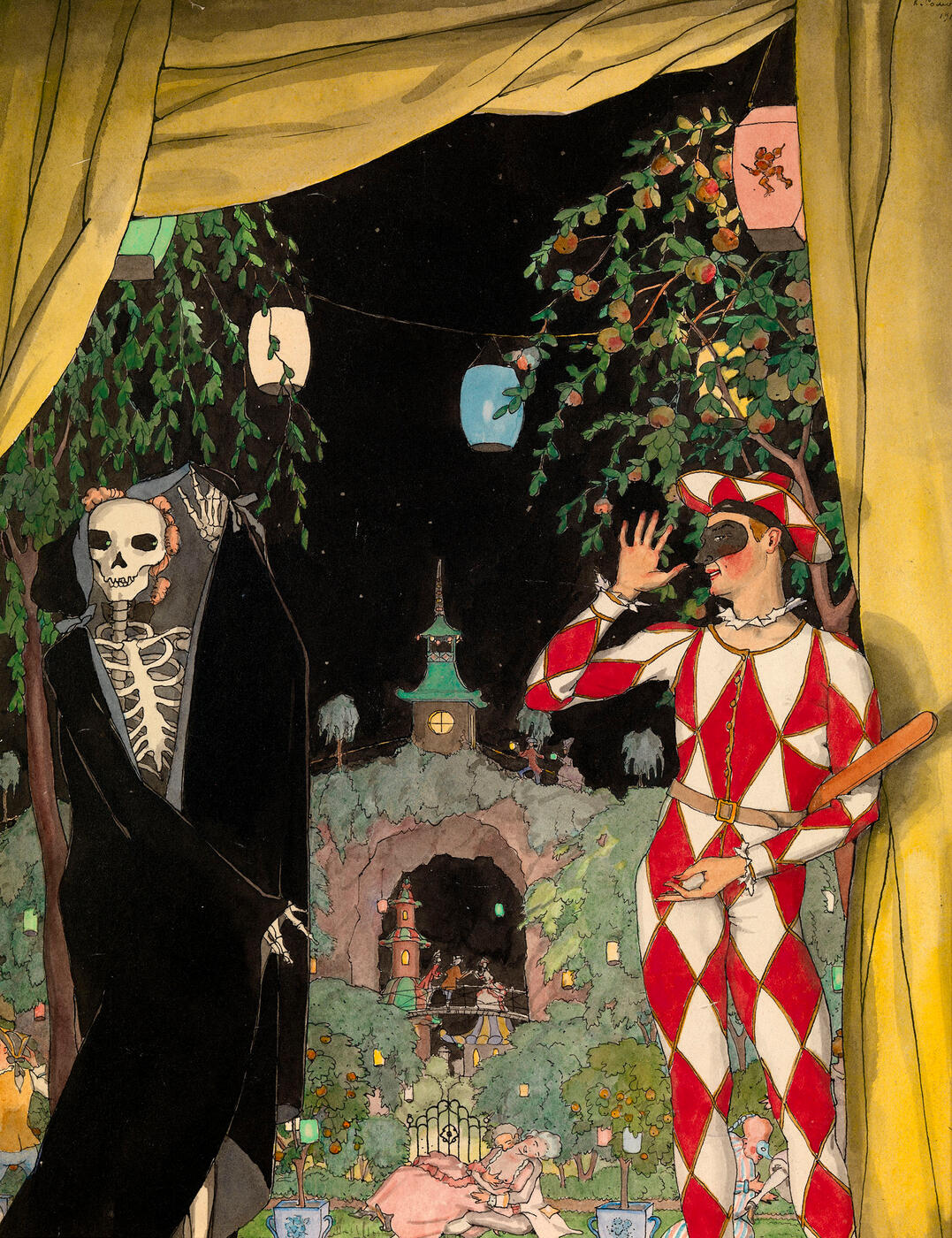 66. SOMOV, KONSTANTIN (1869-1939)
Harlequin and Death, signed and dated 1918.

Black ink, watercolour and gouache on paper, 28.5 by 22.5 cm.
110,000-190,000 GBP

Provenance: Anonymous sale; Christie's, London, 5 October 1989, Lot 297.
Private collection, Europe.
Anonymous sale; Important Russian Pictures, Christie's, London, 28 November 2007, Lot 385.
Acquired at the above sale by the present owner.
Private collection, UK.

Konstantin Somov's exquisite drawings and watercolours excited great admiration among his contemporaries and to this day continue to delight aficionados of his astonishing talent, not only in Russia but all around the world. An impeccable draughtsman and striking colourist, Somov strove for excellence and perfection in each one of his compositions, even the smallest. His harmonious use of colour, intuitive tonal balance and fine linear precision make his work instantly recognisable. The evocative intensity of the colours chosen and the depth of light and shade in each of his pieces lend them all, without exception, an extraordinary vibrancy and tremulous lyricism. The subject might be distinguished by a pale, barely perceptible watercolour "ripple", or by a rich contrast of red and black, tingeing it with emotion and imparting a particular musical quality to it. The artist worked repeatedly on the Harlequin and Death allegory, varying the graphic intonations in new and diverse ways. The decorative style and the unreserved attention that Somov gave to even the tiniest of details are characteristic of the World of Art group, one of the major artistic movements that contributed to the fame of Russian art of the Silver Age.
---
Примечания к символам:
* Указывает, что применяется импортная пошлина в размере 5%.
Ω Указывает, что применяется импортная пошлина в размере 20%.
§ Указывает на то, что применяется право на перепродажу художников.
† Указывает на то, что применяется стандартная схема НДС, и