Аукционы русского искусства MacDougall's 1-2 декабря 2010 г.
1 дек. 2010
Указатель художников / Полный каталог
---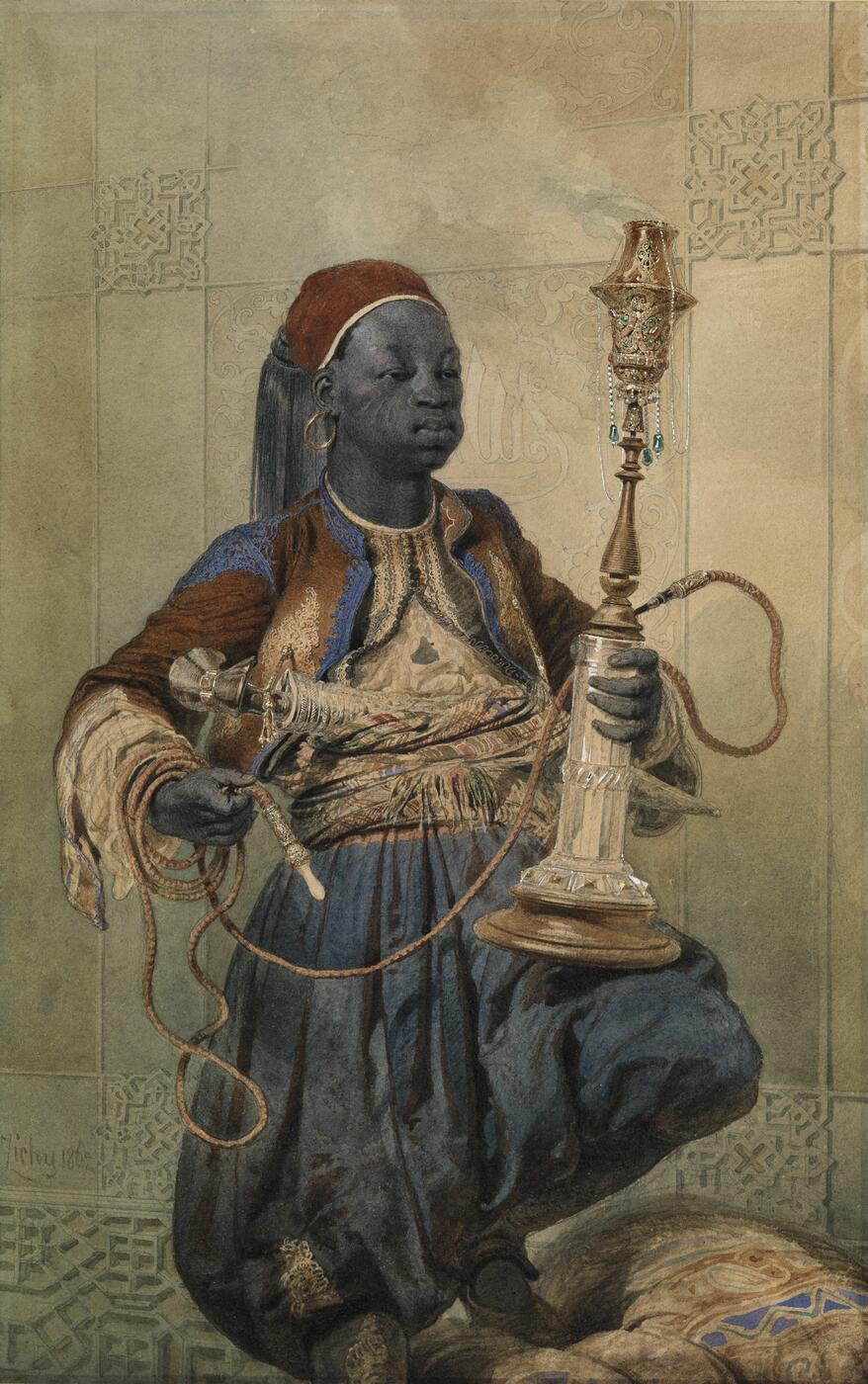 13. ZICHY, MIKHAIL 1829-1906
Nubian with a Waterpipe signed and dated 1862

Pencil and watercolour, heightened with white, on paper, 49.5 by 31 cm
40,000-60,000 GBP

Provenance: Private collection, USA.

Exhibited: Mihály Zichy, Gustave Doré. Deux "monstres de génie", Musée Félicien Rops, Namur, Belgium, 12 September 2009 - 3 January 2010.

Literature: Exhibition catalogue, Mihály Zichy, Gustave Doré. Deux "monstres de génie", Musée Félicien Rops, 2009, p. 22, fig. 14, illustrated.

This magnificent watercolour offered here for auction dates from the peak of Zichy's creativity. Hungarian by birth, Mikhail (Mihály) Zichy settled successfully in Russia, becoming exceptionally popular at court. He was, with good reason, dubbed the darling of three Russian emperors. Zichy worked in a variety of materials, including oils, but he made his mark above all as a first-class watercolourist. His watercolour and mixed-technique works on paper are distinguished by an unsurpassed skill and richness. Oriental subjects, which had become fashionable in the mid-19th century, also found their way into Zichy's oeuvre. The detail in his architecture, interiors, fabrics, jewellery and weapons, elaborated to the point of illusion, rivalled the best exponents of French Orientalism, and his works occupied a well-deserved place in the collections of the capital's elite. Nubian with a Waterpipe can safely be compared to Zichy's very best works and is undoubtedly of museum quality.
---
Примечания к символам:
* Указывает, что применяется импортная пошлина в размере 5%.
Ω Указывает, что применяется импортная пошлина в размере 20%.
§ Указывает на то, что применяется право на перепродажу художников.
† Указывает на то, что применяется стандартная схема НДС, и