MacDougall Auctions 2-3 декабря 2009 г.
2 декабря 2009
Список художников / Полный каталог
---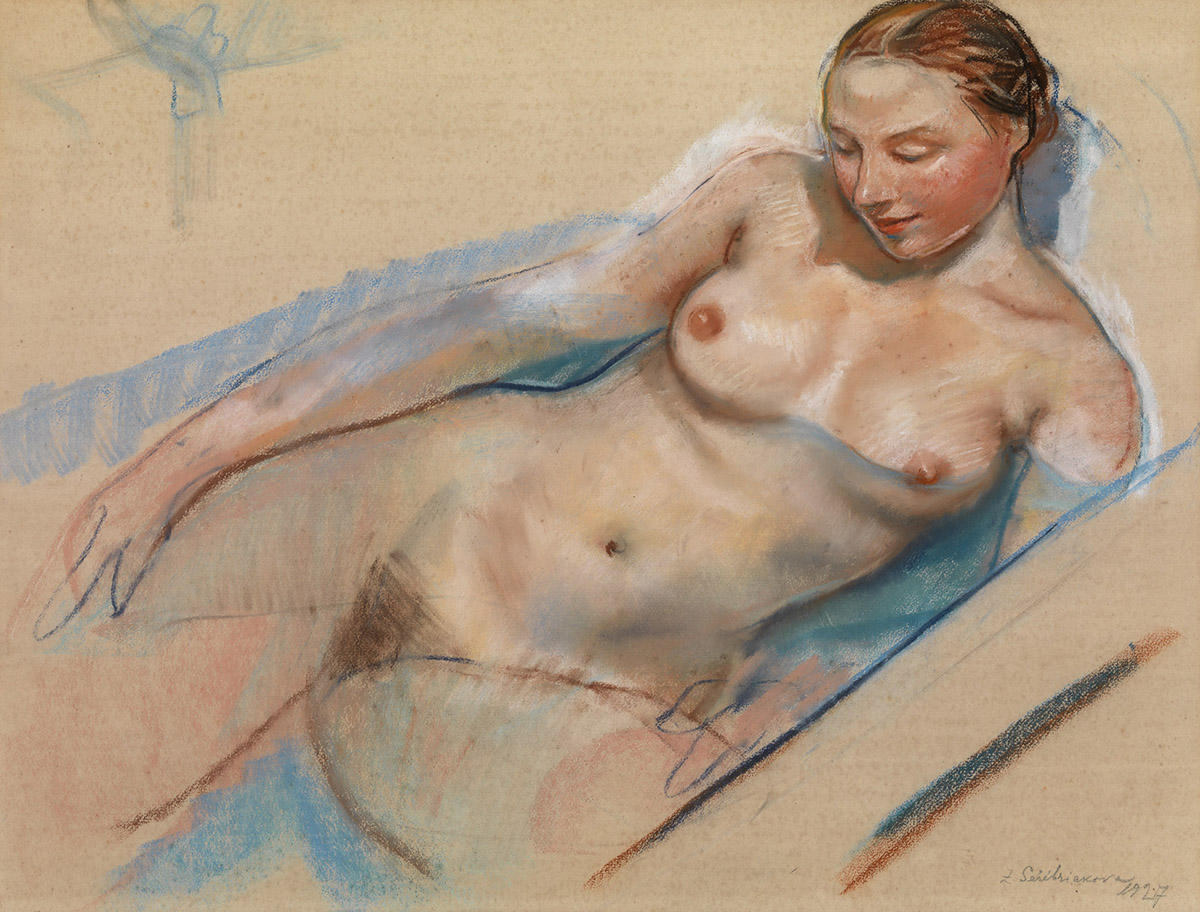 237. SEREBRIAKOVA, ZINAIDA 1884-1967
Bathing Nude signed and dated 1927

Pastel and pencil on paper, 47 by 62 cm.
300,000-500,000 pounds

Provenance: Private collection, UK.

Authenticity has been confirmed by Catherine Boncenne, niece of the artist.

Related literature: For similar works, see V. Kruglov, Zinaida Serebriakova, Zolotoi Vek, St Petersburg, 2004.

Serebriakova's lovely pastel Bathing Nude, which she executed in 1927, is one of the earliest in a series of portraits of a young, dreamy model who became the artist's favourite "life model" between the end of the 1920s and the first half of the 1930s. In Serebriakova's best works of this period, we time and again encounter this same, invariably pensive girl from a Parisian Russian family. She poses lying serenely on sheets with a red scarf (Nude with a Scarf, 1932); blowing out a candle before going to sleep (Nude with a Candle, 1934); sleeping (Nude, 1927); washing herself in a bath-house, long tresses of hair over her shoulder (The Bathhouse, 1926); and rubbing herself dry and relaxing (Reclining Nude in a Light Cherry Cloak, 1934).The nuances of the way the model is portrayed vary in each case, and some of the works are less finished than others. These variations are determined by the goals Serebriakova set herself in each occasion. For example, the work presented for the auction, similar to Torso for which the same model sat and which is now in the State Russian museum, is one of the more lively and gentle studies. It is executed in pastel, which brilliantly conveys the nuances of air and colour and is so well-suited to the purpose that even the seemingly misplaced strokes of chalk all but enhance the impression of the vibrancy of life.

As an artist specialising in life drawing and painting, Serebriakova occupies a special place in the history of the art of her native land. She had no systematic training, but she did possess a natural taste in relation to how to portray a human body.

The young artist had her first lessons in the laws of human anatomy during a brief period of study in the school of M.K. Tenisheva and in the studio of O. Braz in St Petersburg. Her education was continued in Paris (1905 to 1906), where she made a detailed study of the Louvre collection and made sketches from works by Brueghel, Watteau, and Fragonard that had made an impression upon her.

Serebriakova produced her first "female bathers" in early 1920s, thus laying a foundation to a whole series of works that would bring her international recognition.

Following a move to Paris in 1924, Serebriakova revisited her avourite topic and spent quite some time doing life drawing and painting. Thus, she created another version of her renowned work The Bathhouse, featuring the same model that sat for the pastel presented for the auction. However, the artist's principal achievements between the late 1920s and the 1930s were her studies and her life sketches in pastel and oil, in which Serebriakova refrained from attempting, similar to Kabanel, to transform her life models into abstract "bathers" or heroines of ancient mythology. She filled her albums with entire series of "nudes" lying, sitting, and standing in various poses, drawn with astonishing ease and with a fine understanding of the female body.

Serebriakova herself explained her passion for drawing and painting the naked body in a letter which she wrote from Paris to A. Savinov: "I have always had a passion for the theme of the nude, and the subject of The Bathhouse was merely a pretext for this purpose, and you are right that this is 'simply because a young and clean human body is a nice thing'. At the beginning of my time here, that is from 1922 to 1934, I had a number of acquaintances – nice young Russian girls – who would agree to sit for me. Then they would go off and get married, and after that they would no longer have any time to act as models. I did not have the money to draw and paint professional life models, and I began to content myself with drawing and painting still life instead, and also managed to find some joy of painting in this 'quiet life' also …"
---
Notes on symbols:
* Indicates 5% Import Duty Charge applies.
Ω Indicates 20% Import Duty Charge applies.
§ Indicates Artist's Resale Right applies.
† Indicates Standard VAT scheme applies, and the rate of 20% VAT will be charged on both hammer price and premium.