MacDougall Auctions 2-3 декабря 2009 г.
2 декабря 2009
Указатель художников / Полный каталог
---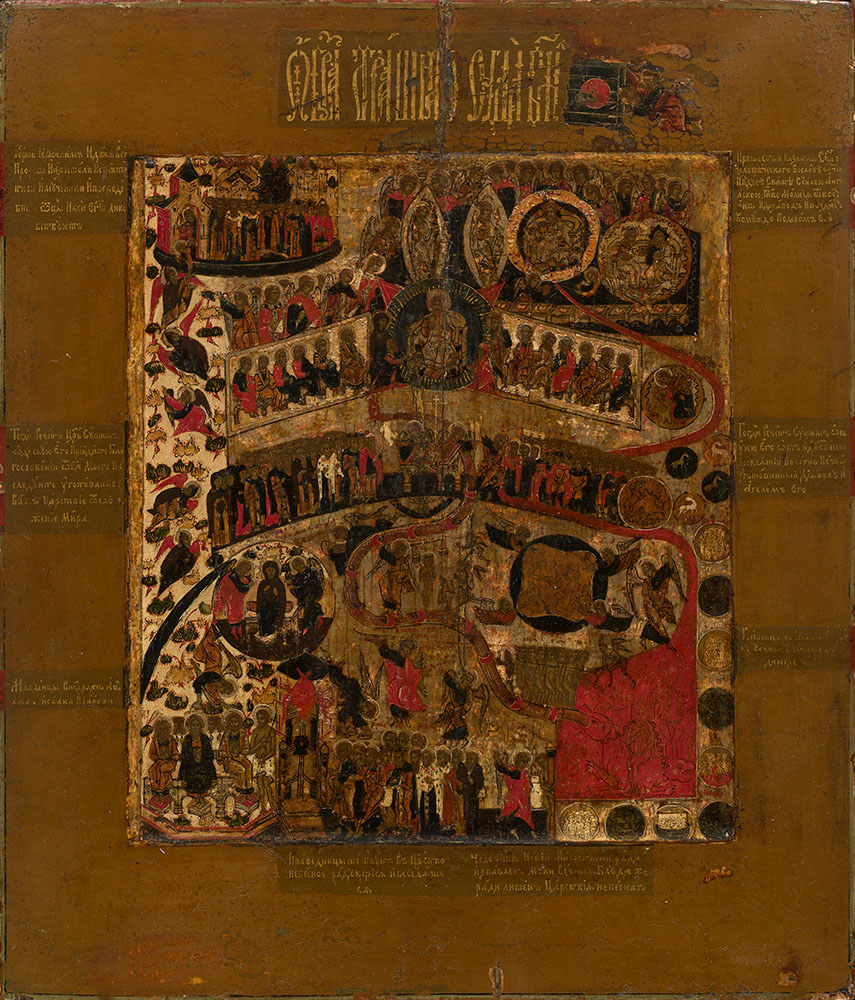 * 104. THE LAST JUDGEMENT
POVOLZHIE(?), MID TO SECOND HALF OF THE 17TH CENTURY, INSERT (VRESOK)

36 by 30.7 cm.
30,000-50,000 pounds


The detailed version of Last Judgment iconography, represented on this small icon intended for private devotion, became widespread in Russian art from the 16th century. The composition follows the traditional scheme, in which the central part is taken by Christ the Judge, unusually portrayed here as Christ in Majesty. On either side of Him are the Mother of God and St John the Baptist, interceding before the Lord and asking Him to show mercy to humankind, and the Twelve Apostles, seated on their thrones to judge both the living and the dead. At Christ's right hand (the left side of the icon) there are scenes of Paradise and the depiction of the Righteous; at His left hand (the right side of the icon) is Hell with the punished and tortured sinners. Throughout the whole body of the composition lies the winding serpent of the ordeals, coming out of fiery Gehenna with Satan enthroned, and biting the heel of Adam, who kneels before the throne of the Pantocrator. Separate circles contain scenes of the vision of the Prophet Daniel of the Four Kingdoms and Paradise with the Virgin in it; above is the image of the Trinity and the Lord of Sabaoth, below are the personified depictions of the torments of sinners. The Righteous, led by Apostle Peter, go in a procession towards the gates of Paradise, while the ascent of monks to the Heavenly Jerusalem, depicted in the top left section, begins from Abraham's bosom (bottom left corner). The grand depiction of the Second and Final Coming of Christ is expressed in this vivid image, illustrating the text of the Apocalypse and of other literary sources of the icon in great detail.

The margins of the ancient icon were later inscribed with extensive commentaries. Their palaeography and the nature of the icon's restoration both suggest that this took place in one of the large Old Believers' centres, perhaps in the first half of the 18th century. It was the Old Believers, especially their priestless denominations, who (because of their religious outlook) particularly favoured such compact devotional images with a detailed iconography of the Last Judgment. These images proliferated during the times of repressions, especially in the first half of the 18th century, when the State was directly associated by the Old Believers with images of the Apocalypse. Usually such icons were accompanied with detailed commentaries in the margins, quoted from appropriate literary sources, as is indeed the case with this particular painting.
---
Примечания к символам:
* Указывает, что применяется импортная пошлина в размере 5%.
Ω Указывает, что применяется импортная пошлина в размере 20%.
§ Указывает на то, что применяется право на перепродажу художников.
† Указывает на то, что применяется стандартная схема НДС, и