30 November 2016 Russian Art Auctions
30 November 2016
---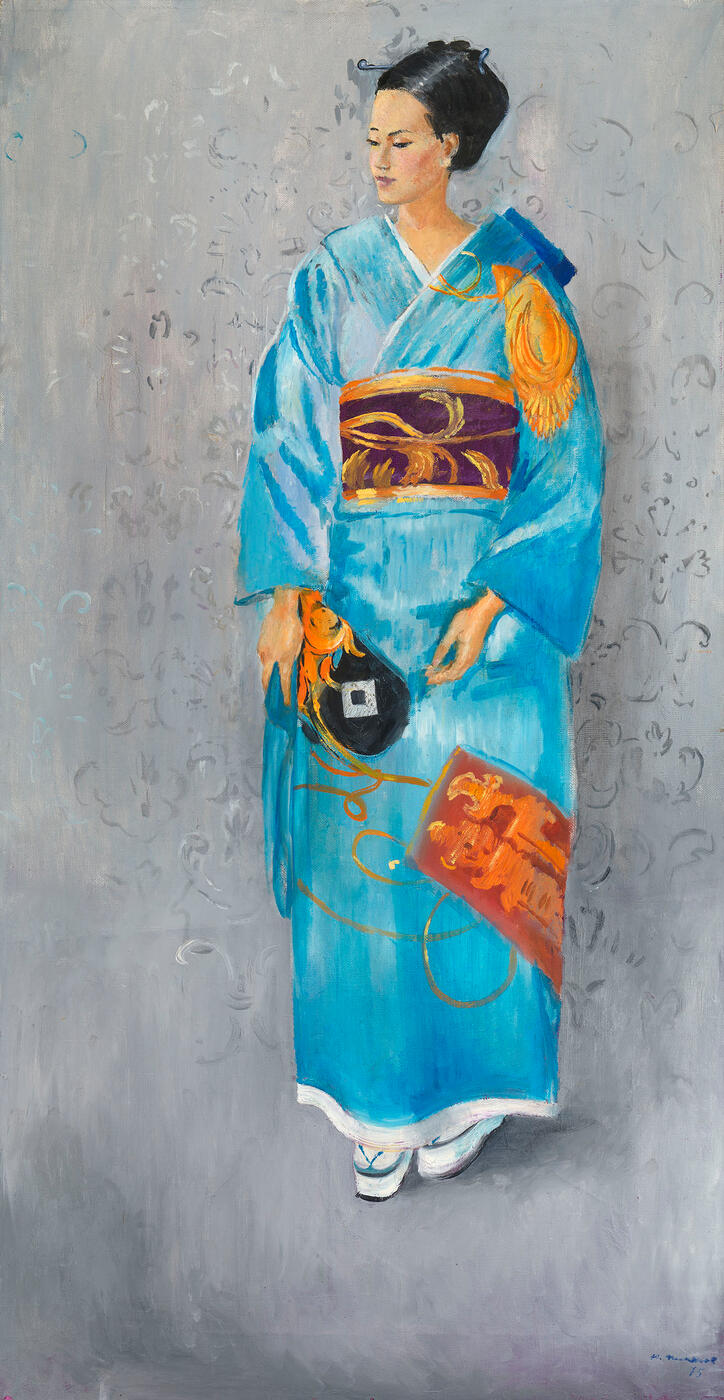 * 16. PIMENOV, YURI (1903-1977)
Kyoko the Japanese Girl, signed and dated 1975, also further signed, titled in Cyrillic and dated on the stretcher.

Oil on canvas , 137 by 70.5 cm.
280,000–400,000 GBP

Provenance: Collection of Tatiana Pimenova, the artist's daughter, Moscow, c. 1980s.
Private collection, USA.

Exhibited: XII vystavka proizvedenii chlenov Akademii khudozhestv SSSR, Research Museum of the Academy of Arts of the USSR, Leningrad,
April 1976 (label on the stretcher).
Yu. Pimenov, Zhivopis, Grafika, Plakat, Teatr, Central House of Artists, Moscow, 1986.

Literature: L. Lapteva, A. Chegodaev (eds), Yuri Ivanovich Pimenov, Vystavka proizvedenii, Moscow, Sovetskii khudozhnik, 1986, pl. 32, illustrated;
No. 119, listed.

Yury Pimenov's lyrical composition Kyoko the Japanese Girl is an almost full-length work in the artist's typical and much-loved genre of female theatrical portraiture. Pimenov painted it upon his return from a visit to Tokyo in 1975, where he had had a solo exhibition of his works, under the auspices of the Presidium of the USSR Academy of Arts.

Pimenov's status as a paradigm of Soviet art insured that from the late 1950s he was allowed to travel abroad on numerous occasions. The visit to Japan was amongst the last of his foreign trips and left the artist with a particularly vivid set of impressions. His exhibition in Japan had been a great success and according to the official report, it was completely sold out to museums and collectors. Pimenov, who was treated with great honour by his Japanese colleagues, also had the chance to acquaint himself with artistic and theatrical culture of this alluring and mysterious country.

An experienced traveller, Pimenov always brought back finished compositions and numerous sketches to use as a basis for his paintings. These works would be imbued with his vivid memories and acutely convey the ambience and striking distinctions of places such as Paris, Venice, Rome, London, Greece and India. To embody his impressions of distant lands, he would often use the female image to personify particular geographic locations, such as Parisienne (1958), Venice. Solitary Flower Seller (1958) and Oriental Dancers (1967).

Upon his return from Japan, Pimenov created two paintings of this type for the statutory annual exhibition of members of the Academy of Arts. They are Tokyo Window (1975), which is now in the collection of the Perm Museum of Art, and Kyoko the Japanese Girl, which is offered here for auction.

Both compositions are highly theatrical. But while Tokyo Window is more of an arranged genre scene, with a female figure and a certain atmosphere which is created through the inclusion of landscape and interior elements into the composition, Kyoko the Japanese Girl is by contrast, a "pure" portrait. Its inherent lyricism is the result of Pimenov's painterly finesse and his feel for colour and composition.

The inclusion of the subject's name in the title adds a touch of intimacy and humanity to the painting. As Irakly Andronnikov, a writer and literary historian, wrote in a letter to the artist: "It seems to me that your titles have something very specific and subtle. They are never straightforward and always lead to what is most important" (I. Andronnikov, "Yuri Pimenov", Literaturnaya Gazeta, 28 February 1961).

The portrait of Kyoko, like most of Pimenov's work at the time, reveals the hand of a master, who knows how to think compositionally and to perceive his subjects with a certain rhythmic structure. The distant, high perspective captures the broad decorative space of the grey background and the painting as a whole is cohesive and well-balanced with no accidental elements. Yet, at the same time, it is not a work that appears as overcalculated or over-worked. Whilst the virtual absence of a horizontal axis robs the painting of that dimension, it does so in order to bring it within the canon of traditional Japanese art.

In the 1970s, everything associated with world of the theatre — the scenography, the special realm of the theatre foyer, the rehearsal and the dressing rooms — were all at the centre of Pimenov's artistic interests. In his set designs, posters and easel compositions, the artist strives to create an aesthetic fetishisation of the unique atmosphere of the theatre. Unfortunately, we do not know who sat for Pimenov's Japanese paintings. It is certain, however, that the artist's attendance at a performance of traditional Japanese Noh theatre as well as his first-hand impressions of the country's culture, provided him with excellent artistic material of a theatrical nature. It is not accidental that his Japanese models are dressed in the traditional kimono and geta, which, in the 1970s, were worn only on special occasions: for celebrations, official ceremonies or performances.

Pimenov adored the poetry of the Russian Silver Age and often added verse epigraphs to his paintings and literary essays. It is not surprising, therefore, that his Kyoko is reminiscent of the Japanese actress Sada Yacco, described in a famous poem by Nikolai Gumilev, and who appears here as if frozen for a moment before going on stage. This capture of the brief retreat is common among Pimenov's depictions of other theatrical heroines. It is expertly captured in The Actress About to Go on Stage and Tatiana Samoilova — Anna Karenina (1966).

Pimenov acknowledged that he had seen many theatrical performances and films and visited many countries: "Some are completely forgotten, others remain in the memory, and some will stay there forever; but the totality of experienced leaves behind some sort of jubilation which, lies somewhere on the other side of quotidian existence, the other side of an ordinary day" (Yu. Pimenov, Tainstvennyi mir zrelishch, Moscow, 1974, p. 16). The dazzling portrait Kyoko, which comes from the collection of Pimenov's daughter, Tatiana, is an excellent illustration of his "non-mundane" world of the theatre and spectacle.
---
Notes on symbols:
* Indicates 5% Import Duty Charge applies.
Ω Indicates 20% Import Duty Charge applies.
§ Indicates Artist's Resale Right applies.
† Indicates Standard VAT scheme applies, and the rate of 20% VAT will be charged on both hammer price and premium.