8 June 2016 Russian Art and Photography Auctions
8 June 2016
---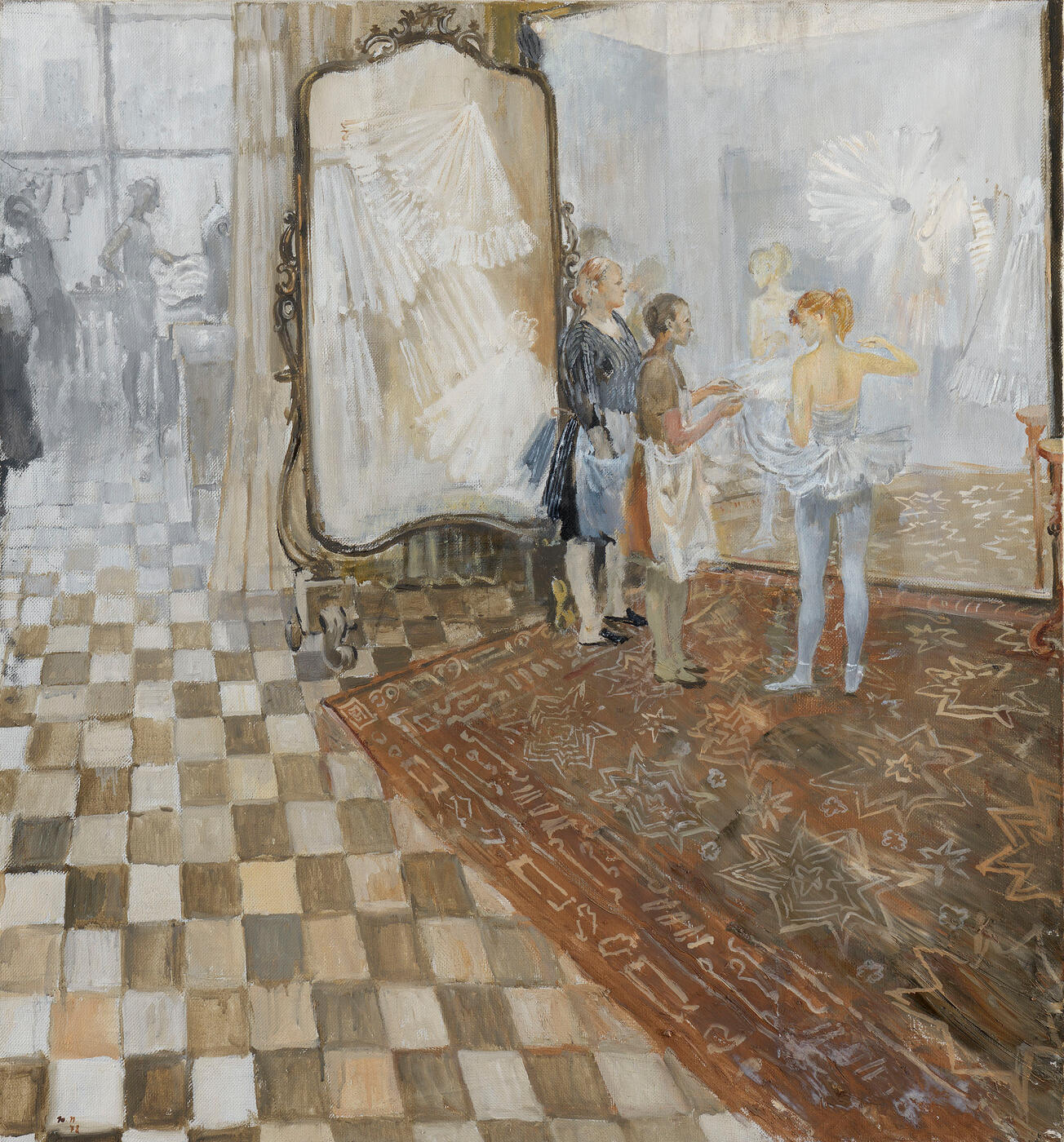 * 13. PIMENOV, YURI (1903-1977)
Dressing Room at the Bolshoi Theatre, signed with initials and dated 1972.

Oil on canvas, 87 by 81 cm.
130,000-180,000 GBP

Provenance: With the salon of the Art Fund of the USSR (label on the stretcher).
Gekkoso Gallery, Tokyo (label on the backing cardboard).
Russian Art, Sotheby's New York, 12 April 2011, lot 32.

Yuri Pimenov undoubtedly ranks among the best Soviet painters, alongside Aleksandr Deineka, Georgy Nissky and Alexander Samokhvalov, whose works are an integral part of the formation and development of a new era in the history of art in the USSR.

In the mid-1920s, the young Pimenov, together with Aleksandr Deineka, his friend and associate at the Society of Easel Painters (OST), was influenced by contemporary movements in German art, primarily Expressionism and New Objectivity. Pimenov's finest works from that period, such as War Invalids (1926, The State Russian Museum), Long Live Heavy Industry! (1927, The State Tretyakov Gallery) and Chinese Dancer (1928, Collection of Pyotr Aven), are true masterpieces of historical significance. Pimenov's time at the OST served as a solid foundation to his creative career, but by virtue of social circumstances remained a unique experiment of its time.

In the second half of the 1930s, the artist's stylistic manner underwent substantial changes, eventually crystallising into an updated version of Soviet "impressionism". The topics he tackles, now more intimate and lyrical, are narrowed down to encompass the poetics of mundane life of ordinary Soviet people. These are builders of residential houses, top performing factory workers, schoolteachers and theatre actors. As an artist attuned to sentiment, Pimenov is primarily interested not in specific character types but rather in their activity, the atmosphere that surrounds it, and the flavour of temporality itself – either of a fleeting moment or a longer historical period. This is why his paintings convey the feel for the time of day, the arrival of spring, or the intensity of existential experiences.

"For Pimenov the genre artist, special value is attached to ordinary everyday situations, events or phenomena, in which some great truth about life is revealed. The artist transfers to the canvas the glint of glossy black umbrellas in rainy weather; the fragrant lilac bush by the railway station, which trains packed with soldiers, lorries laden with meat, bricks or flowers pass by; and the girls who, in lieu of adornments, have lilac stems and fragrant night violets stuck in their hair. All this Pimenov achieves with great humanity, acuteness and liveliness in conveying the mood," wrote the art critic Anatoly Roshchin.

Theatre occupied a pivotal place in Pimenov's oeuvre. For nearly 50 years he worked as a theatre designer, designing sets for a great number of productions. He approached each production as a unified, wholesome work of art, striving to preserve conceptual coherence in the layout of the stage and the design of costumes, posters and theatre programmes. Pimenov played an active role in all stages of production, regularly attending the rehearsals to ensure the final designs reflected the original concept. His sketches of events taking place backstage testify to his keen involvement and are regarded as truthful representations of the hustle and bustle of thespian life.

Dressing Room at the Bolshoi Theatre (1972), presented here for auction, reveals Pimenov's outstanding talent – not merely as a genre painter but also as an artist with a unique feel for colour and composition, tackling the space with incredible ease and flamboyance. The interior, the figures and all the smaller details, painted with a lightness normally associated with watercolour, reinforce Pimenov's stature of a major artist, whose legacy is above political and societal constraints, and immune to shifts of artistic paradigms and trends. It is precisely this feature that makes a true artist special and inimitable.
---
Notes on symbols:
* Indicates 5% Import Duty Charge applies.
Ω Indicates 20% Import Duty Charge applies.
§ Indicates Artist's Resale Right applies.
† Indicates Standard VAT scheme applies, and the rate of 20% VAT will be charged on both hammer price and premium.