8 June 2016 Russian Art and Photography Auctions
8 June 2016
---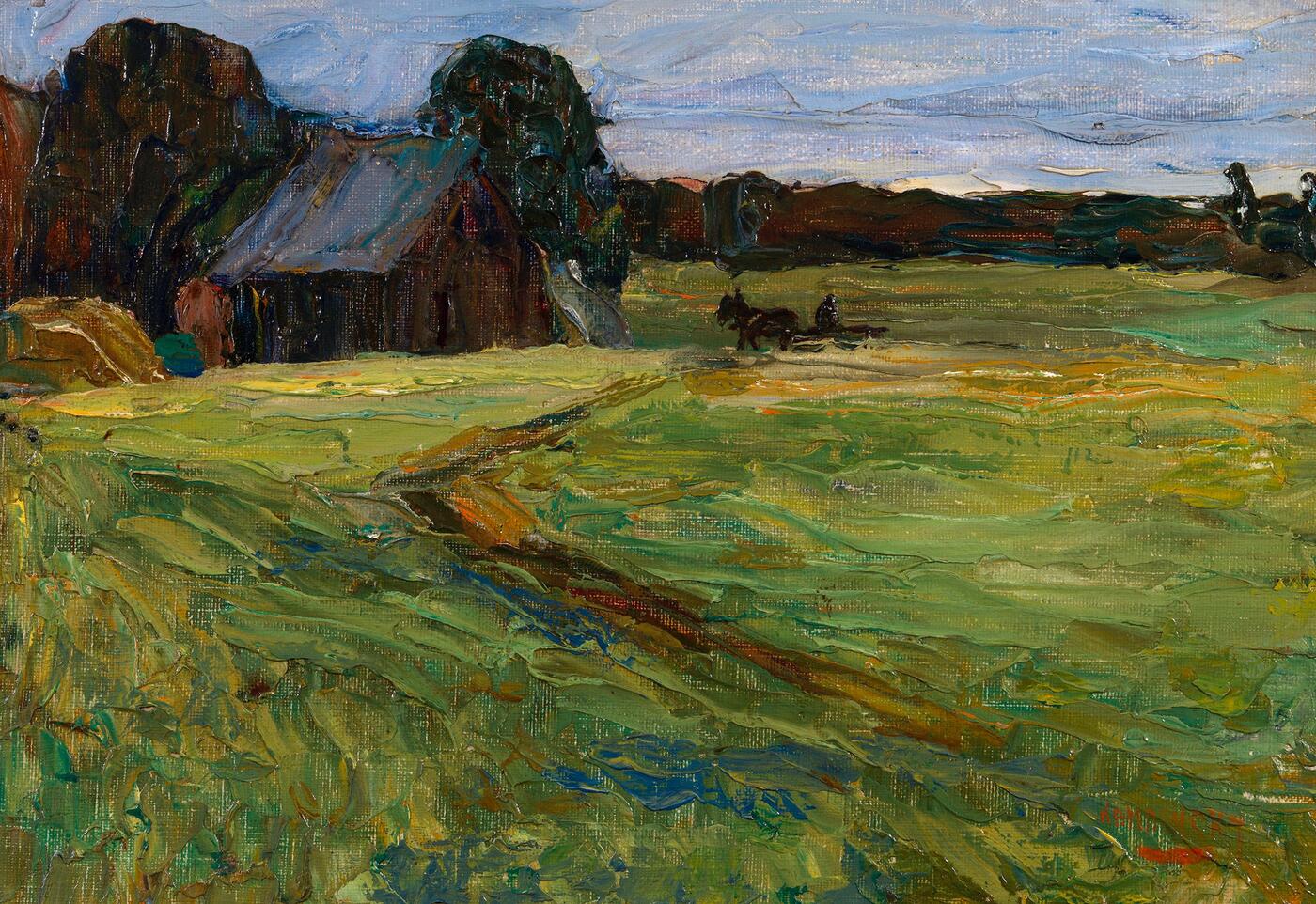 * 9. KANDINSKY, WASSILY (1866-1944)
Rural Landscape, signed, further numbered "N 45" on the reverse.

Oil on canvas, laid on cardboard, 23 by 32 cm.
280,000-350,000 GBP

Executed c. 1903.

Provenance: With Sturm-Galerie, Berlin, 1913 (label on the reverse).
Collection of Harry Jansson, Stockholm (inscription on the reverse).
Sotheby's New York, 10 May 1989, lot 366.
Acquired at the above sale by the previous owner.
Private collection, USA.

Exhibited: Der Blaue Reiter, Sturm-Galerie, Berlin, 1913 (label on the reverse).
Wassily Kandinsky, Gummeson Art Gallery, Stockholm, February 1916.
Wassily Kandinsky, Moderna Museet, Stockholm, 10 April–23 May 1965.
Wassily Kandinsky. Sounds of Colours, Helly Nahmad Gallery, New York, 11 May–28 June 2004.

Literature: Exhibition catalogue, Wassily Kandinsky, Stockholm, Moderna Museet, 1965, No. 3, listed with incorrect date.
H. Roethel, J. Benjamin, Kandinsky. Catalogue Raisonné of the Oil Paintings. 1900–1915, vol. 1, Ithaca, Cornwell University Press, 1982, p. 129, No. 108, illustrated.
Exhibition catalogue, Wassily Kandinsky. Sounds of Colours, New York, Helly Nahmad Gallery, 2004, p. 29, illustrated; listed in the catalogue list.

Rural Landscape is a rare early work by Wassily Kandinsky, the celebrated founder of the concept of abstract art. It was painted in the autumn of 1903, during a brief visit the artist made to his native Russia.

Arriving from Munich, Kandinsky would usually visit the village of Vasilyevskoye near Moscow, where he had once lived happily following his wedding and where he could always stay with relatives. It was there, in Vasilyevskoye and the neighbouring village of Akhtyrka, that Kandinsky produced a series of small, brilliant études, painted in one sitting using a small easel resting on his knees, which predetermined their format. He would eagerly train his eye in the outdoors, capturing the minutest subtleties of tone and exercising his hand in the rapid sketch technique.

The artist himself called this kind of picture – one that conveyed experiences from life – "impressions", but his impressionism had little to do with what Claude Monet and his friends had been affirming in Paris in the 1870s. In the work of Kandinsky and the artists of his generation, impressionism became an unconstrained way of painting en plein air using separate brushstrokes, having preserved from its predecessor only a heightened interest in the effects of lighting. By 1903, Kandinsky had not only absorbed the lessons of Anton A be and Franz von Stuck, but had established an artistic association and the Phalanx School of Painting, and published theoretical treatises on art. He considered himself a confident and accomplished artist who was thoroughly familiar with the latest European painting.

Choosing the simplest possible subjects – rural buildings, fields with slanting evening shadows, clouds scudding across the sky and clumps of trees – Kandinsky strove to bring to the landscape what he thought of as "meaningful motifs", such as the portrayal of roads. At any rate, in the early 1900s, the artist often preferred to depict in his études a path or tracks in a field or in the mountains, near buildings or among trees (Munich-Planegg, 1901). The étude presented here, with a track across a field and a lone horse, is particularly noteworthy in this respect. Later, the motif was to give rise to the depiction of a road and a solitary horseman wending his way towards a walled town on a hill, and to the development of one of the most important themes in Kandinsky's work – horsemen carrying a message.

As he intensified the expressionism of an image prompted by personal experience, Kandinsky made up for any lack of a conventionally "picturesque" view by devising a complex painting texture. Using dynamic, prominent brush strokes with masterly effect, and working with separate large patches of colour (the artist would always prepare the surface in a very specific way, employing brushes of various sizes and a palette knife, quite often scratching the paint with a brush handle until the base was visible, and so on), enabled Kandinsky to achieve remarkable expressiveness, even in a small landscape.

"Impressionism" of this kind could easily be associated with realistic landscape art, a tradition that was familiar to Kandinsky from the works by Isaac Levitan, which he had been copying before leaving Russia, and also with the school of German Impressionism, represented in Germany by Max Liebermann, Max Slevogt and Lovis Corinth, with their interest in doing studies en plein air and in an emotional, broad-brush style of painting.

It is noteworthy that, in order to paint such études, Kandinsky did not just "go out to paint", as was the accepted practice, but chose views that he knew well and had painted several times. As one might expect, several of them are connected with the area around Moscow – Akhtyrka and Vasilyevskoye – where Maria, the sister of his wife Anna, and her husband, Vladimir Abrikosov, would spend their summer holidays.

This reflects the distinctively autobiographical nature of Kandinsky's work, enabling the landscape that is offered for sale to be seen not only as testimony to one of the stages in the development of a major 20th-century artist, but also as a product of his personal creative destiny.
---
Notes on symbols:
* Indicates 5% Import Duty Charge applies.
Ω Indicates 20% Import Duty Charge applies.
§ Indicates Artist's Resale Right applies.
† Indicates Standard VAT scheme applies, and the rate of 20% VAT will be charged on both hammer price and premium.