4 June 2014 Russian Art Auctions
4 June 2014
---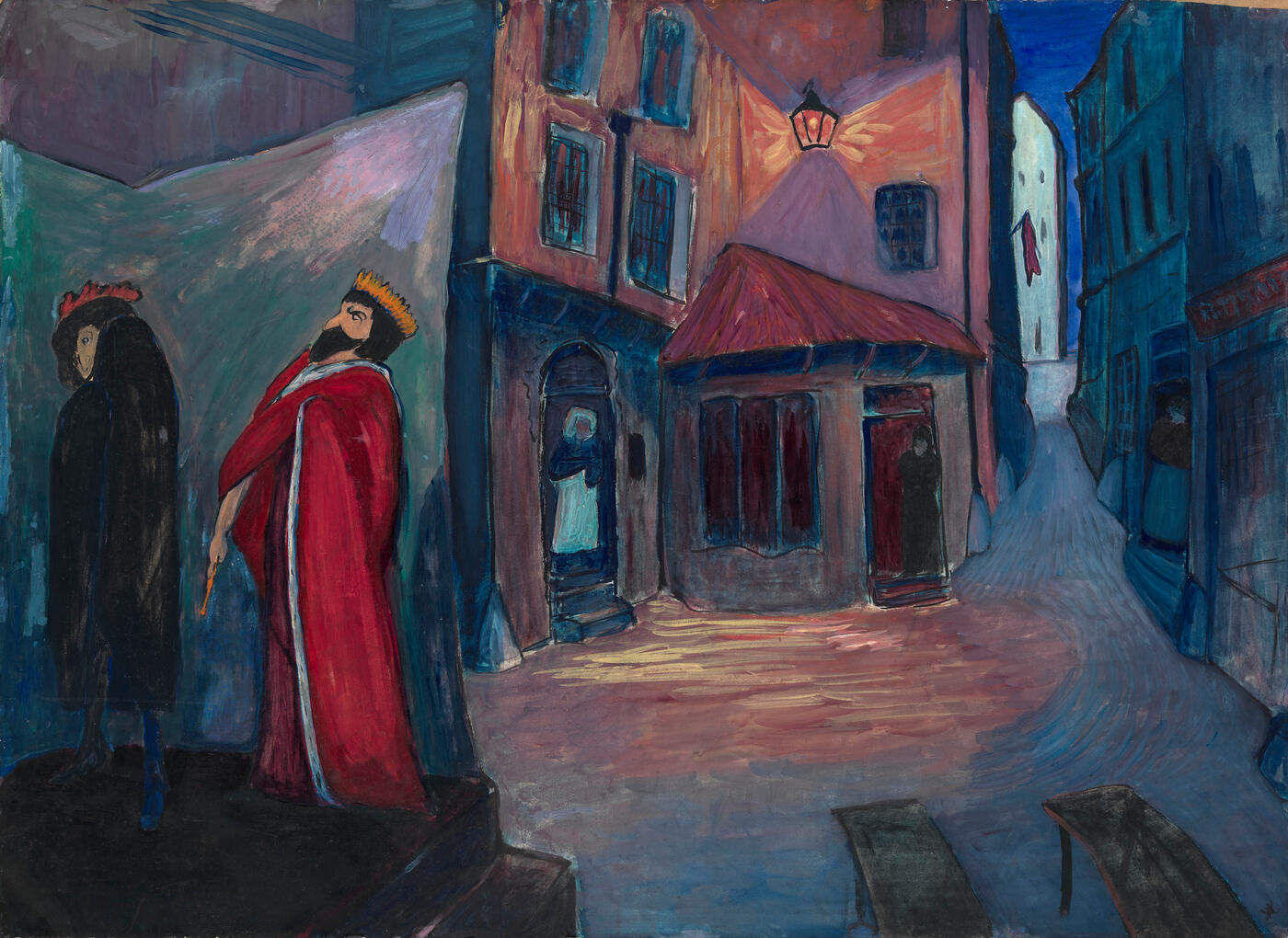 75. WEREFKIN, MARIANNE (1860-1938)
In die Nacht hinein..., signed with a monogram.

Gouache and tempera on paper, laid on cardboard, 75 by 102 cm.
200,000-250,000 GBP

Executed c. 1910.

Provenance: Galerie Chichio Haller, Zurich.
Acquired from the above by the family of the previous owner in 1969.
Private collection, Switzerland.
Private collection, Europe.

Exhibited: Neue Kunstlervereinigung Munchen E.V. Turnus 1910–11, Moderne Galerie, Munich, 1–14 September 1910, No. 94 (label on the reverse).
XIII Jahrgang, VI Ausstellung, Paul Cassirer, Berlin, January–February 1911, No. 50.
Deutscher Kunstlerbund. Große Ausstellung, Kunsthalle Bremen, Bremen, 1 February–31 March 1912, No. 234 (label on the reverse).
Marianne Werefkin. Gemalde und Skizzen, Museum Wiesbaden, Wiesbaden, 28 September–23 November 1980, No. 35.
Marianne Werefkin. Leben und Werk, Ascona, Munich, Hanover, Berlin, Bad Homburg, Hamburg, 1988–1990, No. 45.

Literature: Exhibition catalogue, Neue Kunstlervereinigung München E.V. Turnus 1910–11, Munich, 1911, p. 37, illustrated; p. 36, No. 94, listed.
Exhibition catalogue, Deutscher Kunstlerbund. Große Ausstellung, Bremen, 1912, No. 234, listed.
Exhibition catalogue, Marianne Werefkin. Gemalde und Skizzen, Wiesbaden, 1980, p. 82, No. 35, illustrated.
Exhibition catalogue, Marianne Werefkin. Leben und Werk, Munich, Prestel, 1988, No. 45, illustrated and listed.

Marianne Werefkin's composition In die Nacht hinein… comes from her suite of exceptionally interesting, valuable theatrical works painted in 1910. The entire suite comprises no more than a few tempera paintings from that milestone period in the history of art when the "Russian baroness" achieved the peak of her influence over the Munich colony of modernist artists, determining to a great extent the visual language and artistic trends of the 20th century. The two years that Werefkin spent in Murnau with Alexei Jawlensky, Vasily Kandinsky and Gabriele Münter led to the creation in 1909 of the Neue Künstlervereinigung, precursor to the celebrated Blaue Reiter group.

Throughout her career Werefkin remained true to expressionism, symbolism and every one of their attendant apocalyptic ideas. Any picture by her that depicts real life, be it a landscape, or genre scene, is essentially just a stage screen, with a different, secret world hidden behind it. The duty of the artist is to capture and portray that world not through any outward resemblance but through a system of "symbols of lines and colours".

It was inevitable that Werefkin's interest in the tragic illusions and travesties of the human world, voiced constantly in her Letters, would find its reflection in her art too. It is therefore unsurprising that in 1909 motifs from theatre – inspired in part by her acquaintance, then friendship, with the dancer Alexander Sakharoff – found their way into her arsenal of images. In the summer of 1910, however, it was evidently the productions by touring Berlin theatre companies in honour of the Munich Oktoberfest centenary that spurred her to create a whole cycle of works in tempera depicting outdoor performances. Not far from Munich, and also taking part in this grand festival of theatre, was the little town of Murnau where Werefkin and Jawlensky were often guests of Gabriele Münter. The main summer event there was to be the staging of several Shakespeare plays, ending on 28th August in the garden of Emanuel von Seidl's villa with a performance of A Midsummer Night's Dream in the presence of the Queen Maria Sophie of Bavaria and Elisabeth of Bavaria, Queen of Belgium.

In die Nacht hinein… like another tempera composition from the same cycle published in Otto Fischer's 1912 book Das neue Bild, was in all probability inspired by one of the Shakespeare tragedies put on in Murnau and possibly depicts a scene from King Lear.

This work has a fairytale atmosphere and an intelligible symbolic message underlying the scene playing out on stage. These qualities, together with the strangeness of the bench seats bereft of an audience, owe much to the tense, mystical lilac-blue colouring of the painting and convey Werefkin's dramatic perception of the world and the meaning which she invested in colour as a means of imbuing her painting with psychological animation.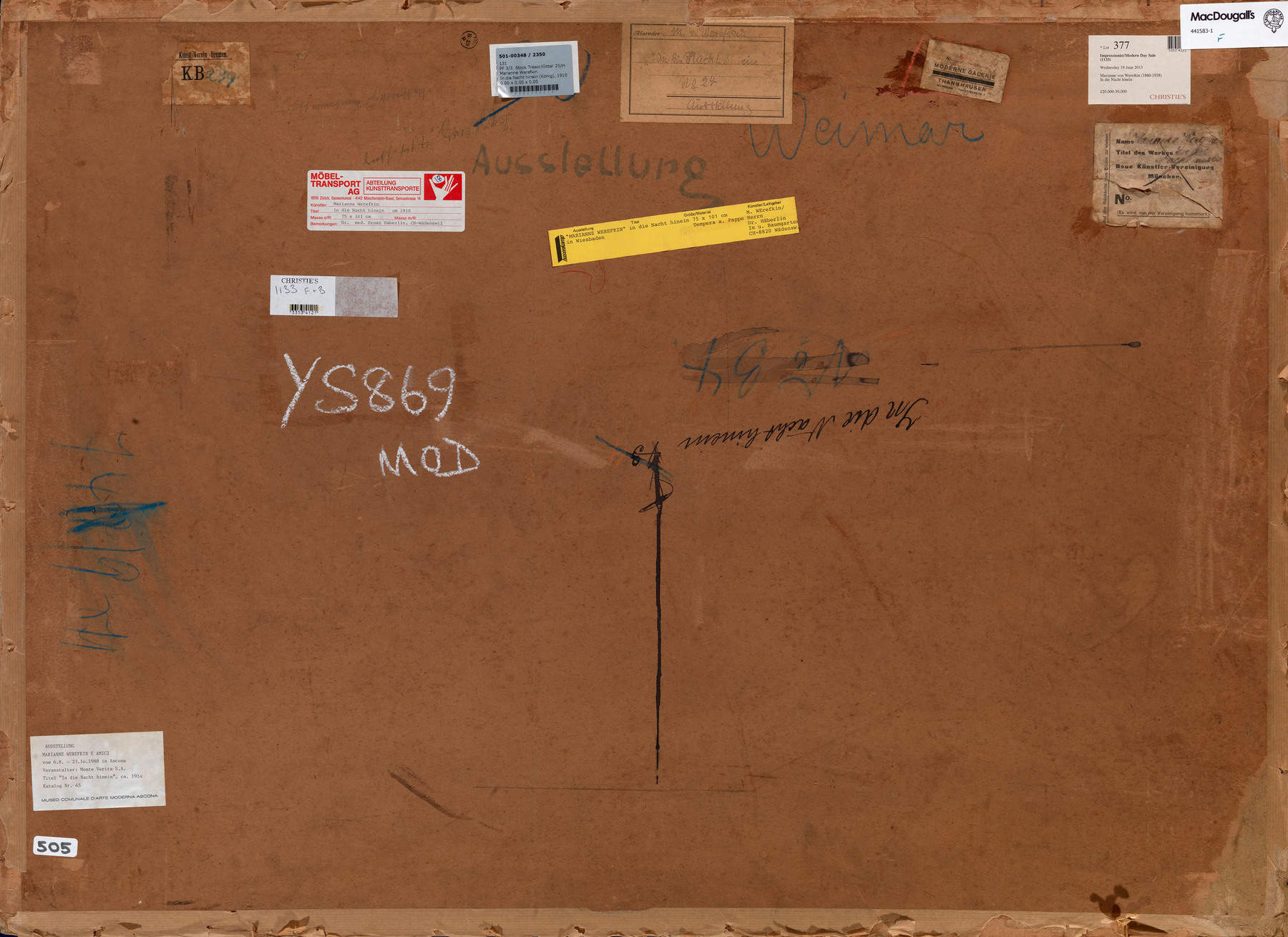 ---
Notes on symbols:
* Indicates 5% Import Duty Charge applies.
Ω Indicates 20% Import Duty Charge applies.
§ Indicates Artist's Resale Right applies.
† Indicates Standard VAT scheme applies, and the rate of 20% VAT will be charged on both hammer price and premium.