4 June 2014 Russian Art Auctions
4 June 2014
---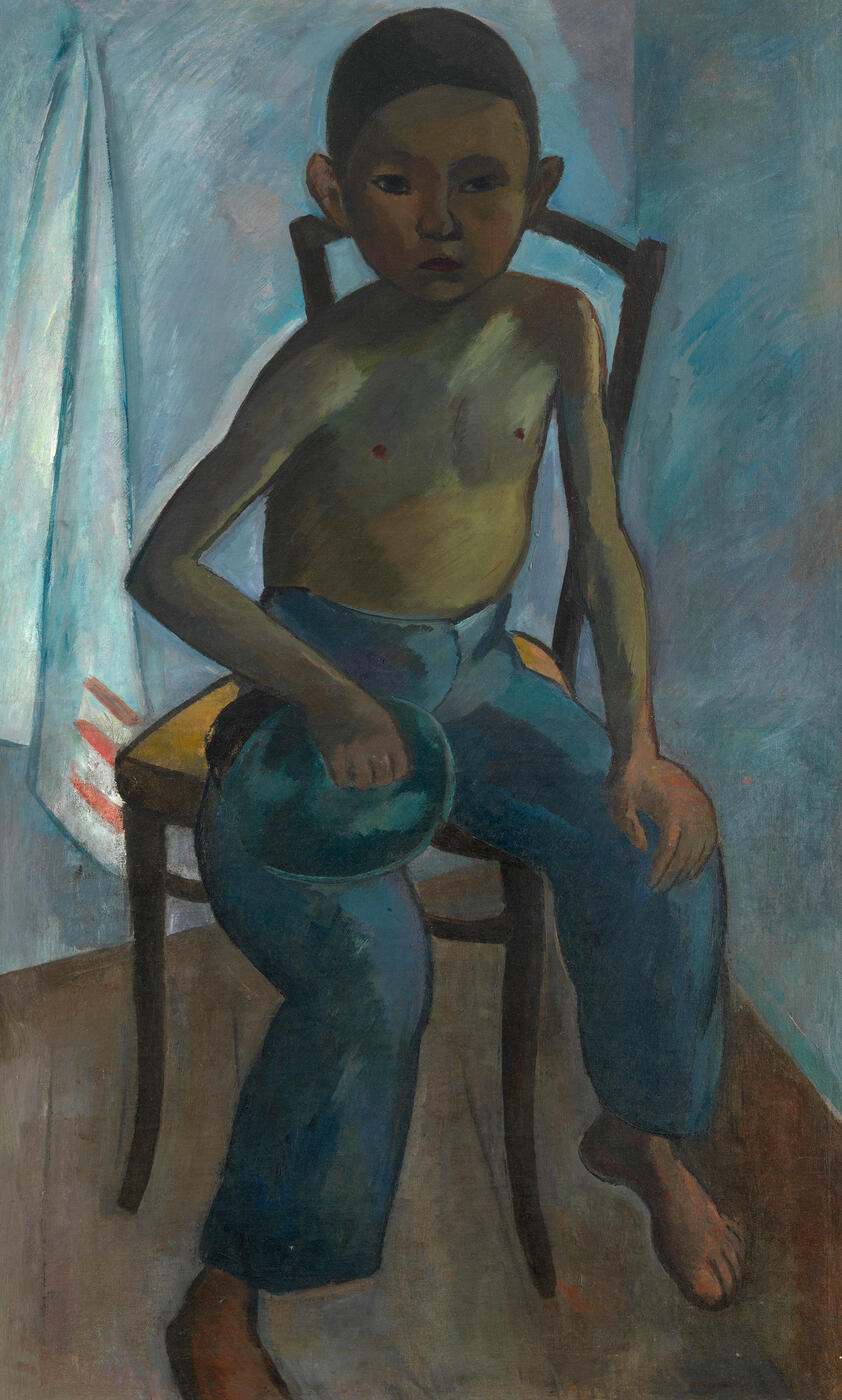 * 15. FALK, ROBERT (1886-1958)
Boy with a Cap, Sitting on a Chair, double-sided composition with two oil paintings Fisherman Smoking and Wild Flowers on the reverse.

Oil on canvas, 122.5 by 75 cm.
800,000-1,200,000 GBP

Boy with a Cap, Sitting on a Chair executed c. 1910–1911.
Fisherman Smoking executed in 1938.
Wild Flowers executed in 1945.

Provenance: Private collection, Europe.
Fisherman Smoking: Previously in the collection of Professor N. Gershovich, Leningrad, until 1988.

Authenticity certificate from the expert Yu. Didenko.

Exhibited: Fisherman Smoking: Robert Fal'k, Tsentral'nyi dom rabotnikov iskusstv, Moscow, Autumn 1939.

Literature: Fisherman Smoking: Exhibition catalogue, Robert Fal'k, Moscow, 1939, No. 142, listed as Rybak iz Simeiza. Krym.
Yu. Didenko, compiler of Polnyi katalog zhivopisnykh proizvedenii R.R. Fal'ka// D. Sarabianov, Yu. Didenko, Zhivopis' Roberta Fal'ka. Polnyi katalog proizvedenii, Moscow, Elizium, 2006, p. 656, No. 952, listed.

Boy with a Cap, Sitting on a Chair and Wild Flowers will be included in the forthcoming supplement to the catalogue raisonné of the artist's work being prepared by Yu. Didenko and D. Sarabianov.

Robert Falk's sensational canvas Boy with a Cap, Sitting on a Chair dates from 1910–1911 and the time of the first exhibition by the Jack of Diamonds group, of which Falk was a founding member.

The work belongs to a series of portraits of children that Falk created between 1908 and 1911. These number several depictions of children in armchairs and sitting on chairs: Goga (1908), Little Girl in an Armchair (1909), Portrait of a Girl (1909), Girl in a Chair (1909) etc. To judge by a number of stylistic criteria, Boy with a Cap may be dated to the artist's early Jack of Diamonds period. The portrait undoubtedly contains features of Primitivism, a style to which Falk was drawn for a short while in the years 1910–1911: the black outline round the figure, the generalised modelling of forms, and a certain flattening of the silhouette. The work that most resembles this painting is the 1911 portrait Boy in Blue against a Green Background. Many similarities can be discerned: the subject itself – a barefoot child, the sculptural rendering of the soles of the feet, the way both boys' hands are placed on their knee, and the outlining of the figure. It is interesting that Boy in Blue is also painted on the other side of a later work and is of a similar size (92.5 by 82 cm) to Boy with a Cap, which is larger than his other canvasses of children.

There is a clearly discernible tone in this painting, and this is typical of Falk's work at the start of the 1910s. The predominant blue-grey in this case is thematically connected with the whitewashed wall and the towel hanging on it, interwoven as it is with other tones (pink, lilac, green and ochre) whose interaction creates a subtle surface vibrancy of hue. Boy with a Cap also marks Falk's first testing of the principle he had developed as early as 1912–1913 of complex structuring of the painted surface through interplay between the shadows cast by a figure and the unique aura around it, but also the responding interplay of highlights and reflections on the surface of the figure.

Double-sided oil paintings were characteristic of Falk's creative process from the 1900s. When he needed a clean canvas he often showed no sympathy for a previous work and turned canvasses over to paint on the blank side.

The upper part of the reverse side of Boy with a Cap is the portrait Fisherman Smoking. This work was created in 1938, after Falk's return to Russia from Paris, during a trip to Alupka with his friend and pupil A.B. Yumashev, aviator and Hero of the Soviet Union. The portrait is painted in an easy, loose, almost sketchy manner in the smoky colours typical of Falk's Parisian work, based on the most subtly nuanced grey, pale blue, lilac and light-ochre tones.

For a long time this work was in the collection of the famous Leningrad collector Professor N.G. Gershovich and his family. It is also known to have been exhibited in 1939 at Falk's one-man exhibition in Moscow.

Lastly, the lower part of the reverse side is the still life Wild Flowers. This work dates to Falk's late period (the 1940s and 1950s), which was the time of his greatest artistic achievements. The canvas was painted in the village of Sofrino near Zagorsk, not far from Moscow, at the dacha of Falk's female pupil A.M. Tsuzmer, where he spent the summer of 1945 with his wife, Angelina Shchekin-Krotova, who gathered flowers in the surrounding fields and knew how to arrange bouquets for her husband's still lifes. Later she recalled: "For Falk it was no simple matter to gather a bunch of flowers and paint it. He needed some particular idea that perhaps even he did not fully understand. He was looking for music in colour, an essential tonality".

We are grateful to Yulia Didenko, art historian and author of the catalogue raisonné on the artist, for providing additional catalogue information.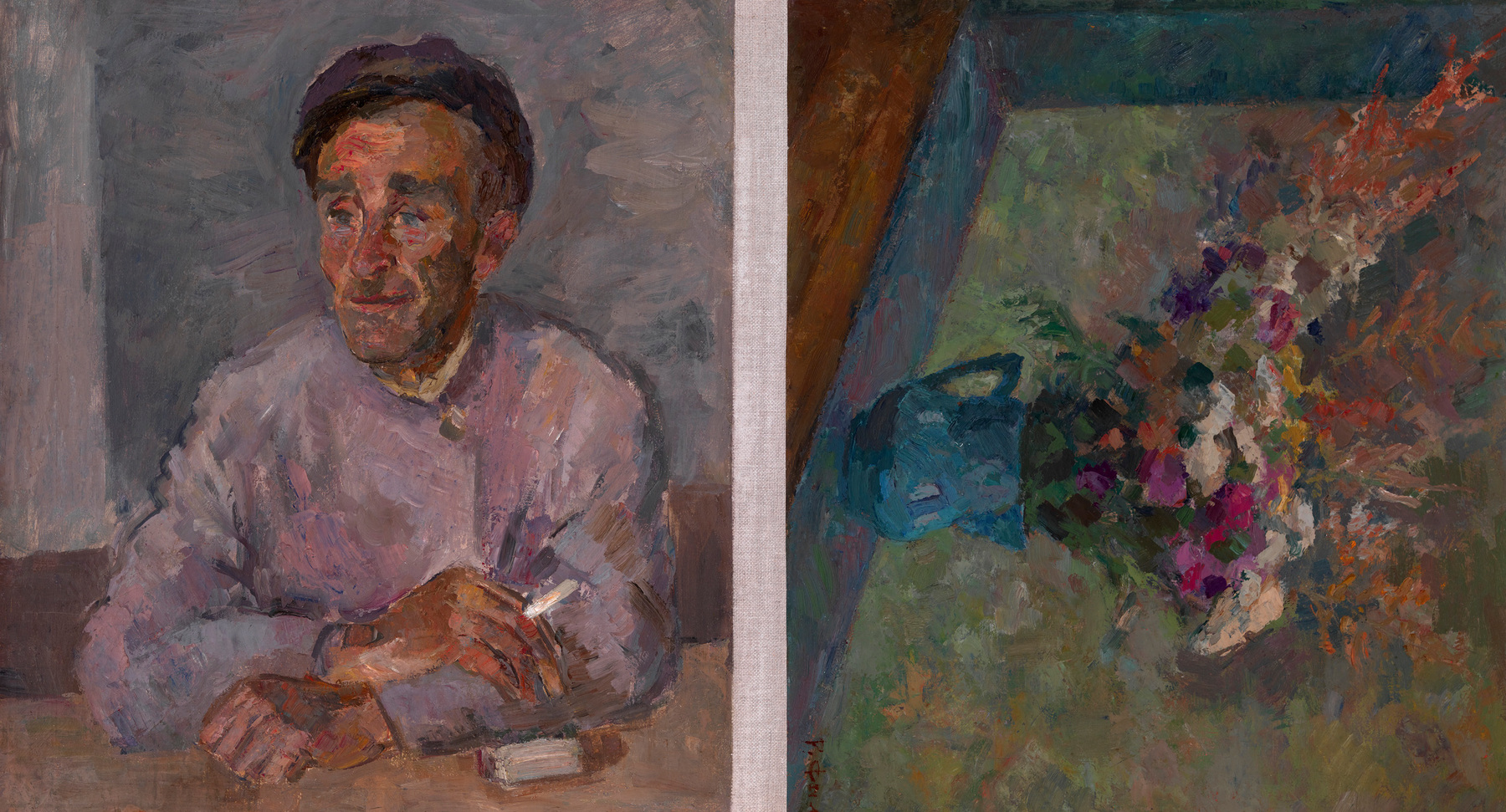 ---
Notes on symbols:
* Indicates 5% Import Duty Charge applies.
Ω Indicates 20% Import Duty Charge applies.
§ Indicates Artist's Resale Right applies.
† Indicates Standard VAT scheme applies, and the rate of 20% VAT will be charged on both hammer price and premium.