27 Nov 2013 Russian Art Auctions
27 November 2013
---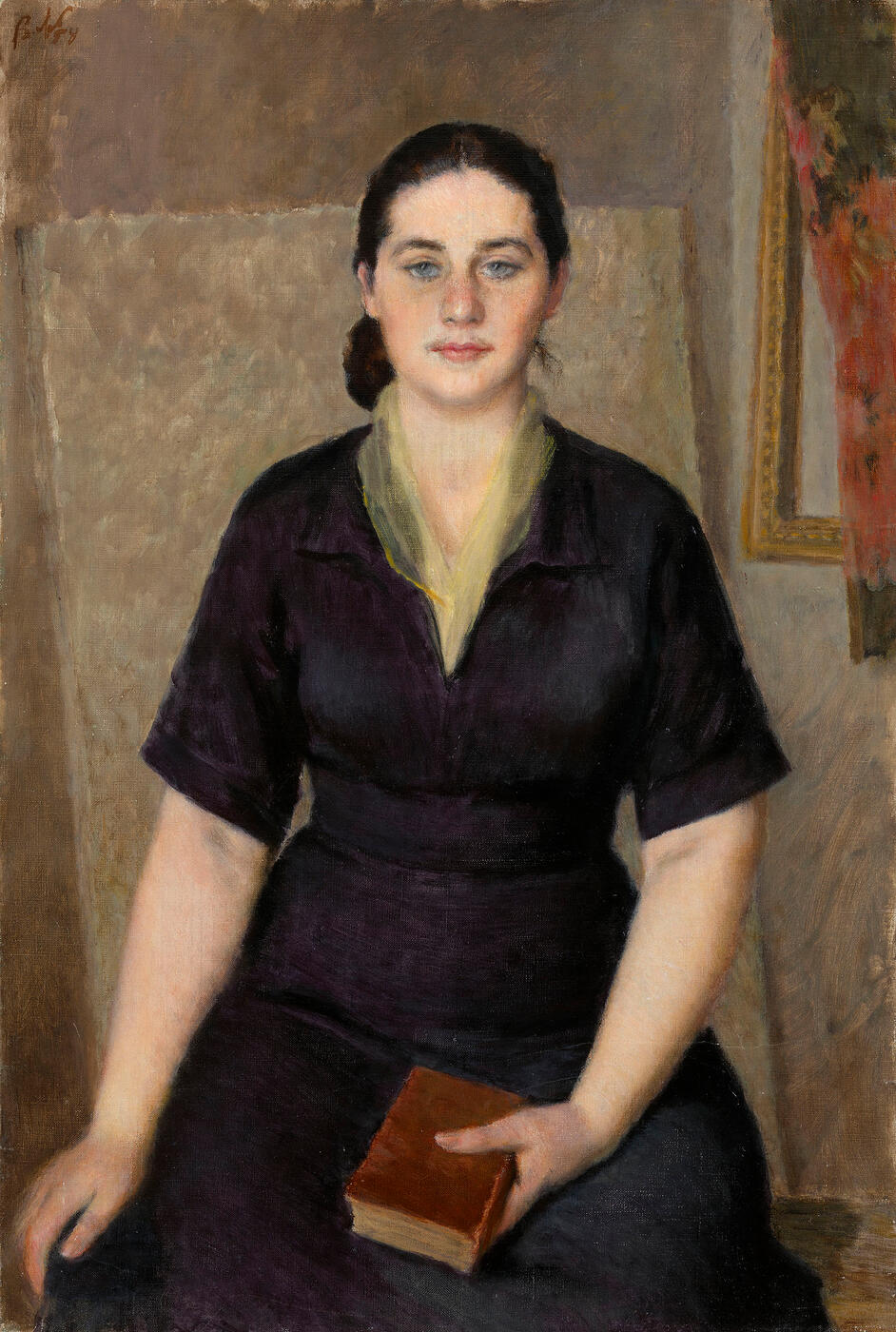 * 80. LEBEDEV, VLADIMIR (1891-1967)
Portrait of the Artist's Wfe, Ada Sergeevna Lazo, signed and dated 1958.

Oil on canvas, laid on panel, 75 by 50.5 cm.
400,000–600,000 GBP

Provenance: Collection of the artist's wife, A.S. Lazo, Leningrad, until 1993.
Thence by descent.
Collection of A.A. Saltykova (Lazo), St Petersburg.
Acquired directly from the above by the present owner.
Private collection, Europe.

Authenticity of the work has been confirmed by A.A. Lazo (inscription on the reverse).
Authenticity has also been confirmed by the experts T. Levina and T. Mikhienko.

Literature: V. Petrov, Vladimir Vasil'evich Lebedev, 1891–1967, Leningrad, Khudozhnik RSFSR, 1972, p. 240, illustrated, incorrectly dated 1954; p. 266, listed under works from 1958.

Vladimir Lebedev, perhaps one of the most striking painters of the Soviet era, is represented here by a remarkable portrait of his wife, Ada Sergeevna Lazo. Lebedev's work travelled a road from constructivist compositions to post-impressionist portraits and sensitively rendered nudes. He was repeatedly accused of formalism, "alien" bourgeois influences and an unwillingness to create genre paintings on Soviet themes. However his talent was so great that his contemporaries could not but marvel at the diversity of his creative pursuits – from the exploration of formal technique, to his study of female beauty and his work as a children's book illustrator – and even pardon the shortcomings, by Soviet standards, of his social behaviour. It was while working for the Soviet children's publisher, Detgiz, that Lebedev met Ada Lazo, daughter of the revolutionary hero, Sergei Lazo. Ada, the chief editor, had an excellent knowledge of literature and was a specialist in children's book illustration. She was to become Lebedev's wife, friend and muse of many years.

As Vsevolod Petrov, a scholar and expert on the work of Lebedev, has emphasised: "Lebedev did not paint portraits to order. The people whom he painted were professional artist's models or his friends and acquaintances, mainly from artistic or sporting circles. His choice of model was never a matter of chance, but nor did it depend on preconceived intentions of a social or psychological nature."

This portrait was painted by Lebedev in his usual soft pastel tones. Restraint in the colour and mobility of the brushstroke are reminiscent of early Renoir, whom the artist idolised and viewed as a source of inspiration. But meticulous respect for drawing is not always characteristic of the French Impressionists, whereas delicate emphasis of form is a particular hallmark of Lebedev's style. As Petrov wrote: "In the traditional dispute between colourists and draughtsmen Lebedev took the side of the latter. Lebedev could have applied to his art the famous comment by Ingres about the prime importance of drawing, that it 'contains more than three-quarters of all that is art'." But, at the same time, the colour accents of the yellow chiffon collar and the book in the sitter's hand remind us of Lebedev's refined taste as a colourist, his ability to manage the pictorial spot of colour, which sets the overall tone of a work.

The present lot is not merely a characteristic document of its era, but one of the best portrait images by the artist from his final period.


---
Notes on symbols:
* Indicates 5% Import Duty Charge applies.
Ω Indicates 20% Import Duty Charge applies.
§ Indicates Artist's Resale Right applies.
† Indicates Standard VAT scheme applies, and the rate of 20% VAT will be charged on both hammer price and premium.