27 Nov 2013 Russian Art Auctions
27 November 2013
---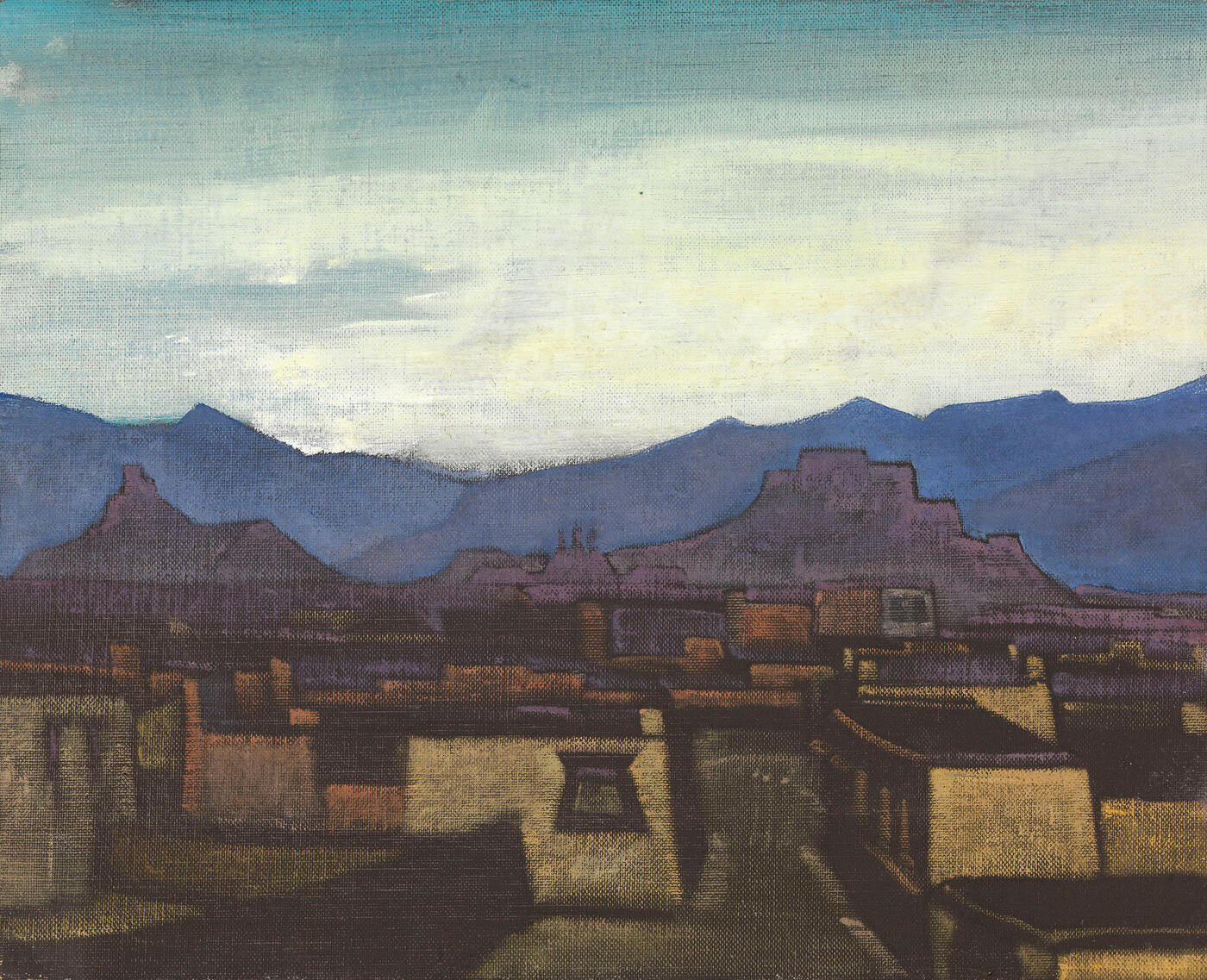 * 11. ROERICH, NICHOLAS (1874-1947)
Dzong at Evening, numbered "N 40" and dated 1928 on the reverse.

Tempera on canvas, laid on cardboard, 33 by 41 cm.
60,000–90,000 GBP

Provenance: Collection of the Roerich Museum, New York, 1928–1935.
Collection of Nettie and Louis Horch, New York, from 1935.
Collection of Dr Carlos Giro, USA.
Acquired from the above by the present owner.
Private collection, USA.

Exhibited: Roerich Museum (permanent collection), New York, 1928–1935, No. 870.

Literature: Roerich Museum catalogue, New York, 1930, p. 34, No. 870, listed.
Nicholas Roerich. In 2 volumes, Vol. 2, Samara, Agni Publishing House, Moscow, Fine Arts Academy Gallery, Zurich, Kunstberatung, 2011, p. 466, illustrated.
G. Trepša, Yu. Borisov, Potayennaya Lkhasa N. K. Rerikha, Uguns, 2013, online article www.uguns.org/articles_html/040.html.

This painting holds the key to one of the great mysteries of Nicholas Roerich's life story: his visit to Lhasa. Whether Roerich ever reached the forbidden city is a question that has been asked and discussed by all of his historians and researchers. It has always been of enormous interest and importance for the proper understanding of his life's mission and message, especially in relation to his quest for the sacred land of Shambhala, or Shangri-la, as it was widely known during his lifetime. Encoded within this painting is proof that Roerich did in fact visit Lhasa.

Until now, there has been no documented evidence of Roerich ever seeing Lhasa in person. He himself never made any direct statements in this regard. There are legends and hints, and some oral tradition to this effect, but, then again, Roerich's whole life is a fascinating mixture of myth and reality that has always baffled academic historians. What we do know for certain is that he set his sights on Lhasa as early as 1923 and had a particular agenda to discuss with the leaders of Tibet. In the 1920s Tibet was practically a closed country, strictly guarded by the British from all foreigners. It is inconceivable that they would have allowed him to enter Tibet during his stay in India in 1923–1925. From the moment he set foot on Indian soil, the British kept an eye on him. Had they found out that this Russian had secretly entered Tibet, all roads into territories controlled by the British would have been closed for him forever.

A few years later we find Nicholas Roerich Lhasa-bound again, this time openly and from the north. His Central Asian expedition set out from Urga (Ulaanbaatar) in April 1927 and reached Tibet's frontier that autumn. Having obtained all possible visas, passports and credentials, Roerich was heading to Lhasa as the leader of the Western Buddhists' mission to the Dalai Lama. The British intervened and the expedition was detained at the northern outposts of Tibet. Only the following spring, after five long winter months (1927–28), spent in the harshest of environments in summer tents, was the expedition allowed to proceed to India, but via the long, round-about western route which kept Roerich as far from Lhasa as possible. After that he never set his foot on Tibetan soil again, although he continued to paint Tibet throughout his remaining years.

Interestingly enough, in 1924, Roerich painted two views of Lhasa, one of which was the famous Potala. They were exhibited in the Roerich Museum in New York and reproduced in the monograph of Roerich's art which was published in 1926. In terms of composition these were akin to numerous photographs and drawings which became quite popular in the west after Younghusband's 1904 British military expedition to Tibet. Far from conveying an impression of being rendered directly from pages of a traveller's sketchbook, these two works could simply pass off as some broad artistic homage to a great city. Thus, they raised no eyebrows and led to no suspicion.

The present lot, on the other hand, is clearly an eyewitness view. Here, a city is presented from a particular and uncommon vantage point, at a particular time of day. One's attention is drawn to the ordinary street scene in the foreground, while the outlines of two hillocks recede into the background under the fading light. It takes a special effort to realize that these hillocks are in fact the famous Potala and Chakpori. The peculiar shape of the surrounding mountain range confirms without doubt that here we have an almost photographically precise view of Lhasa, although not the one known to us from postcards and travel guides. In a sense, Roerich also diverts one's perception by calling the painting Dzong at Evening. Clearly, Lhasa or the Potala can be called anything but a dzong because the word refers to a fort or fortress. Nobody seems to have suspected the true identity of the place while it was part of the Roerich Museum collection in 1929–1935. After that the canvas belonged to Louis Horch; its original title was lost, and in the mid 1970s it was bought by a New York collector as Tibetan Village. Recently it appeared in the comprehensive album of Roerich works (Nicholas Roerich [album], Vol. 2, 2011, p. 466).

Today we can well understand why Roerich's visit to Lhasa had to remain secret during his lifetime. But he also could not allow for this fact to be lost for posterity.

Nicholas Roerich left behind many hundreds of landscapes and views of Tibet. What makes this work so special and unique is the important message, concealed and thus delivered safely to the future generations.

We are grateful to Gvido Trepša, Senior Researcher at the Nicholas Roerich Museum, New York, for catalogue information.


---
Notes on symbols:
* Indicates 5% Import Duty Charge applies.
Ω Indicates 20% Import Duty Charge applies.
§ Indicates Artist's Resale Right applies.
† Indicates Standard VAT scheme applies, and the rate of 20% VAT will be charged on both hammer price and premium.