25 - 28 November 2012 Russian Art Auctions
25 November 2012
---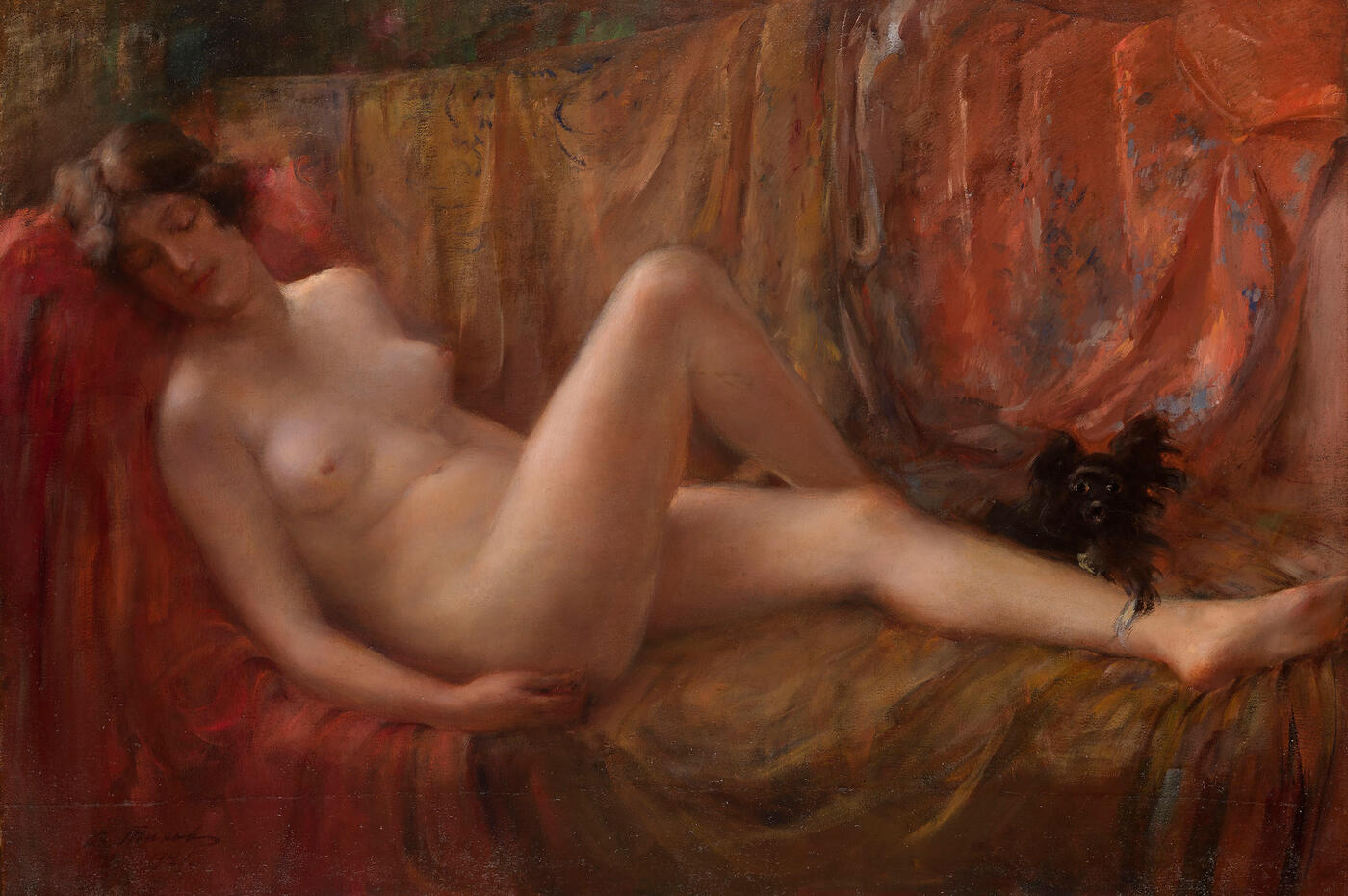 168. TIKHOV, VITALY (1876–1939)
Nude with a Dog, signed and dated 1921.

Oil on canvas, 98.5 by 143.5 cm.
100,000–200,000 GBP

Provenance: Private collection, UK.

Authenticity of the work has been confirmed by the expert V. Petrov.
Authenticity has also been confirmed by the expert I. Gerashchenko.

As one of the most talented students in Vladimir Makovsky's studio, Vitaly Tikhov made his entrance into art history with his "bathing" pictures and nudes. Among these, his various "bathhouse" pictures were particularly popular and successful in the early 1910s. His magnificent large-format nudes, redolent of Classical art which were painted a decade later, were also successful.

Nude with a Dog was painted in 1921 in Tikhov's distinctive free and rather fluid style and belongs to this group. The model is depicted lying in a state of drowsy euphoria, amid brightly-coloured drapery. At this period the artist was trying to find a new way of interacting with Classical art by having his models stand or recline in the poses of The Three Graces, Venus Before a Mirror or the "reclining Venus" paintings of Giorgione and Titian, sometimes, touchingly, giving his own paintings those same titles. In the case of this particular nude, Tikhov turned to the Classical iconography of "Venus with a dog". This motif, which had cut a long and distinguished path through art history, beginning with Titian's Venus of Urbino, took on a new lease of life in the 1920s, riding on the neo-Classical wave of the early 20th century. It is no coincidence that at the same time as Tikhov, the Italian artist Pietro Marussig of the celebrated Novecento group, was painting his own version of this subject and striving to revive interest in Italian Classicism and re-establish the pre-eminence of the Renaissance tradition, which had been eclipsed by the avant-garde.

Renouncing any pretension to the multiple meanings of the historical works – where the dog was treated as a symbol of fidelity or, adversely, as a "bestial" image to emphasise the woman's beauty and femininity – Tikhov set himself a complex artistic challenge. He sought here to convey all the nuances in the correlation and juxtaposition of textures: between the rippling silk of the drapery and the pale, velvety surface of the woman's skin and the dog's fur, with their rich, coloured reflections. Those who wish to might see the artist's wife and favourite model in this sleeping Venus, but most probably, Tikhov's recourse to the Classical canon of female beauty and the echoes of Titian's Danaë in the pose of the nude are engendered by his desire to counter the harsh, comfortless reality of post-revolutionary life with the beauty and splendour of eternal, timeless values.
---
Notes on symbols:
* Indicates 5% Import Duty Charge applies.
Ω Indicates 20% Import Duty Charge applies.
§ Indicates Artist's Resale Right applies.
† Indicates Standard VAT scheme applies, and the rate of 20% VAT will be charged on both hammer price and premium.