25 - 28 November 2012 Russian Art Auctions
25 November 2012
---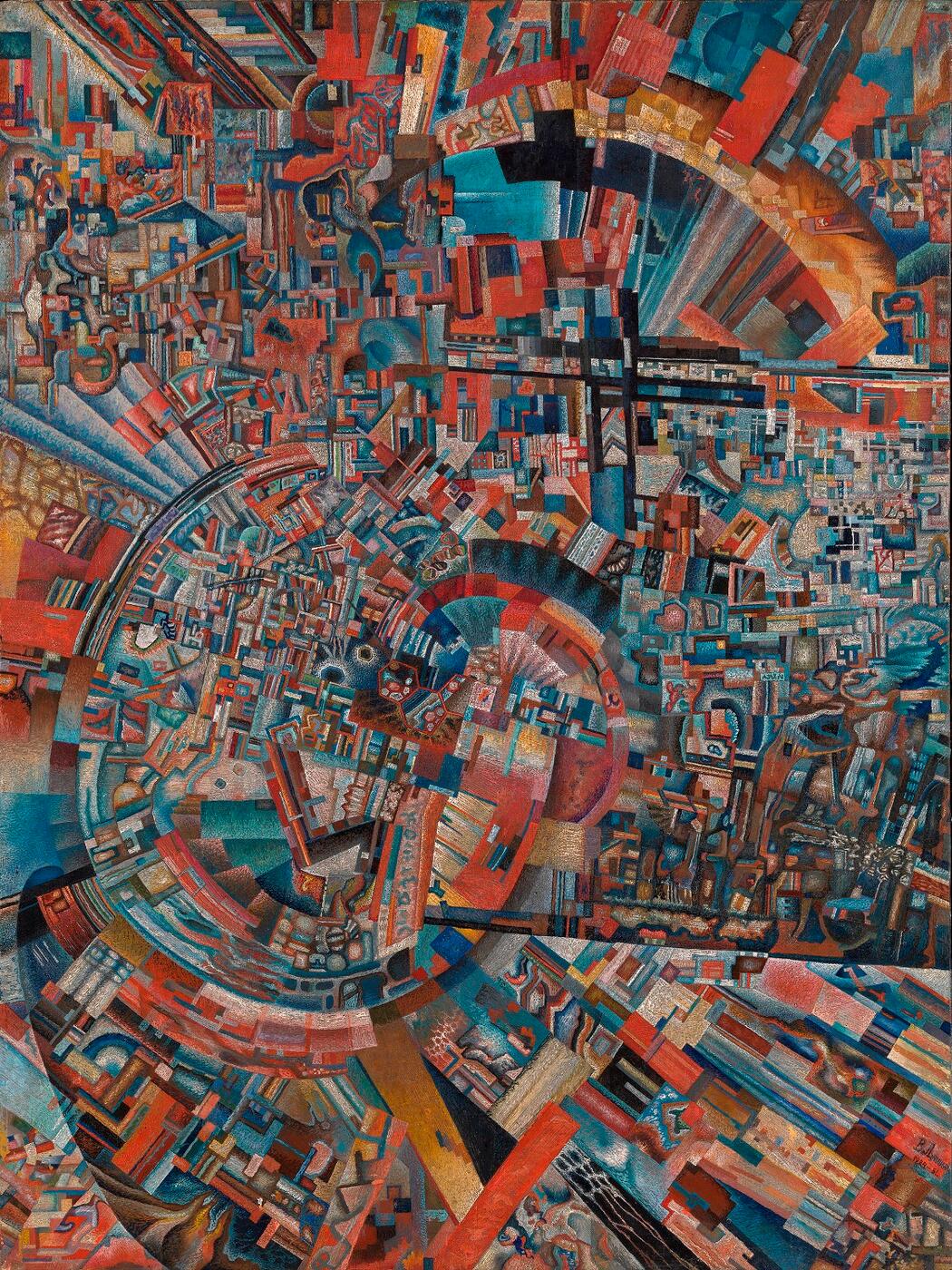 41. LUPPIAN, VLADIMIR (1892–1983)
Revolution as a Stage of Evolution, signed and dated 1924–1961.

Oil on canvas, 71 by 53.5 cm.
250,000–400,000 GBP

Provenance: Private collection, UK.

Exhibited: The Filonovites: From the Masters of Analytical Art to the Post-Avantgarde, Gallery Art-Divage, Moscow, December 2006–February 2007.

Literature: A. Borovsky, A. Kuznetsov, The Filonovites: From the Masters of Analytical Art to the Post-Avantgarde, Skorpion, Moscow, 2006, illustrated on the front cover and on p. 88.
Art Panorama, Moscow, Soviet Art Publishing, 1990, p. 115, illustrated.

The present lot constitutes Vladimir Luppian's main Filonovite work; he worked on it for over thirty years. Luppian displayed his devotion to his teacher Pavel Filonov not only personally, but also through his entire family. He married an actress, Maria Sysoevna, who sewed the costumes designed by the Collective of Masters of Analytical Art for Igor Terentiev's famous production of Nikolai Gogol's The Government Inspector at the Experimental Theatre in the House of Printing in Leningrad. Luppian also brought his teenage daughter, Muza, to study under Filonov.

Luppian's own art was governed by the principle of "madeness". The entire voluminous work was constructed from point to point. The micro and macro levels were constantly in mutual contact, with the aid of a form of capillary system. Although the artist ostensibly followed his teacher's "formulae" closely, his works were by no means clones of Filonov's creations. Filonov demanded "biological madeness." While Luppian's works can also be compared to organisms, they are more like "mechanical organisms" or, to be more exact, "metaphorical-mechanical organisms" – the "steel machines that have no soul" as described in Alexander Blok's poem, The Scythians (1918).

Among Filonov's students, the concept of "technology" was closest to the heart of Luppian. This concept even resounds in titles of such works as Quanta of Light and Energy as Matter. Luppian is clearly looking at the experience of Kliment Redko and his electro-organism. He appears to be attempting to visualise the very energy of life: the metaphors of batteries, energisers, energy fields and discharges can be read in the haze of dots caught up in a centripetal movement and the "power lines." Imagining Filonov's movement as a battlefront, Luppian would seem to head the "technological" flank (emulating such benchmark works by Filonov as GOELRO and The Mechanic).

We are grateful to Alexander Borovsky, Head of Contemporary Russian Art at the State Russian Museum, for providing additional cataloguing information.
---
Notes on symbols:
* Indicates 5% Import Duty Charge applies.
Ω Indicates 20% Import Duty Charge applies.
§ Indicates Artist's Resale Right applies.
† Indicates Standard VAT scheme applies, and the rate of 20% VAT will be charged on both hammer price and premium.