MacDougall's Russian Art Auctions 27-30 May 2012
27 May 2012
---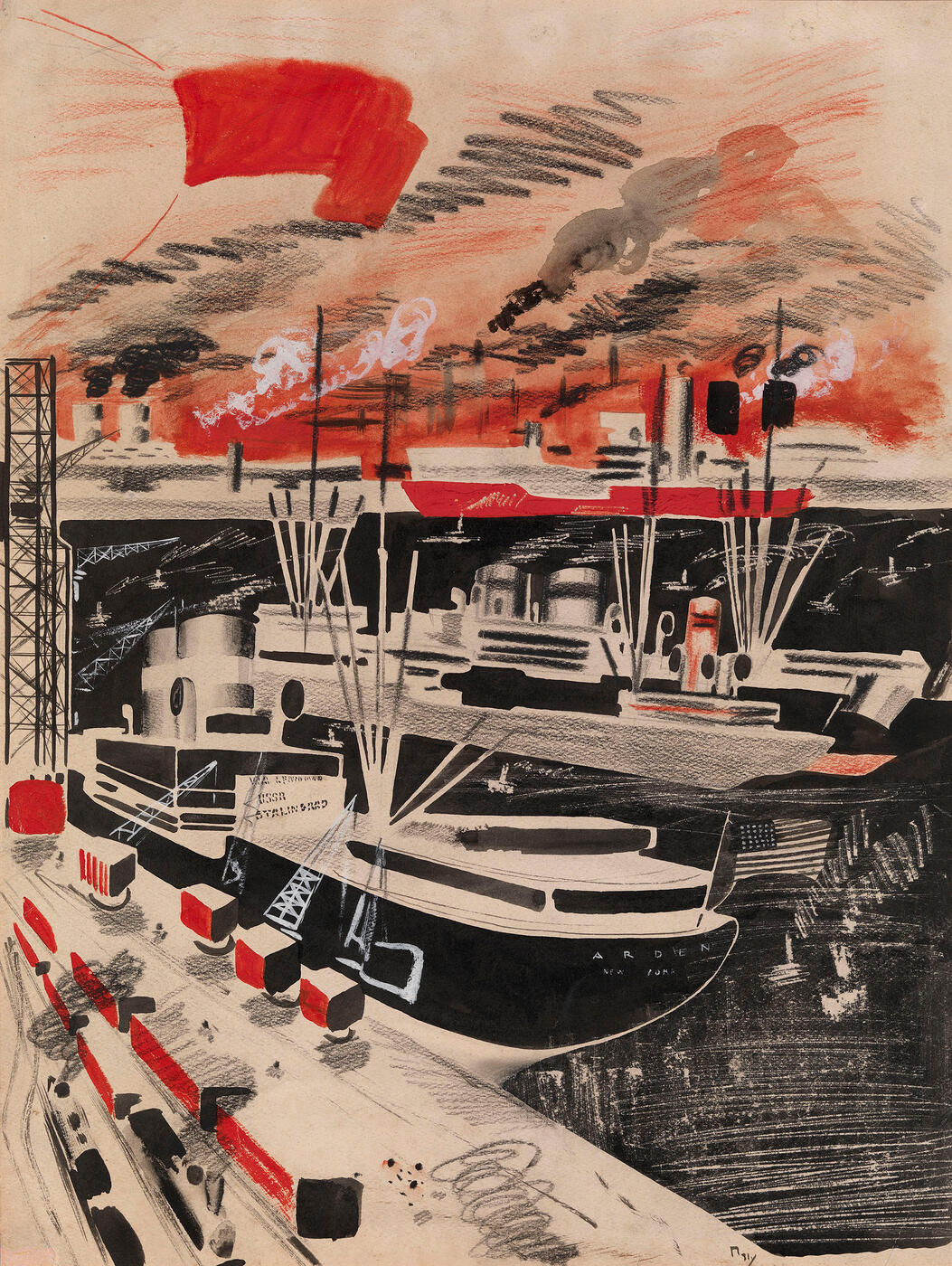 * 45. PIMENOV, YURI (1903-1977)
Port, signed with an initial and dated 1931.

Pencil, ink, watercolour and gouache on paper, 47.5 by 36 cm.
285,000–300,000 GBP

Provenance: Collection of the artist's family.
Private collection, Europe.

Authenticity of the work has been confirmed by the expert O. Glebova.

Literature: Yuri Ivanovich Pimenov, Moscow, Sovetskii khudozhnik, 1986, p. 197, No. 738, listed.

Dating from 1931, Port is based on impressions Yuri Pimenov brought back from a trip to Novorossiysk, which he had visited in 1929–1930. At that time, everything related to industry was central to Pimenov's artistic interests. In both his illustrations and paintings he was gravitating towards an aesthetic fetishizing of iron structures, girders, cranes. Here, the building of a new Soviet port offered him splendid material.

In Port, as in most of Pimenov's works of this period, we see the hand of a master who thinks in terms of composition and perceives real-life subjects in a specific, rhythmical structure. The high, distant viewpoint enables the artist to encompass the vast expanse of the port area: land, water and sky, and a red flag flapping. The high, slightly skewed line of the horizon, the deliberately reduced scale of the vehicles and the optically multiplied slant of all the verticals imbue the painting with a plethora of dynamic and spatial effects.

The principal theme running through this composition is movement. The quay edge dives downwards in a sharp diagonal, echoed by the dotted lines of railway wagons rolling down to the bottom limit of the picture; the hulking great ships unhurriedly plough the harbour waters in various directions and even an enormous barge, moored at its berth, seems to throw its great mass towards the viewer. Pimenov brilliantly transforms the then-topical advance of new industry into a means of strengthening not only the emotional impact of the work but also its conceptual resonance. Few members of the Society of Easel Painters endowed dynamic motifs with such extreme expressivity which marked out Pimenov's port scenes already by the late 1920s (Hamburg. By a "Rote Front" Poster, 1928).

Pimenov's thematic repertoire stems from similar work he did for periodicals, and the basic characteristics of his art in his Society of Easel Painters period were a combative and optimistic tone and consistent concern with "electrified, mechanised Communism" (Mayakovsky). The increased interest this latter had aroused regarding the specific expressive possibilities of graphic art spurred on Pimenov to seek new, realistic approaches, which exceeded the bounds of the VKhUTEMAS syllabus. It is no coincidence that, during this period, the artist showed a preference for drawing with ink, pencil, watercolour and gouache, that is, more painterly techniques than the woodcuts championed by Favorsky's school.
---
Notes on symbols:
* Indicates 5% Import Duty Charge applies.
Ω Indicates 20% Import Duty Charge applies.
§ Indicates Artist's Resale Right applies.
† Indicates Standard VAT scheme applies, and the rate of 20% VAT will be charged on both hammer price and premium.