MacDougall's Russian Art Auctions 27-30 May 2012
27 May 2012
---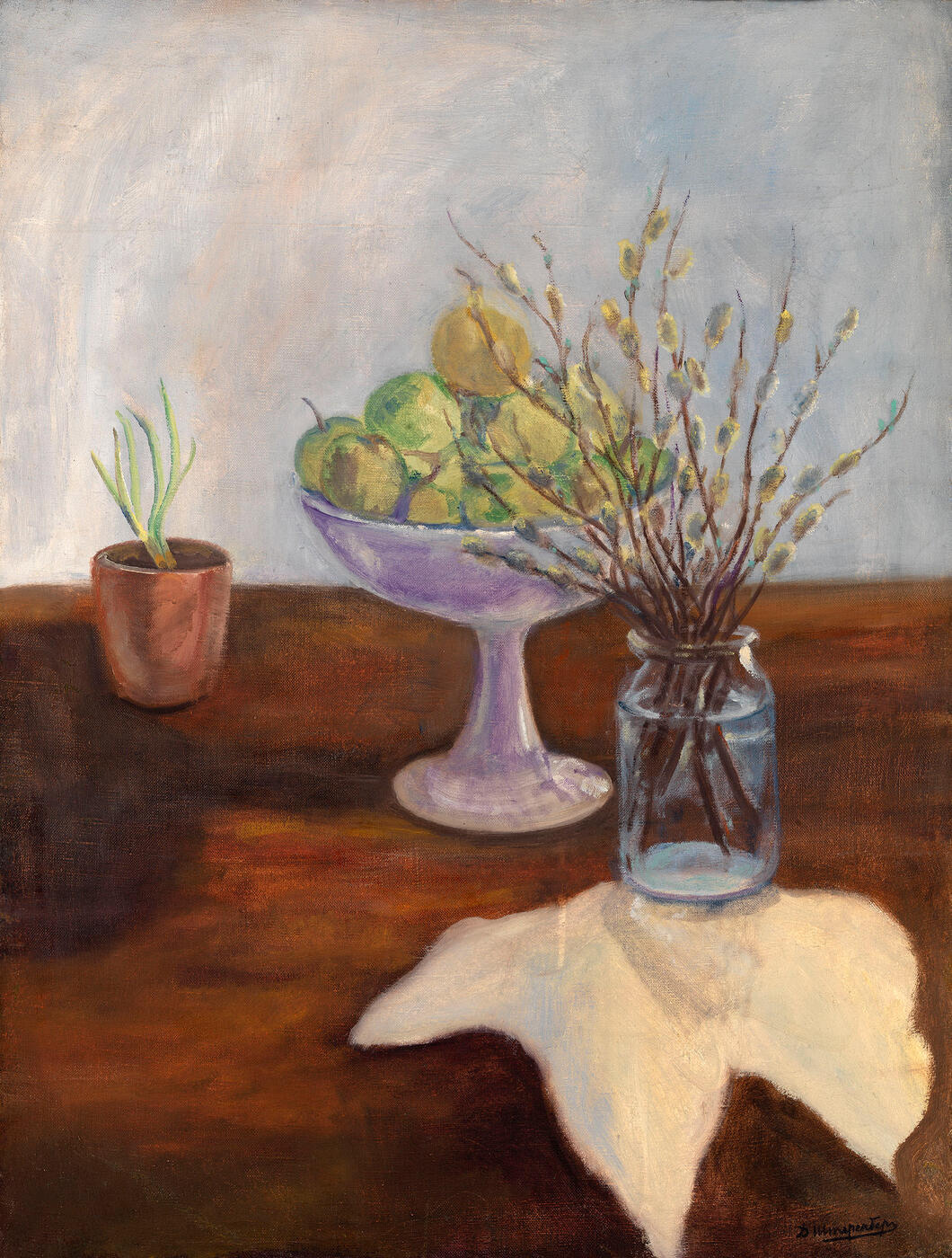 * 42. SHTERENBERG, DAVID (1881-1948)
Pussy Willow in a Jar, signed.

Oil on canvas, 80 by 61 cm.
315,000–400,000 GBP

Provenance: Acquired directly from Fialka (Violetta) Shterenberg, the artist's daughter.
Private collection, Europe.

Literature: David Petrovich Shterenberg. 1881–1948. Zhivopis', grafika. Katalog, Moscow, Sovetskii khudozhnik, 1978, p. 32, listed under works from 1945.

David Shterenberg entered art history as a painter of still lifes. His constant concerns were the material essence of life and the immeasurable variety of matter. The simplest of natural objects – flowers, fruit, any aspect of "still life" – were never just "studies" for Shterenberg. His still lifes contain a deep-seated significance: there is always an element of intrigue, action, mystery and they always bear the imprint of time. Pussy Willow in a Jar is clear testimony to this.

Pussy Willow in a Jar was painted when the artist's years of study at the Académie Vitti (1907–1912) under Henri Martin and Kees van Dongen, his wild period in the Parisian artists' colony La Ruche and his enthusiasms for Cubism and Cézanne were all in the distant past. However these lessons, assimilated by Shterenberg and synthesised into his own "modelled" style which is recognisable at every stage of his career, are still discernable in Pussy Willow in a Jar. We feel his keen interest in constructing a sense of volume on a flat surface, for ordering and harmonising the world of objects. He emphasises the depth of the composition, arranging the napkin, jar with pussy willow, fruit bowl and flower pot in one diagonal line so that the solidity of the materials gradually increases, from the foreground to the background. At the same time he deliberately depicts the largest item in the composition – the bowl of pears that is the optical and pictorial centre of the picture – in a highly geometrical and flattened manner.

Replacing the "naturalistically haphazard" works of the 1920s, as Shterenberg himself called them, came a more conscious conception of the reproduction of reality. Now, returning to three-dimensional space, he places at the apex of an angle an area of absolute stasis, a calmness, as if in contradistinction to Cubist and Expressionist approaches. The artist strives for extreme simplification of his objective world but, when working on the most unassuming of objects he raises this extreme simplicity to the point where it tips over into sophistication. He abandons the graphic, geometrical approach to concentrate on painterliness. The relaxed, tonal painting of Pussy Willow in a Jar is notable not for its particular technical virtuosity but for the emotions it embodies. The depiction of the light of a spring day, the sense of a certain levity, the undefined, loose contours of the sprigs, as if dissolved in the haze of the illuminated background – these form a surge of spontaneity, absent from Shterenberg's earlier "organised" works.

This elegant still life was the creation of an artist already far-removed from the analytical dissection of nature of his earlier years and embodies a desire, typical of his work of this period, towards a soothing, classical clarity. It is this capacity for preserving an immediate connection with the spirit of his age, without joining any particular artistic or political camp, which enabled him to continue to create works throughout his life that never took on an abstracted, academic character. It is no accident that Shterenberg's still lifes, along with his other significant works, have become classics of 20th century world art.
---
Notes on symbols:
* Indicates 5% Import Duty Charge applies.
Ω Indicates 20% Import Duty Charge applies.
§ Indicates Artist's Resale Right applies.
† Indicates Standard VAT scheme applies, and the rate of 20% VAT will be charged on both hammer price and premium.