MacDougall's Russian Art Auctions 27-30 May 2012
27 May 2012
---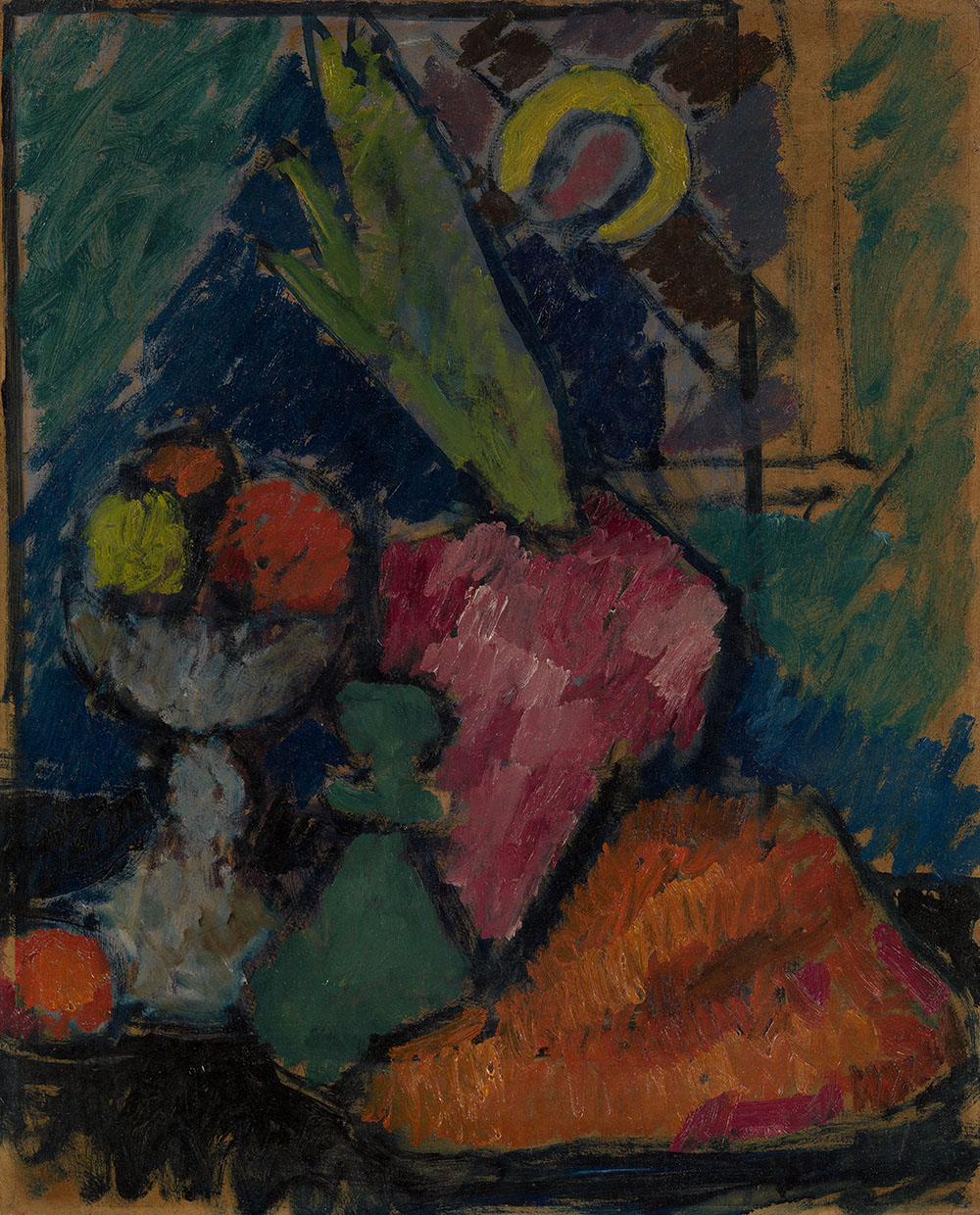 * 5. JAWLENSKY, ALEXEJ VON (1864-1941)
Stillleben mit Heiligenbild und Blumentopf (Still Life with a Picture of a Saint and Pot of Flowers) .

Oil on board, 54.5 by 44 cm.
350,000–500,000 GBP

Painted c. 1910–1912.

Provenance: Hermann Stern, Germany, probably acquired in the early 1920s.
Max Stern, New York, received in 1940 from his brother Hermann Stern.
Gift to an American private collector in 1948.
Private collection, Europe.

Exhibited: Alexej von Jawlensky, Lenbachhaus, Munich, 1964, No. 70.

Literature: The work has been included in the Jawlensky catalogue raisonné and has been published in Bild und Wissenschaft. Forschungsbeiträge zu Leben und Werk Alexej von Jawlenskys, Locarno, Alexej von Jawlensky-Archiv AG, 2006, vol. 2, p. 14, No. 2347, illustrated.

Painted in 1910–1912, Stillleben mit Heiligenbild und Blumentopf dates from the most important period in Alexej von Jawlensky's extremely fruitful career, when he and his long-time partner Marianne von Werefkin were at the centre of the rapid changes which were taking place in Munich's avant-garde circles. In 1909, together with Gabriele Münter, Wassily Kandinsky and others they had founded the Neue Künstlervereinigung München, headed by Kandinsky and Jawlensky. A year later, Jawlensky met Franz Marc, who would also become a member, and in 1911 he met Kees van Dongen in Paris, where he again saw Matisse.

The year 1911 in particular was a turning point for Jawlensky. In his memoirs which he dictated towards the end of his life to his friend and assistant Lisa Kümmel, the artist recalls: "In the spring of 1911 Marianne Werefkin, Andrej, Helene and I went to Prerow on the Baltic. For me that summer constituted a great step forward in my art. I painted my finest landscapes there as well as large figure paintings in powerful, glowing colours, not at all naturalistic or objective. I used a great deal of red, blue, orange, cadmium yellow and chromium-oxide green."

Stillleben mit Heiligenbild und Blumentopf has all the stylistic elements which characterize Jawlensky's best works. During this period, his colours became gradually more vivid and bold, and his work shows a simplicity of form which is further accentuated by the use of strong contours. Jawlensky's simplified forms echo Russian icon painting, which held a lifelong fascination for the artist. In his memoirs, Jawlensky remembers his frequent visits to the Museum of Alexander III in St Petersburg, now the State Russian Museum, where he would admire the icons and even whole iconostases: "a wonderful art of which Europe had so far seen very little".

The picture of a saint in Stillleben mit Heiligenbild und Blumentopf appears to represent an icon from the artist's native Russia. Such icons also appear in other still lifes by Jawlensky, such as Stillleben mit Heiligenbild, which the artist painted around the same time as the present work. At the same time, the icon symbolises the spiritual dimension central to Jawlensky's art. In fact, the artist was constantly searching for the means to go beyond material objects: "I had to paint not what I saw, not even what I felt, but only what was in me, in my soul".
---
Notes on symbols:
* Indicates 5% Import Duty Charge applies.
Ω Indicates 20% Import Duty Charge applies.
§ Indicates Artist's Resale Right applies.
† Indicates Standard VAT scheme applies, and the rate of 20% VAT will be charged on both hammer price and premium.