MacDougall's Russian Art Auctions 27-30 May 2012
27 May 2012
---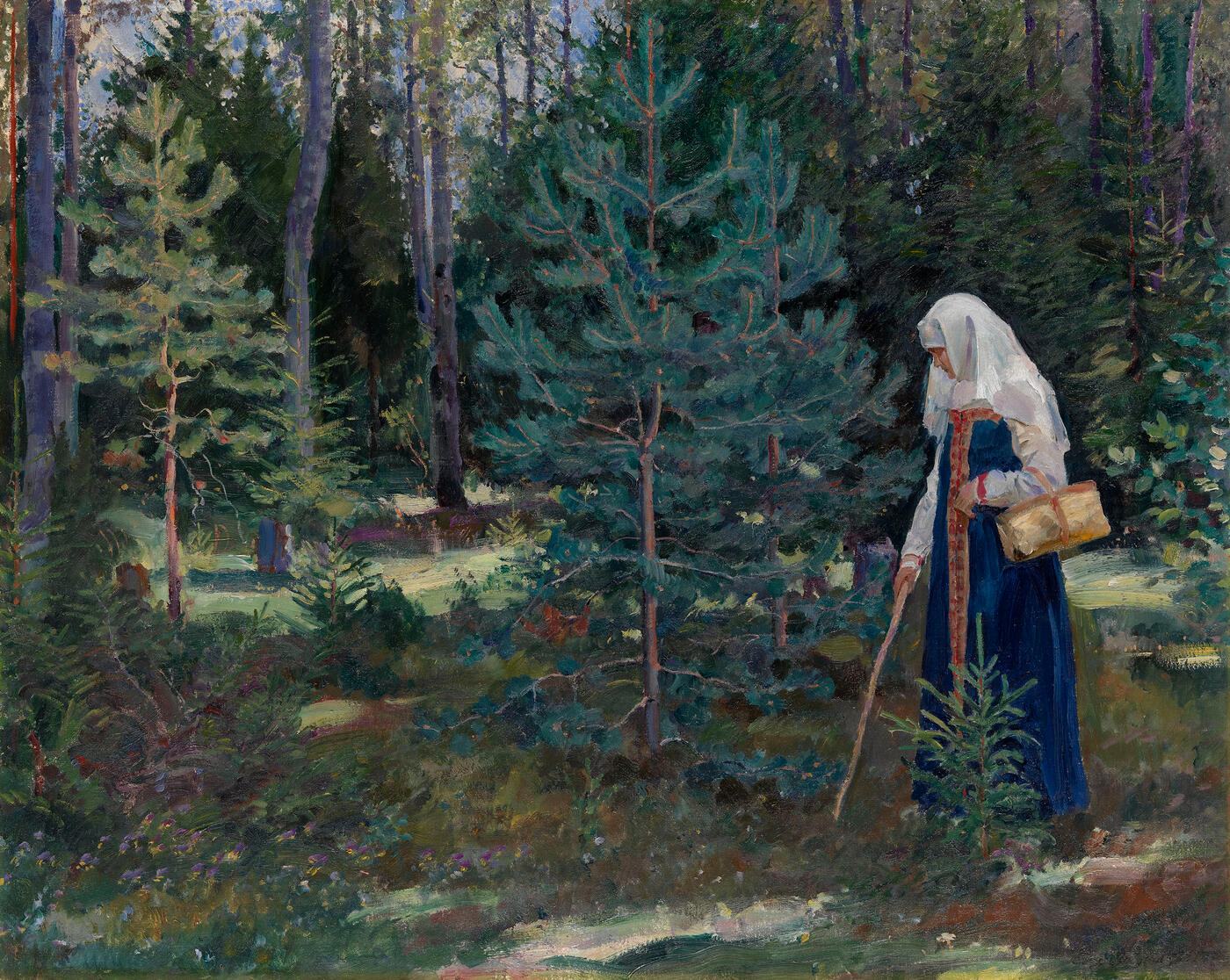 * 3. VINOGRADOV, SERGEI (1869-1938)
Gathering Mushrooms in the Forest, signed and dated 1927.

Oil on canvas, 73 by 92 cm.
320,000–400,000 GBP

Provenance: Previously in the collection of Christen Overgaard (1876–1954), director of Burmeister & Wain Shipyard, Denmark.
Private collection, Europe.

Authenticity of the work has been confirmed by the expert V. Petrov.

Exhibited: XLIX Exhibition, Prague, 1928, No. 126.

Literature: Exhibition catalogue, XLIX Exhibition, Prague, 1928, No. 126, listed.
N. Stankevich, Sergei Vinogradov, Leningrad, Iskusstvo, 1970, p. 132, listed.

Sergei Vinogradov painted Gathering Mushrooms in the Forest in Latvia where, having decided not to return to Soviet Russia after his trip to America, he settled in 1924. Vinogradov quickly slotted into the local Russian cultural community, and the Latgalian estates of his hospitable new pupils and friends became his favourite subjects to paint and places to spend time. Here he produced his celebrated forest landscapes, drew Latgalian peasants in national costume and even produced some works on the folklore motifs that were popular with artists of his generation. Among these are the drawing Game, now in the Ufa Art Museum, and the present lot, Gathering Mushrooms in the Forest.

This painting, with its emerald fir trees and dark wall of forest in the background, is imbued with an atmosphere of lyricism. Bright summer sunshine penetrates through the branches, illuminating the green crests of the trees. An early-morning mist still creeps along the ground, clearing at the distant forest border to reveal white birch-trunks within. In the forest glade we see the green of fir-trees and small pines – a favourite subject of this artist. White flowers show brightly through the grass, and in this joyous natural setting is a beautiful maiden, reminiscent of Russian legends, gathering mushrooms. This unity of humankind with nature is portrayed with an easy, fluid hand. The bold use of an intense, saturated cobalt blue for the maiden's dress suggests to the viewer not so much a Latgalian village of the artist's time, but rather romantic recollections of the folk-tale characters of Nesterov and Vasnetsov, and of Pushkin's "peasant lady", roaming the forest in a sarafan of "blue nankeen" with a basket of birch-bark, anticipating a meeting with the son of the neighbouring landowner.

In the effort to perfect his technique, Vinogradov did not search for a new, original expressive form in his Latvian work. On the contrary, the picture Gathering Mushrooms in the Forest emphasises his painstakingly preserved adherence to the traditions of the Russian Realist school, of which he once proudly said: "I know my art: all my studying, observing, remembering and working was not in vain. Now technique poses no problems to me. Provided I live long enough, I have accumulated sufficient sundry ideas, themes and, most importantly, nuances in my visual memory to fill ten exhibitions."

And there was indeed, in a Copenhagen gallery in 1927, the Free Exhibition of Russian Art, to which Vinogradov, visiting the Danish capital for the first time, brought 40 of his best canvasses. Calm in mood, executed with unimpeachable skill, they were so good that Danish journalists were continually noting the "artistic veracity and freshness" of many of the artist's works. Today, unfortunately, we do not have reliable information as to whether Gathering Mushrooms in the Forest was included in that exhibition, but its impeccable provenance – it was in the collection of the celebrated Danish collector and art connoisseur Christen Overgaard, who in 1926 became chairman of the Danish Industry Council – leads us to believe that he may have acquired this canvas along with others exhibited at this exhibition.
---
Notes on symbols:
* Indicates 5% Import Duty Charge applies.
Ω Indicates 20% Import Duty Charge applies.
§ Indicates Artist's Resale Right applies.
† Indicates Standard VAT scheme applies, and the rate of 20% VAT will be charged on both hammer price and premium.