MacDougall's Russian Art Auctions 1 December 2011
1 December 2011
---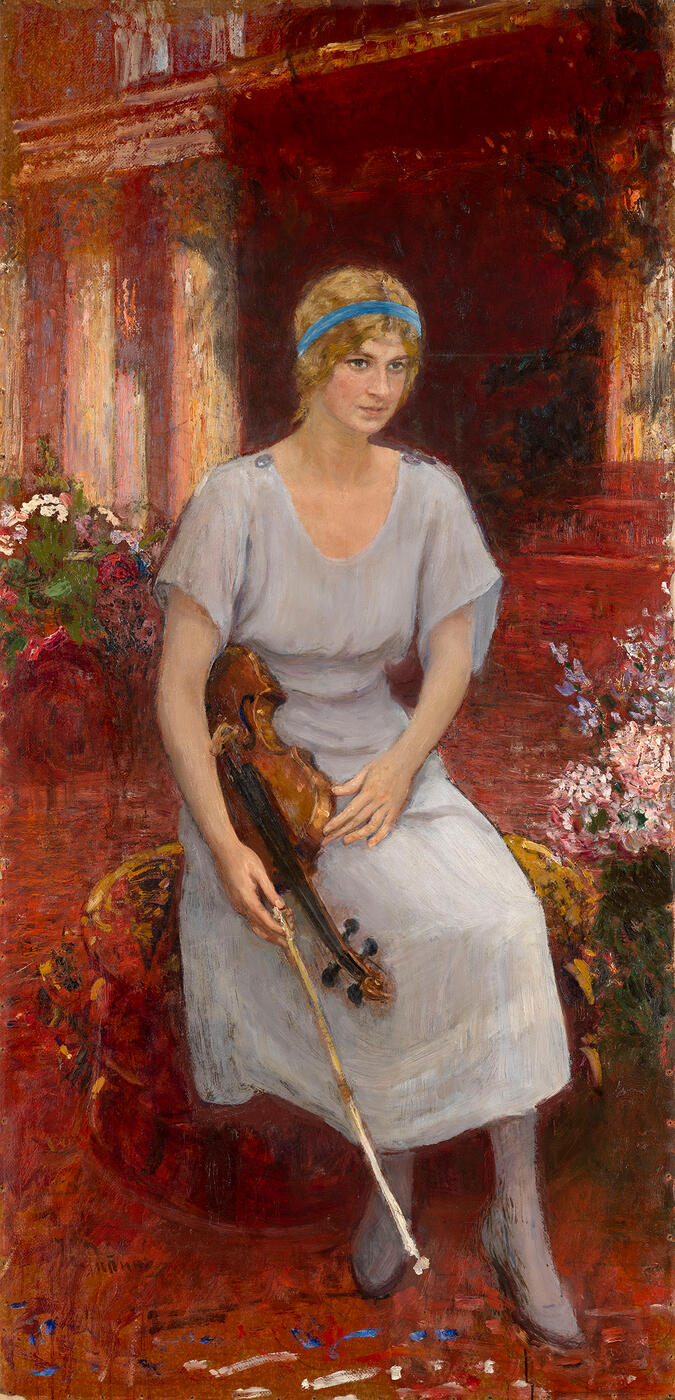 22. REPIN, ILYA (1844-1930)
Portrait of the Violinist Cecilia Hansen, signed.

Oil on board, 193 by 93 cm.
700,000-900,000 GBP

Executed in 1922.

Provenance: Formerly in the collection of Ilya Repin, Penaty.
Thence by descent.
Collection of Vera Repina, the artist's daughter.
Private collection, UK.

Authenticity certificate from the expert V. Petrov.

Exhibited: Strindberg Salon, Helsinki, May 1928.

Ilya Repin painted this portrait of the famous violinist Cecilia Hansen in 1922 at his dacha, Penaty. Repin and Hansen were introduced by a neighbour, Vasily Levy, who was also an artist and a great help to Repin in organising exhibitions towards the end of the latter's life. Levy would later recall that Cecilia and her husband, the pianist Boris Zakharov, were staying at his brother's home in Kellomäki and that he took her to see Repin for the express purpose of commissioning a portrait. Repin and Hansen's acquaintance was to soon grow into a real friendship. As was reported in the local newspaper, The Russian News, a concert took place on 8 August 1922 "for the benefit of the school-children of Terioki and Kuokkala, given by the celebrated violinist Cecilia Hansen, pianist Professor B.S. Zakharov and artist I.E. Repin."

Repin was glad to receive a young and beautiful musical celebrity, all the more so given she enjoyed her visits, and as well as posing for him, was happy to play her violin for the company that assembled there every Wednesday. Repin had a quick and lively receptivity to music and a keen ear, declaring once that: "I always loved music. If ever I was unable to hear it for an extended period, I pined for it." A close friend of many composers and performers, the artist approached their portraits with a particular sensitivity, striving to convey the psychology of creativity, to capture on canvas intangible signs of the inspiration that accompanies the birth of any work of art. It comes as no surprise that work on Hansen's portrait did not progress at speed. There are many written and photographic accounts that illustrate the atmosphere of creative collaboration between the artist and his model. As a result, Repin painted two portraits of Cecilia simultaneously. In one she is portrayed in a light-coloured dress, her violin raised as if ready to play, which Hansen took with her to Europe. In the other work, which was still unfinished by the time Hansen left Penaty, the artist depicted her in a moment of rest, thoughtful, holding the violin by her side. It remained with Repin and was subsequently much exhibited. After the artist's death it passed to his daughter Vera. This is the portrait now offered for auction.

Work on the portrait continued for five long years. Repin was pleased with the finished result and in 1927 he exhibited Cecilia Hansen at the Salon Strindberg together with his most important recent works. The art critic Edvard Richter, who knew Repin's work well, said of the master's portraits in the exhibition: "Only when one has seen Repin's celebrated Ivan the Terrible and His Son, Religious Procession in Kursk Province, They Did Not Expect Him and Zaporozhye Cossacks Writing a Letter to the Turkish Sultan in the Tretyakov Gallery in Moscow, only then can one understand how sublimely skilled the artist can be in his mastery of form and in conveying the life and stirrings of the soul. We must bear all this in mind as we consider Repin's most recent works. But we should not decide that the artist's recent creations are automatically devoid of any great significance. On the contrary, the female portrait painted only this year demonstrates that the artistic ability and creative ardour of this uncommonly energetic man are still very much alive." The critic felt that it was in his portraits that Repin's mastery of form and colour reached its highest level of perfection, and that in terms of his palette and refinement of line these works were extraordinarily fresh and beautiful, conspicuous for their decorativeness.

Richter considered Repin, his talent undiminished, to be paying homage to all that was young and full of life. Indeed, at the time the portrait was painted the 25 year-old violinist's career was at its peak. After her studies at the Conservatoire under the celebrated Professor Leopold Auer, Cecilia performed to great acclaim in Estonia, Latvia, Germany, Czechoslovakia and America. The music critics wrote that the delicate, harmonious tone of her violin and her lively and genuine enthusiasm in performance were contributing factors in bringing Hansen considerable renown as a talented musician.

"This work," wrote Richter, "suggests to us that Repin, previously a master of mainly psychology and form, is only now towards the end of his career experimenting further with the combining of paint colours." According to the Finnish critic this was attested to by the artist's great interest in palette, first and foremost. In Repin's work with colour, Richter was especially struck by the artist's skilful use of white and red tones and this is seen reflected in full measure in the portrait of Cecilia Hansen.
---
Notes on symbols:
* Indicates 5% Import Duty Charge applies.
Ω Indicates 20% Import Duty Charge applies.
§ Indicates Artist's Resale Right applies.
† Indicates Standard VAT scheme applies, and the rate of 20% VAT will be charged on both hammer price and premium.