MacDougall's Russian Art Auctions 8-9 June 2011
8 June 2011
---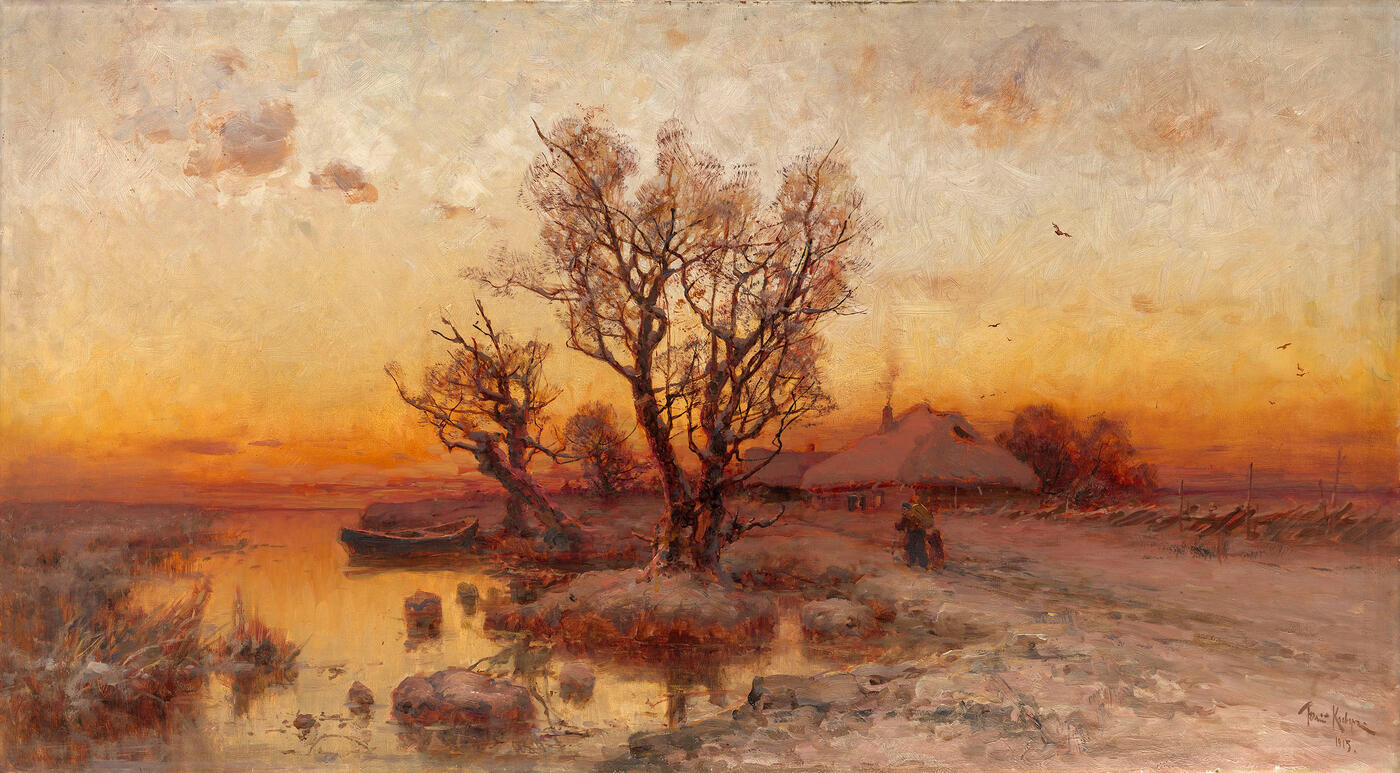 * 57. KLEVER, YULI (1850-1924)
Sunset over a Ukrainian Hamlet, signed and dated 1915.

Oil on canvas, 78.5 by 143 cm.
120,000-180,000 GBP

Provenance: Private collection, Europe.

Authenticity of the work has been confirmed by the expert V. Petrov.


Sunset over a Ukrainian Hamlet has for its subject one of Yuli Klever's most frequently used and frequently reworked motives. The demand for his landscapes, which had increased after the artist's return to St Petersburg from Europe in 1909, led Klever to turn to his most successful earlier compositions, of which this winter sunset in a fishing hamlet, with its pair of his signature "horned" trees and lonely little houses, certainly stands out.

Sunset over a Ukrainian Hamlet presented in this catalogue is among the most impressive and skilful examples of this cycle. Polishing the composition and choosing a large format, Klever achieves the effect of a slightly blurry portrayal, typical of his work of the 1910s. At the same time he maintains the best elements of his previous work on such sunsets - an intense colour palette and an extreme expressivity in the trees, silhouetted in contre-jour against the background of a misty orange, luminous sky.

Catching snatches of Russian and European Symbolism, which were developing in parallel with Klever's experiments, in this picture the artist added to his associative imagery with the introduction of staffage, the figures of an adult and a child trudging home, loaded down with brushwood. The mystical illumination of the sunset and the particular way in which Klever depicts human habitations and deliberately misshapen trees, as though lost in the abyss of everyday life, helps to create the impression of a kind of balladic, elegiac mystery and a spectral "sublunar world". In the words of the renowned specialist in Russian landscape Vladimir Petrov: "If there is no reason to doubt that Klever, as he himself acknowledged, 'spent a great deal of time studying gnarled trees contorted by wind and rain… the colour range in sunsets, the great variety of lighting effects in the evening sky and of features in nature', then it is also certain that, of the phenomena he studied, he selected and emphasised not those that speak mostly of the uniqueness of nature, but those that, when combined, can together generate a desired emotional and visually meaningful ensemble, that have a suggestive, expressive and also a metaphorical dimension, tending towards the expression of "mysteriousness", "spectralness" and a subjective "seemingness". It is the very presence of this graphic system which is sometimes, in Klever's best "sunsets", developed into an emblematic "ideal" (in the sense of extra-natural, immaterial),… which enabled the artist again and again to vary his favourite motifs, conveying through them some kind of personal meanings which also resonated with his public."

In Sunset over a Ukrainian Hamlet, Klever found, without doubt, this poetic formula, popular with so many art lovers. One of Klever's contemporaries aptly wrote that he was the first Russian landscape artist to bring "the portrayal of winter to such great heights … and to perceive, in the tones of the northern winter, that power and strength which in the intensity of its colours can confidently compete with the most outstanding pictures of the southern countryside."
---
Notes on symbols:
* Indicates 5% Import Duty Charge applies.
Ω Indicates 20% Import Duty Charge applies.
§ Indicates Artist's Resale Right applies.
† Indicates Standard VAT scheme applies, and the rate of 20% VAT will be charged on both hammer price and premium.