MacDougall's Russian Art Auctions 8-9 June 2011
8 June 2011
---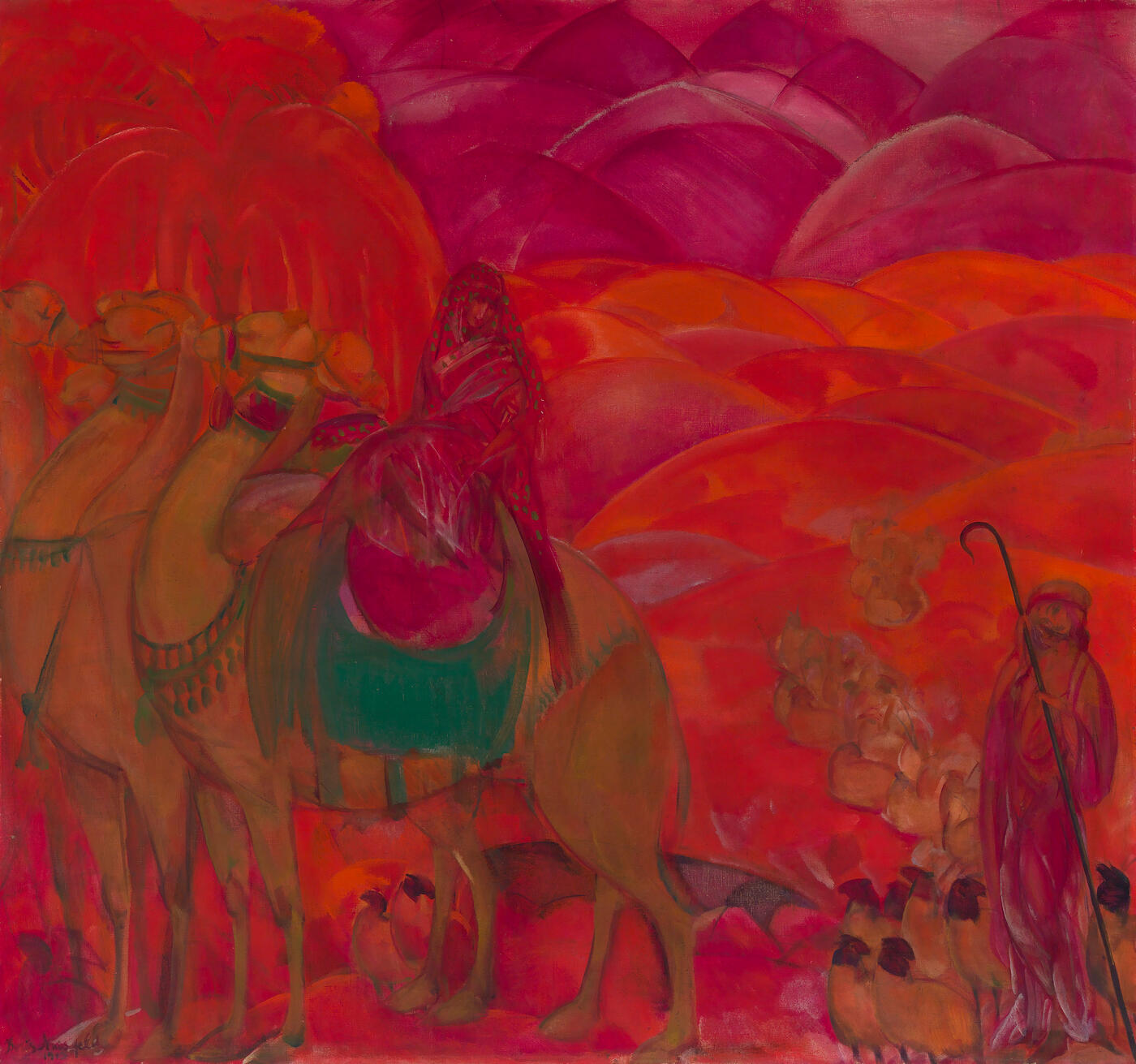 51. ANISFELD, BORIS (1879-1973)
Rebecca, signed and dated 1917, further numbered "64" and "27" and with a sketch of a woman's face on the reverse.

Oil on canvas, 124.5 by 133 cm.
300,000-400,000 GBP

Provenance: Private collection, UK.

Authenticity of the work has been confirmed by the grandson of the artist Charles Chatfield-Taylor.

Exhibited: The Boris Anisfeld Exhibition, Itinerant Exhibition, USA, 1918-1920, No. 64 (inscription on the reverse).
Exhibition of Paintings and Drawings by Boris Anisfeld, Worcester Art Museum, Worcester, USA, 1924-1925.
Exhibition of Paintings and Drawings by Boris Anisfeld, Boston Art Club and Twentieth Century Club, Boston and New York, USA, 1924-1925.
Sesquicentennial Exhibition, Philadelphia, USA, 1926.
The Great Lakes Exhibition, Itinerant Exhibition, USA, 1932, No. 355.19.

Literature: Exhibition catalogue, The Boris Anisfeld Exhibition, with introduction and catalogue of the paintings, compiled by C. Brinton, New York, Redfield-Kendrick-Odell Company, 1918.
C. Brinton, "The Boris Anisfeld Exhibition", Brooklyn Museum Quarterly, January, 1919, No. 64, illustrated.
Schriften Journal, 1919, p. 45, illustrated in black and white.
Exhibition catalogue, Exhibition of Paintings and Drawings by Boris Anisfeld, Worcester and Boston, USA, 1924, No. 49, listed.
E. Lingenauber, O. Sugrobova-Roth, with a preface by C. Chatfield-Taylor, Boris Anisfeld. Catalogue Raisonne, Düsseldorf, Edition Libertars, 2011, P-085, illustrated.


The biblical work Rebecca is imbued with Symbolist ideas and is among the most outstanding works Anisfeld completed during his final years in his homeland.

Painted just before his departure for America, this striking, decorative work embodied Anisfeld's lively enthusiasm for biblical history apparent in his work from the mid 1900s and which reached its apogee around 1914-1917. This period was one of the most productive in the artist's career. Curtailing almost entirely his theatre work, he finally devoted himself totally to painting, which became tinged with Primitivist and Expressionist traits. Under the influence of Paul Gauguin's "Tahitian paradise", which he had seen in Sergei Shchukin's collection, Anisfeld created a whole series of works on biblical themes, distinctive for their combination of Symbolism with Aestheticism. We can, without a doubt, cite Rebecca as one of the gems of this cycle, on a par with Exodus and Salome. The painting is based on one of the most popular Old Testament subjects in the history of art. Abraham, who has long since left his native land at God's command to live in Canaan, decides to find a wife for his son Isaac in his distant homeland. He orders his steward Eliezer to harness a caravan of ten camels and set off to Mesopotamia with precious gifts to look for a suitable bride for his master's son. When the servant finally arrives in the "city of Nahor" (Harran) and stops his caravan by a well, he prays to the Lord, asking him to send him a sign that the maiden he chooses will be pleasing to God.

And then, before Eliezer has even finished his prayer, Rebecca comes out towards him, going to the well with a pitcher. "And the servant ran to meet her, and said, Let me, I pray thee, drink a little water of thy pitcher. And she said, Drink, my lord and she hasted, and let down her pitcher upon her hand, and gave him drink. And when she had done giving him drink, she said, I will draw water for thy camels also, until they have done drinking. And she hasted, and emptied her pitcher into the trough, and ran again unto the well to draw water, and drew for all his camels." (Genesis, Chapter 24, verses 17-20). Touched by her kindness, generosity and thoughtfulness, Eliezer interprets this as a sign from above, asks Rebecca's parents for her hand for the son of his master and obtains their consent.

The subject of Eliezer recognising Rebecca among the beautiful maidens who come to the well for water has proved exceedingly fruitful. Down the centuries, great artists - Murillo and Tiepolo, Poussin and Coypel, de Bray and Piazzetta - have all addressed it. However Anisfeld, following the example of Giovanni Castiglione, takes as the basis of his picture an entirely different episode from the story of Rebecca. Like that Genoese master, two and a half centuries earlier, Anisfeld depicts the moment when Rebecca meets her foreordained husband, Isaac.

The artist's Symbolist reading of the moment the protagonists meet is largely dictated by his closeness to the work of the artists of the Blue Rose group and also the influence of Gauguin's Tahitian canvases. Anisfeld transforms "biblical reality" into a mystical stylisation of European Art Nouveau. With their exceptional decorativeness and orientalist sophistication, the unreal colours of the desert landscape, which melt into one another, the Eastern grace, fluidity of form and the fiery feel of the painting Rebecca - these qualities place this picture on a par with the best works of Russian Symbolism.
---
Notes on symbols:
* Indicates 5% Import Duty Charge applies.
Ω Indicates 20% Import Duty Charge applies.
§ Indicates Artist's Resale Right applies.
† Indicates Standard VAT scheme applies, and the rate of 20% VAT will be charged on both hammer price and premium.