MacDougall's Russian Art Auctions 8-9 June 2011
8 June 2011
---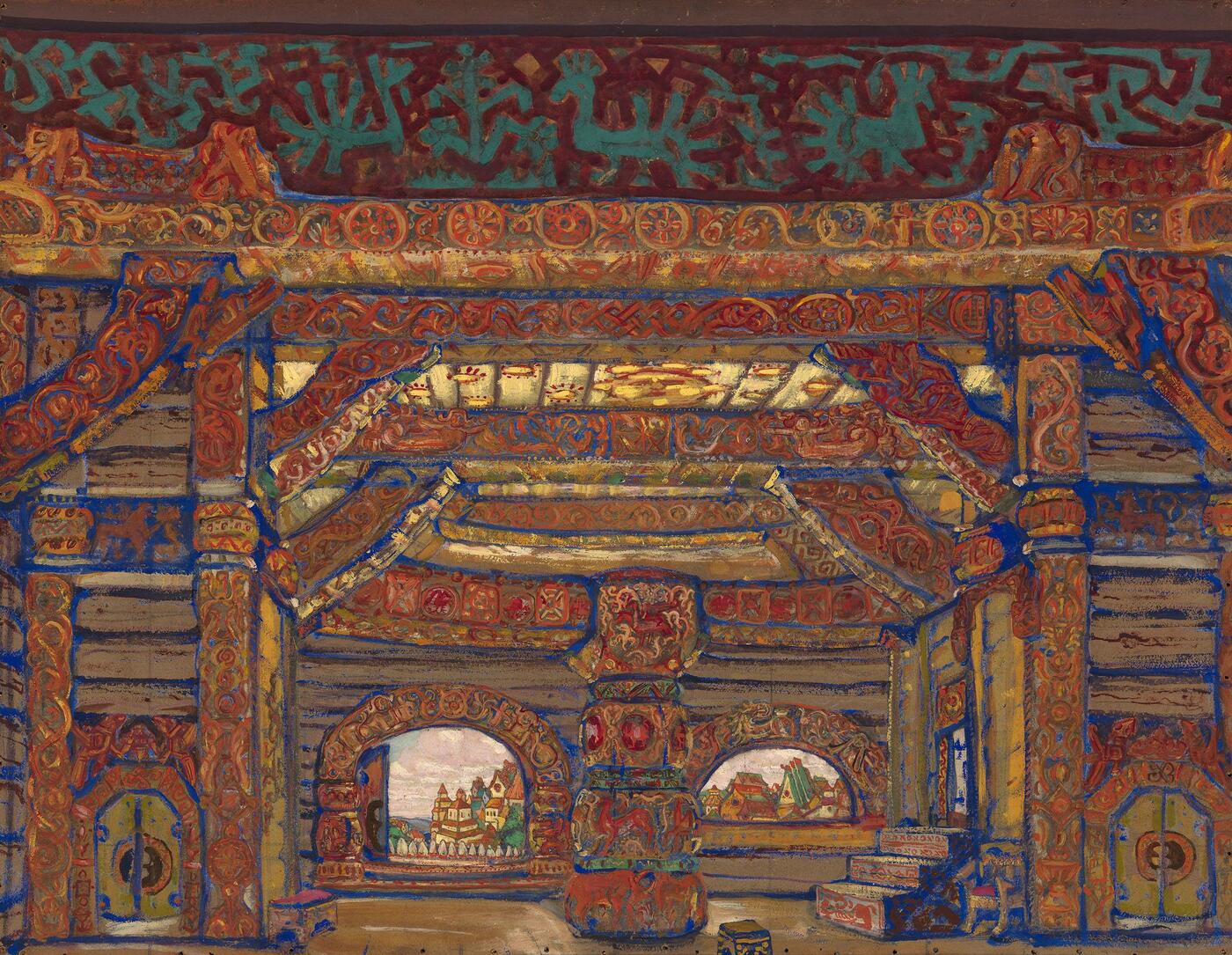 * 23. ROERICH, NICHOLAS (1874-1947)
The Palace of Tsar Berendey, a Set Design for A. Ostrovsky's Fairytale "Snegurochka", signed with a monogram and dated 1912, further inscribed "1500" and numbered "N9" on the reverse.

Tempera on board, 55.5 by 71 cm.
350,000-500,000 GBP

Provenance: Roerich Museum, New York, USA, 1919-1935.
Collection of Luis and Nettie Horch, New York, USA.
Thence by descent.
Private collection, USA.

Exhibited: World of Art Exhibition, St Petersburg, Moscow, Kiev, 1912-1913 (labels on the reverse).
Baltic Exhibition, Malmö, Sweden, 15 May-4 October 1914 (label on the reverse).
Rörich Separatutställning (Roerich Personal Exhibition), Gummesons Konsthall, Stockholm, Sweden, 10-30 November 1918.
Rörich Maleriudstilling (Roerich Exhibition of Paintings), Kunsthadel Henry Schou, Copenhagen, Denmark, 1919.
Nicholas Roerich Taidenäyttely (Nicholas Roerich Art Exhibition), Salon Strindberg, Helsinki, 1919.
The Nicholas Roerich Exhibition, Kingor Galleries, New York, NY; Boston Art Club, Boston, MA; Albright Art Gallery, Buffalo, NY; Art Institute, Chicago, Il; St Louis City Art Museum, Saint Louis, MO; Museum of Art, San Francisco, CA; Fine Arts Society, Omaha, NE; Kansas City Art Institute, Kansas City, MO; Cleveland Museum of Art, Cleveland, OH; Herron Art Institute, Indianapolis, IN; Minnesota State Fair, MN; Milwaukee Institute of Art, Milwaukee, WI; Detroit Institute of Art, Detroit, MI, USA, 1920-1923.

Literature: Exhibition catalogue, World of Art Exhibition, 1st edition, St Petersburg, 1913, p. 20, No. 312.
Exhibition catalogue, World of Art Exhibition, Moscow, 1913.
Exhibition catalogue, World of Art Exhibition, Kiev, 1913, P. 11, No. 172.
A. Rostislavov, "World of Art Exhibition", Rech', 1913, 15/28 January, No. 14, mentioned.
Exhibition catalogue, Baltic Exhibition, Malmö, 1914, p. 234.
Yu. Baltrushaitis, A. Benois. A. Gidoni, A. Remizov, S. Yaremich, Roerich, Petrograd, Svobodnoye Iskusstvo, 1916, p. 220, listed.
Exhibition catalogue, Roerich Personal Exhibition, Stockholm, 1918, No. 26.
S. Ernst, N. K. Roerich, Petrograd, Obshchina Svyatoi Evgenii, 1918, p. 122, listed.
Exhibition catalogue, Roerich Exhibition of Paintings, Copenhagen, 1919, No. 26.
Exhibition catalogue, Nicholas Roerich Art Exhibition, Helsinki, 1919, p. 5.
C. Brinton, The Nicholas Roerich Exhibition Catalogue, 1920--1921--1922, 1st edition, New York, Redfield-Kendrick-Odell Company, Inc., 1920, No. 66, listed.
Roerich. Himalaya, New York, Brentano's Publishers, 1926, p. 192, listed.
Roerich Museum Catalogue, New York, 1st edition, 1930, p. 14, No. 66.
A. Yaremenko, Nikolai Konstantinovich Roerich. His Life and Work During the Past Forty Years, 1889-1929, New York, Central Book Trading Co., 1931, p. 31, listed.
Roerich Museum Catalogue, New York, 6th edition, 1960, p. 14, No. 66.
E. Yakovleva, Teatral'no-Dekoratsionnoe Iskusstvo N.K. Rerikha, Samara, AGNI, 1996, p. 160, No.139, illustrated.


1912 was one of the most prolific years for Nicholas Roerich as a set designer. He worked on Stravinski's Le Sacre du Printemps, Ibsen's Peer Gynt, Wagner's Tristan and Isolda and Ostrovsky's Snegurochka. By this time he had established a reputation for creating innovative set designs. Contemporary critics praised Roerich for his ability to capture the spirit of each theatrical work through original yet historically precise means. Ostrovsky's play, which was chosen as the opening act for a new theater in St. Petersburg, was his second involvement with this popular Russian fairy tale; in 1908 he designed décors for Rimsky-Korsakov's opera Snegurochka for the Opéra Comique in Paris. Those first sketches were not used in the final production and Roerich reworked many of them for Ostrovsky's play. He made about ten sketches for the play, which were first exhibited at the World of Art yearly exhibition in 1912.

The influential critic Rostislavsky described the Snegurochka sketches as exemplary of "Roerich's multifaceted and astute perceptivity" and praised the "strikingly beautiful and gay Palace." The leading present-day authority on Roerich's theatrical work, Yelena Yakovleva, notes that "the composition of The Palace of Tsar Berendey carries on the traditions of Viktor Vasnetsov. Roerich's ardent passion for Russian wooden architecture, detailed knowledge of its interiors, workmanship and finishing help the artist to create a cogent milieu for the personages of this fairy tale." According to Yakovleva, the sketches for Snegurochka reflect true historical context instead of depicting "pseudo antiquity" and "puppet pomposity" (Yakovleva, ibid., p. 60).

Snegurochka takes place in some distant past among the people ruled by the wise tsar Berendey. This particular décor is for first scene in the second act, which opens with tsar Berendey sitting on a golden chair and painting the central column in colour. The architecture is typical of the houses of early Russian tsars and nobility. Roerich used the same style of interiors in his décors for Prince Igor and Kikimora. While the structure is historically accurate, the colours and ornamentation come from Roerich's imagination. The exuberant reds and yellows create a festive, fairy-tale atmosphere. Unlike Roerich's later meditative mountain landscapes, his theater décors are meant to capture the imagination of a large audience while staying true to the play's metaphysical and national characteristics.

We are grateful to Gvido Trepša, Senior researcher at the Nicholas Roerich Museum, New York, for providing catalogue information


The Palace of Tsar Berendey, painted as a finished easel work, belongs to the "golden treasury" of Nicholas Roerich's theatre designs. Along with Urochishche, which is in the Russian Museum, Forest, in the Tretyakov Gallery, and Village of Berendey, in a private collection, Palace of Tsar Berendey is a wonderful design for the 1912 production of Ostrovsky's Snegurochka (The Snow Maiden) at the Reineke St Petersburg Drama Theatre.

Nicholas Roerich designed four stage designs for Snegurochka, for both the opera and theatre, in St Petersburg, London and Chicago (in 1908, 1912, 1919 and 1921). His first Snegurochka designs were for Rimsky-Korsakov's opera version for the Opéra Comique in Paris, which was never performed. The 1912 sketches largely followed the designs for that ill-fated production transporting the audience into the fairy-tale world of pagan Rus. Roerich was by that time already a recognised stage designer and these designs promised to be sensational. It was not without cause that the Evening Time newspaper of 13 July 1912 made special mention of the fact that "Roerich… is about to embark on the set and costume designs and the whole scenography of Snegurochka."

Roerich's monumental style of painting was ideally matched to the play - the poetic content of which is an artistic enactment of the ancient cult of the sun, which has left a deep mark on the national consciousness. As a result, the artist made a thorough study of the ancient sources of the solar legend of Snegurochka when working on the designs for the production. He wanted to combine the fantasy of Ostrovsky's tale with the pagan spirit of Tsar Berendey and his subjects, in whom Roerich could see a mystical tribe that had migrated to northern Rus from the East. In his treatment of Snegurochka he combined and superimposed on one another many elements which had influenced Russia: Byzantium (Tsar Berendey and life at his court), the East (a merchant guest, Mizgir, and Spring, flying in from warmer lands), the North (Frost, the Snow Maiden, wood spirits). He recorded these features from Byzantine and ancient Russian culture on the heavy arches of Berendey's palace, in traditional, bright red and green decorative murals. His designs for the tale of the Snow Maiden -the daughter of Spring and Frost who, after falling in love with the young merchant guest, Mizgir, is melted by the sun god Yarilo - feature the undulating hills, birch forests, lakes, meandering rivers of the northern Russian landscape. But the stage design did not just serve as a picturesque backdrop to the unfolding plot, rather, as with many of Roerich's pictures, he captured and embossed upon them the ancient, pantheistic spirit of nature, in which every stone and every tree seemed to have a soul.

Roerich valued his work on this production very highly and showed Snegurochka several times in major Russian and international exhibitions. On the back of the picture there are still labels from the 1912 exhibition of the World of Art society, the celebrated 1914 Baltic Exhibition in Malmö and the artist's solo exhibition in San Francisco in 1930 - and this is just a part of the glittering exhibition history of Berendey's reign.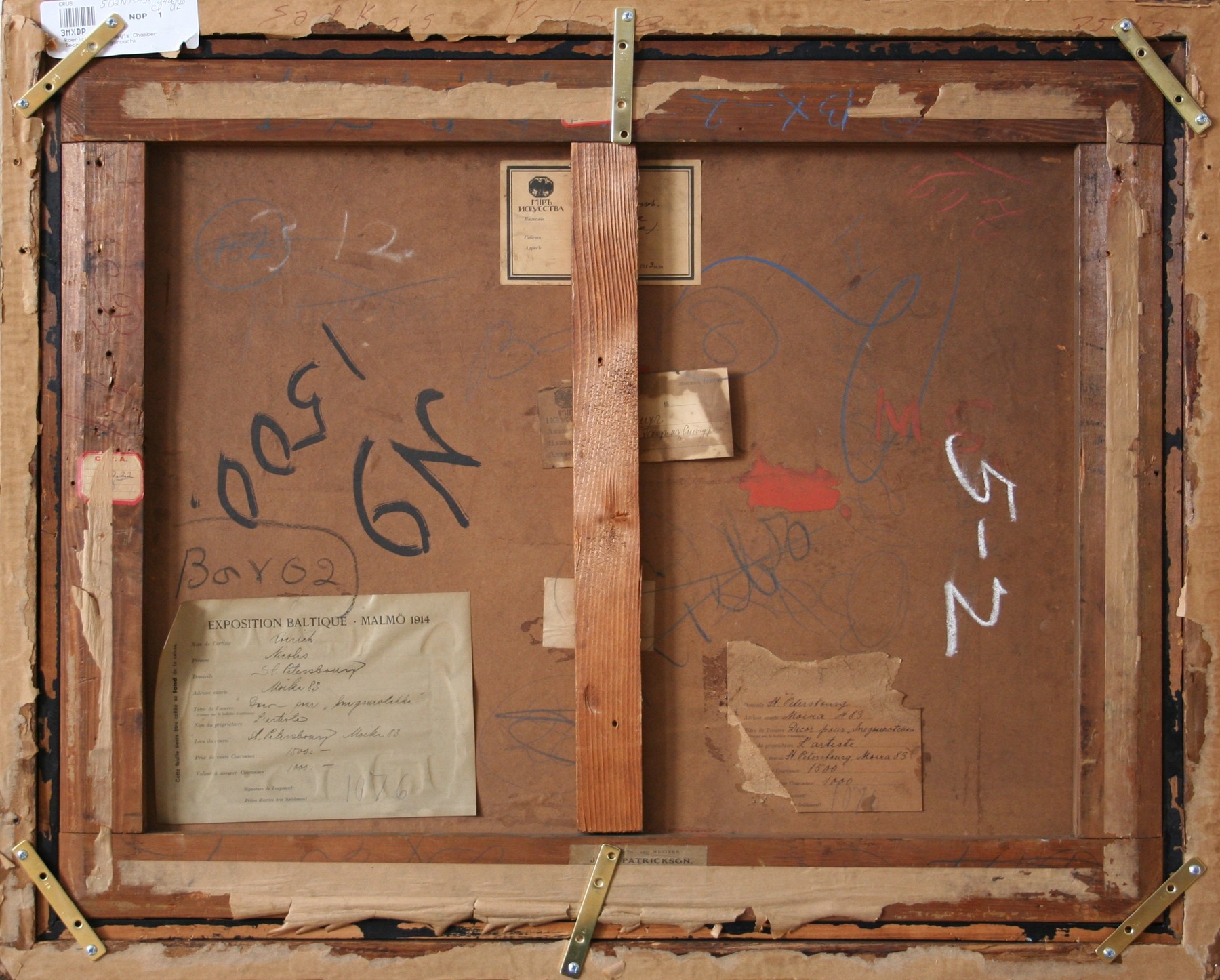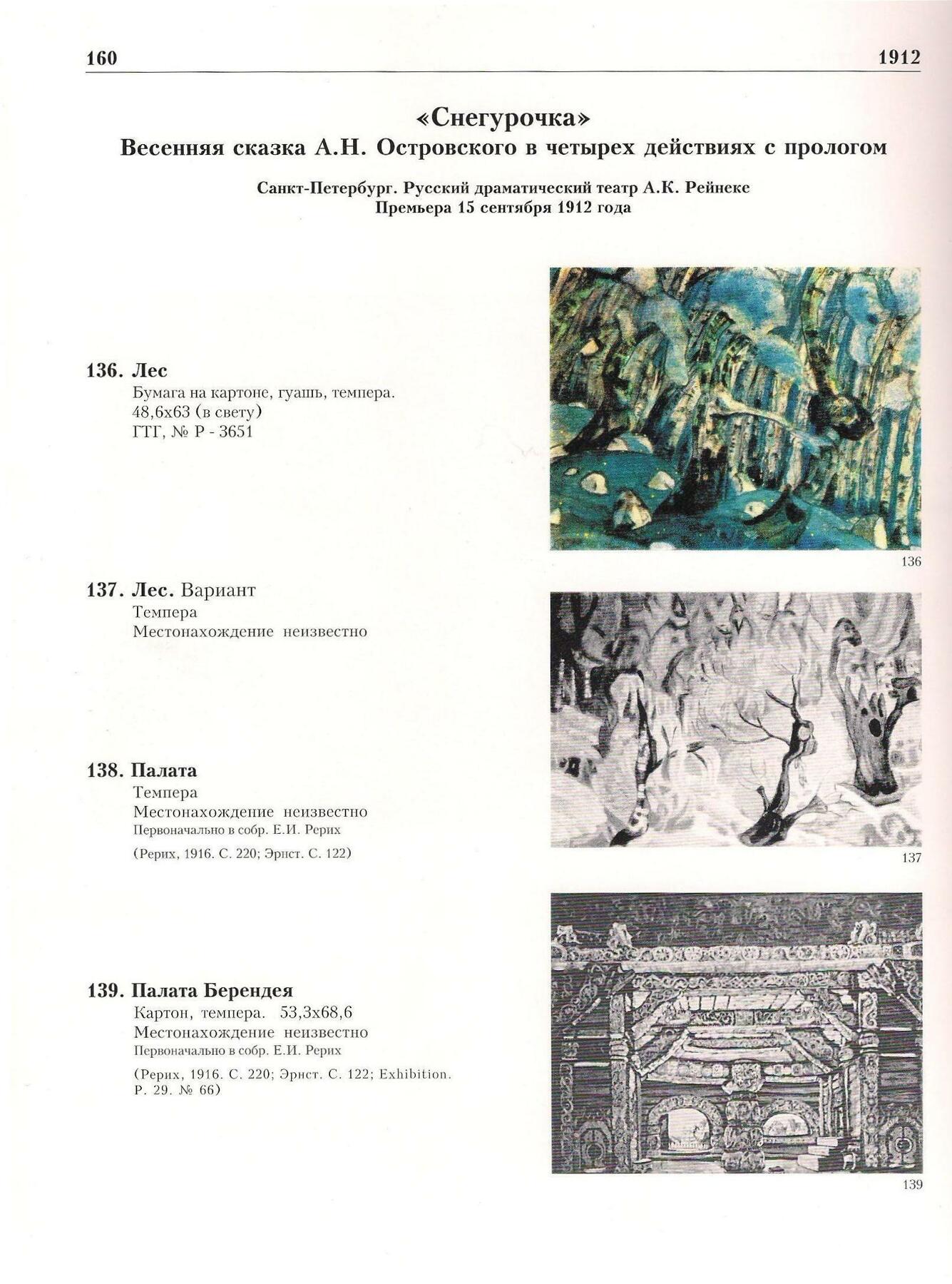 ---
Notes on symbols:
* Indicates 5% Import Duty Charge applies.
Ω Indicates 20% Import Duty Charge applies.
§ Indicates Artist's Resale Right applies.
† Indicates Standard VAT scheme applies, and the rate of 20% VAT will be charged on both hammer price and premium.