MacDougall's Russian Art Auctions 1-2 Dec 2010
1 December 2010
---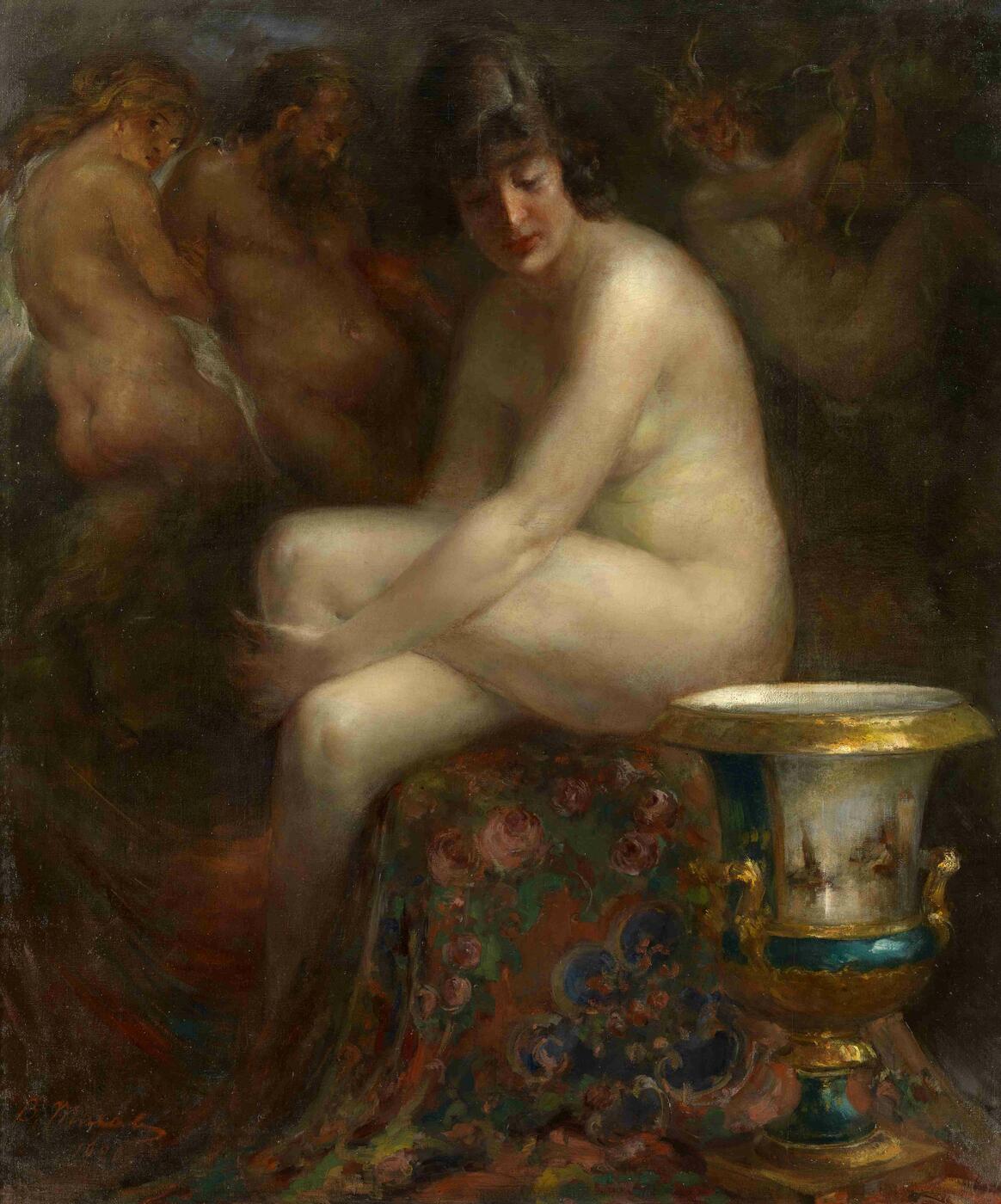 * 321. TIKHOV, VITALY 1876-1939
Nude with a Rubens Paining signed and dated 1920

Oil on canvas, 124 by 106.5 cm.
120,000-150,000 GBP

Authenticity has been confirmed by the expert V. Petrov.
Authenticity has been confirmed by the expert I. Geraschenko.

One of the best and most talented students in Vladimir Makovsky's studio, Vitaly Tikhov made his entrance into art history with his "bathing" pictures and his nudes. Among these, various "bath-house" pictures were particularly successful and popular in the early 1910s and Tikhov, then a student at the Imperial Academy of Arts, was twice awarded the graduates' Gold Medal for these. Also successful were his magnificent, large-format nudes, painted a decade later and very redolent of classical tradition.

In Nude with a Rubens Painting, the artist portrays his model in a characteristically free, somewhat fluid style, sitting on a brightly-coloured drape between Rubens's famous Bacchanalia and a large, porcelain vase. It is interesting to note that Tikhov selected as his "props" genuine objects in museums which, even in the hard times of the early 20s, the artist was able to see in the State Museum of New Western Art (now the Pushkin State Museum of Fine Arts) in Moscow. It was most probably in the museum galleries in Volkhonka Street that Tikhov worked on his copy of the Rubens canvas. Later, in his studio, he slightly altered the actual proportions of the Flemish master's work before "superimposing" on it the figure of his nude model. It is unlikely that the use of that particular painting, the Bacchanalia, as a background has any specific subtext. It is most likely that Tikhov's use of the classical canon of female beauty, and his including the Rubens painting in his own favourite compositional theme, "nude in an interior", was probably inspired by his desire to set the beauty and splendour of eternal, timeless values against the reality of post-revolution life. In other works of this period the artist tried to find a different way of interacting with classical art, by having his models stand or recline in the poses of the Three Graces and Venus with a Mirror, sometimes, touchingly, giving his own paintings those very titles.

However, the technique of direct use of part of a painting, around which a whole scene unfolds, turned out to be the most effective. So Tikhov repeated it again, ringing the changes on his successful new compositional formula, "Nude with a Rubens Painting". A year after the present picture, he painted another version (sold by MacDougall's in December 2009. Lot 274). On this canvas, with a strongly vertical composition, we can recognise the same vase and the flowery crimson drape and even perhaps the same model, but this time standing, her back to the viewer. She is facing another Rubens masterpiece, which takes up the whole of the background, the renowned Perseus and Andromeda which is in the State Hermitage Museum. Moreover, Tikhov places his nude in such a way that her body completely obscures Andromeda, as if to take her place, leaving Perseus perfectly visible with his shield bearing the Gorgon's head, and Pegasus, Venus and three putti.

Both these compositionally complex works represent an extremely interesting stage in Tikhov's career, when the artist, on his path from the "content-less" "girls in a bath house" formula of the prerevolution period to the politically shrewd Bathing of Red Sailors, was turning to the indisputable masterpieces of art history, trying to discover new, classical foundations for his own art, beautiful but out of place during this time of change.
---
Notes on symbols:
* Indicates 5% Import Duty Charge applies.
Ω Indicates 20% Import Duty Charge applies.
§ Indicates Artist's Resale Right applies.
† Indicates Standard VAT scheme applies, and the rate of 20% VAT will be charged on both hammer price and premium.