MacDougall Auctions 2-3 December 2009
2 December 2009
---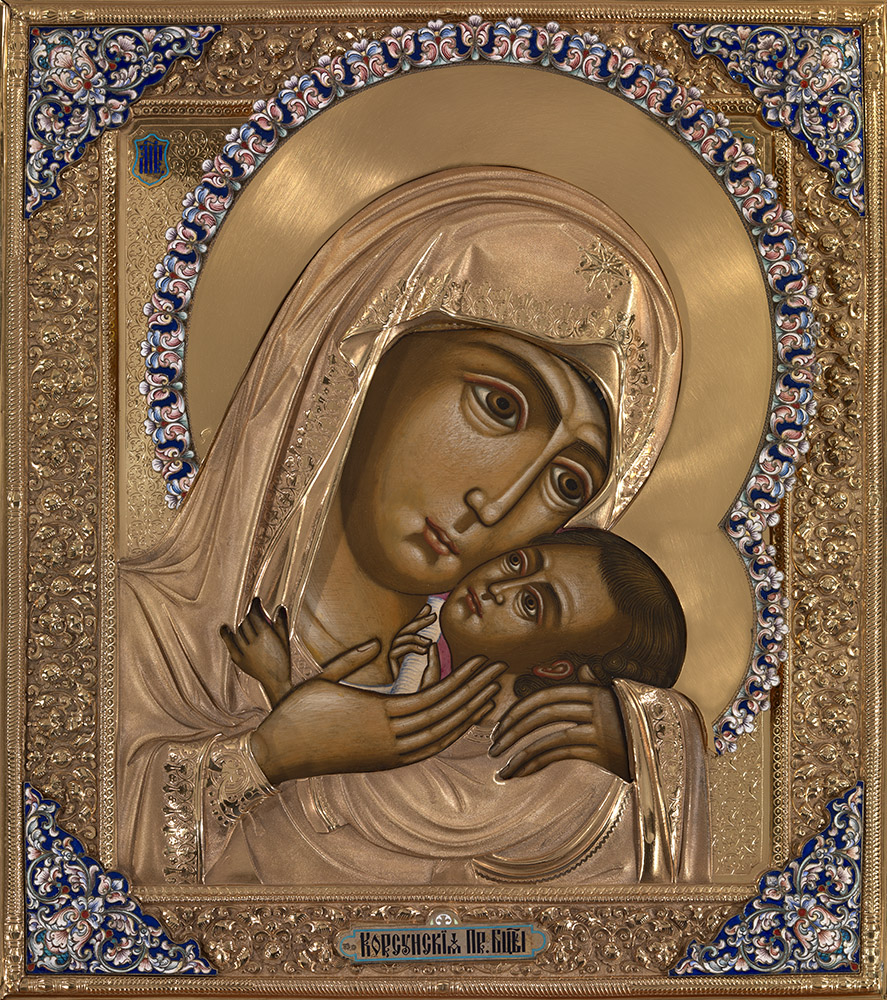 * 68. THE MOTHER OF GOD OF KORSUN IN AN EXPENSIVE SILVER GILT AND ENAMELLED OKLAD
EARLY 20TH CENTURY, MAKER'S MARK OF SERGEI ZHAROV IN CYRILLIC, MOSCOW, CIRCA 1908

40 by 35.5 cm.
45,000-50,000 pounds


Related literature: For similar icons, see L. Schitova, Russian Icons in Precious Oklads,
late 17th-early 20th Centuries, Serginev Posad, 2005, pp. 221, 264.
Icon-Painting of the Romanov's Dynasty. Collection of Viktor Bondarenko, Moscow, 2008,
cat. no. 173, ill. 268.
I.Tarnogradsky and I. Buseva-Davydova, The Holy Images. Russian Icons of the 15th-20th
Centuries from Private Collections, Moscow, 2006, cat. no. 230, pp. 426-427.

The oklad hallmarked '84, marked with a stamp of the Moscow Assay Board 1908-1926; also a stamp SZ – that of Sergei Ivanovich Zharov, the owner of gold and silversmith workshops in Moscow 1899-1908. Oklads from his workshops are kept in the State History Museum of Moscow, in the Museum of Sergiev Posad and in private collections.

The icon is distinguished through its splendid expensive oklad and the contemporary stylish painting in a rare state of preservation. The panel was made by special commission in one of the best Moscow studios and is considered outstanding even by the highest standards of the art of the early 20th-century silversmiths. Judging from the features of the composition, this copy of the wonder-working image of the Mother of God of Korsun was intended to be covered with a precious oklad from the very beginning, since its form and outline harmoniously complement the painting. A particular tradition of icon décor was formed in S.I. Zharov's studio at that time (very similar oklads of a wedding pair are found in a Moscow private collection): the oklad covers the painting almost completely and features wide margins, lavishly decorated with high-relief foliage. The margins are raised above the central part of the oklad and adorned with large enamelled corner-mounts. The beauty of the soft, precisely embossed robes with finest engraved ornamentation, imitating embroideries along the edge of the omophorion, emphasise the mirror-like flawlessly polished conjoined haloes, outlined with enamelled lace. The continuous thick gilding of the oklad is finalised by the yellowish shades of the thick impasto rendering of the faces, reminiscent of the sculpting techniques of silversmiths. The background is completely filled with the fine curving "herbage", which is complemented with the foliage of the masterly produced enamels of finest shades in the corner-mounts and the haloes. The deep blue colour and the tender painting over the white enamel render the oklad particularly beautiful and luxurious. This icon appears extremely rich and expensive even if compared with other similar works of the 20th century, when the art of the oklad-making was at its zenith both in terms of the skill and the price of the items produced.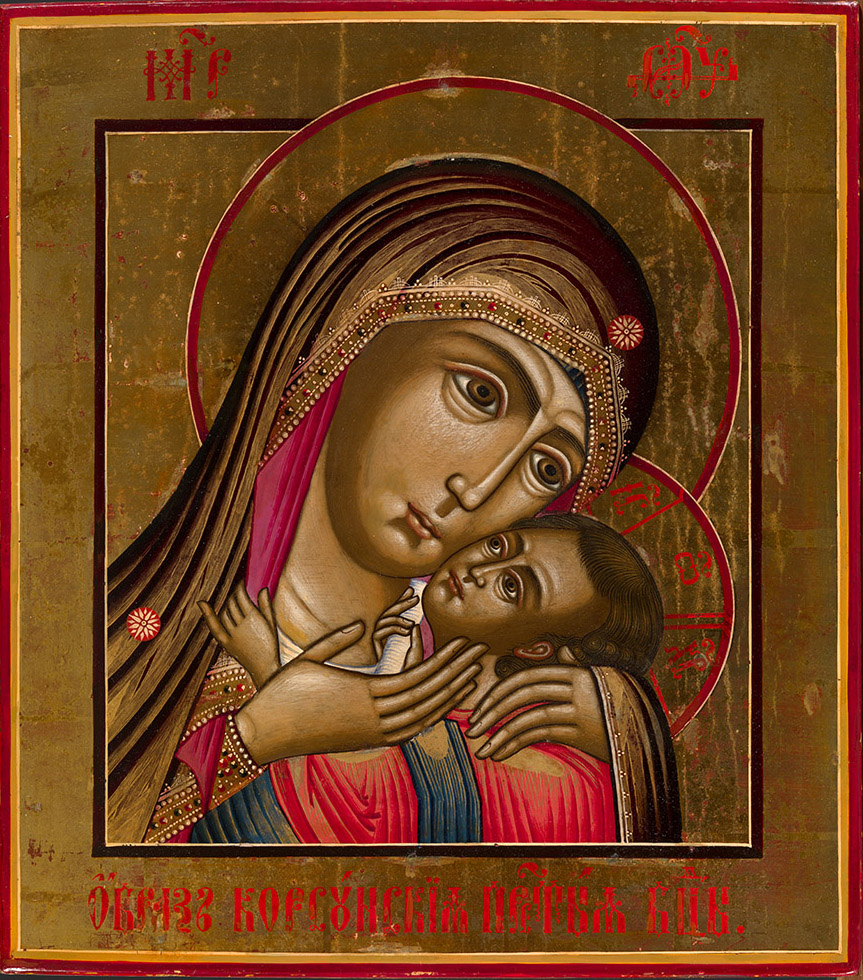 ---
Notes on symbols:
* Indicates 5% Import Duty Charge applies.
Ω Indicates 20% Import Duty Charge applies.
§ Indicates Artist's Resale Right applies.
† Indicates Standard VAT scheme applies, and the rate of 20% VAT will be charged on both hammer price and premium.