MacDougall Auctions 2-3 December 2009
2 December 2009
---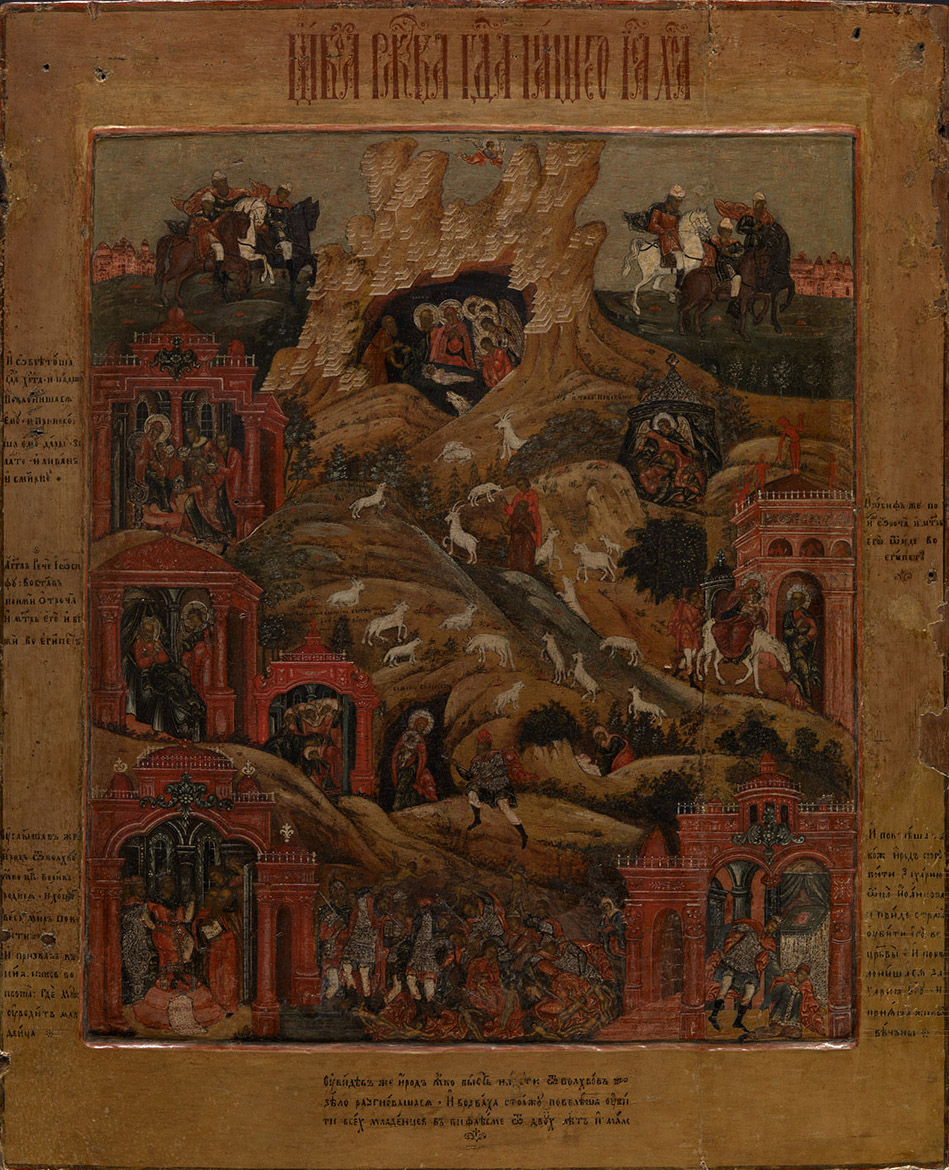 66. AN IMPORTANT ICON OF THE NATIVITY OF CHRIST
POVOLZHIE (PAVLOVO-ON-OKA), LAST QUARTER OF THE 18TH CENTURY

54.2 by 44 cm.
60,000-70,000 pounds


Literature: Exhibition catalogue, Icona volto del mister, Milan, 1991, pp. 78–79, pl 10

Related literature: For similar icons, see O. A. Polyakova, The Masterpieces of Russian Icon-Painting from the 16th-19th Centuries, Moscow, 1999, cat.no. 55.

This icon reflects the most extended and detailed version of Nativity of Christ iconography. Its formation was finalised in the Volga region in the mid-17th century under the influence of Western European woodcuts. At that time the following scenes were introduced into the composition: Herod's conversation with the scribes, the Massacre of the Innocents, the lament of the women of Jerusalem, the murder of Zachariah by the doors of the Holy of Holies, Elizabeth with her infant son John hiding in a cave, and so on.

Such an iconographic scheme, with characteristic distribution of the scenes and with only slight variations in their rendering, became established in Kostroma icons in the 17th century and was later employed in the icon-painting of the Volga region and other areas of Russia. In the 18th century this type of composition was particularly favoured by the Palekh artists, who painted large, specially commissioned church icons, such as the large 1795 icon now in the Kolomenskoye Open-Air Museum, Moscow. Judging by their composition and distribution, all the scenes in the current detailed version of the Nativity icon belong to the Volga regional school. However, when compared to all the known variations of the same subject, the present image demonstrates the following extremely rare details: the lively conversation between Jesus' parents and a shepherd in the cave of Bethlehem, and a Jerusalem woman hiding the body of a slaughtered Innocent in the bushes. The most unusual feature of the composition is certainly the depiction of numerous sheep and goats grazing on the pastures of Bethlehem. This delightful detail renders the icon particularly poetic and charming, making it stand out from all other variants of this iconography.

These pastoral sentiments are also expressed through such artistic features as the fluid and swift draftsmanship, precise gestures and postures, sophisticated clothes and buildings, soft rendering of the grassy hills. All these elements connect the icon-painter with the Volga regional tradition; it cannot be excluded that he originated from the Pavlovo-on-Oka village (near Nizhny Novgorod), which in the last quarter of the 18th century was in its artistic prime, famous for its detailed and sophisticated decorative technique. The way the figures and the mountains are rendered, the use of coloured lacquers and the overall refinement of the composition all imply this particular artistic centre.
---
Notes on symbols:
* Indicates 5% Import Duty Charge applies.
Ω Indicates 20% Import Duty Charge applies.
§ Indicates Artist's Resale Right applies.
† Indicates Standard VAT scheme applies, and the rate of 20% VAT will be charged on both hammer price and premium.