MacDougall Auctions 8 June 2009
8 June 2009
---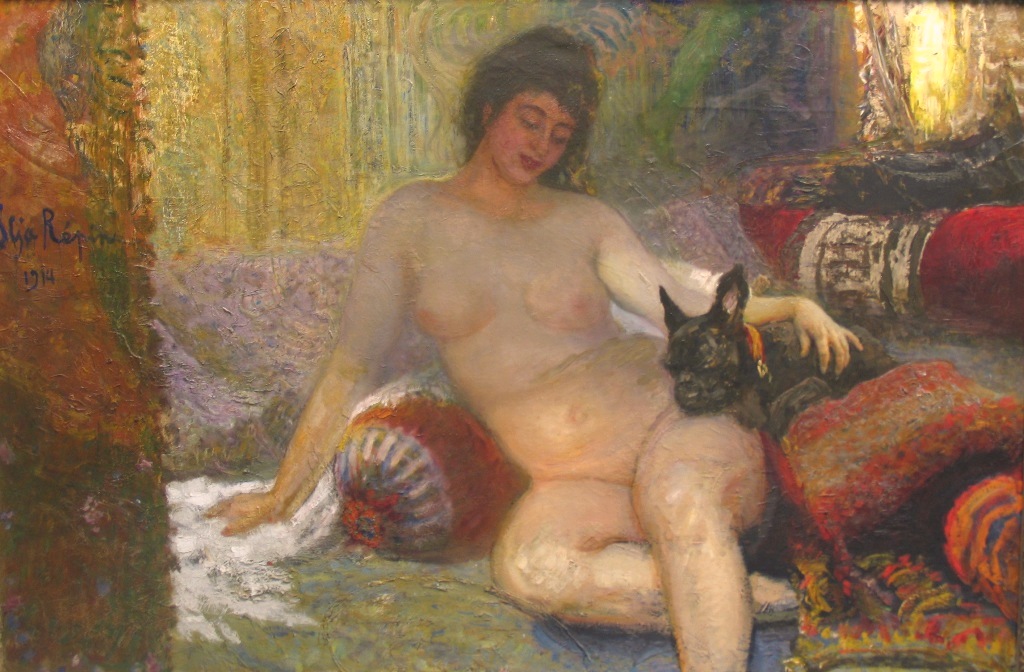 330. REPIN, ILYA 1844-1930
Portrait of Madame Alisa Rivoir with a Lapdog signed and dated 1914

Oil on canvas, 142 by 214 cm.
800,000-1,200,000 pounds

Provenance: Emil Salus, until 1952. State Gallery of Zlin, Czech Republic.
Restituted to Mr. Salus's niece from the above in 2001. Sotheby's London, 22 May 2002, Lot 33.
Private collection, Europe.

Authenticity has been confirmed by expert Elena Kirillina, Director of Research of Penaty, House Museum of I. Repin. Authenticity has been also confirmed by Dr. David Jackson. Authenticity has been confirmed by Vladimir Petrov.

This painted canvas is something of a puzzle. It may be described as, a "false – bottom case". We see a delicate female body with alabaster skin and a shy blush on her cheeks, her fine head inclined, which it turns out has been painted over the powerful figure of the renowned singer Feodor Ivanovich Chaliapin.

As far as auction houses are concerned, this work came to light only recently. Since a law on restitution was brought into force, in what is now the Czech Republic, some works of art which had been requisitioned have been returned to their former owners or their descendents.

The town of Zlin, which during the Soviet era (1949–1989) bore the name "Gotvaldov" in what was then Czechoslovakia, held the work in its museum. Whilst there, as I. A. Brodskiy informs us in his article Newly discovered and little known works of I. Y. Repin (in the collection New Developments Concerning Repin, Leningrad, 1969, p. 367), the painting was examined with the assistance of X-rays in the National Gallery in Prague, during which Chaliapin's face became clearly visible on the canvas.

This confirmed the observations and testimony of close acquaintances of Repin who had actually observed the artist in the course of his work. Anton Komashka, who lived in Repin's dacha "Penaty" for three years, recalled, "The portrait of Chaliapin was suddenly, before my eyes, painted over with a nude female figure". It would be more accurate to say that it was only in the morning that Komashka caught sight of the painted- over canvas on which Repin had been working in the course of the previous day. Everything was confirmed by the words of Repin himself, who remarked after he had painted K. I. Chukovskiy on 21 January 1926, "My portrait of Chaliapin was beyond redemption. In no way could this unsuccessful portrait satisfy me. I painted and painted for so long, and from memory rather than from life, and by the end I had completely painted over and destroyed it; only his "Bul'ka" (Chaliapin's French bulldog) remained, and so a great deal of hard labour was wasted" (Repin. The Artistic Legacy. M-L, 1949, vol. 2, pp. 284 and 375).

In February 1914 Repin received a message from Chaliapin that he was ready to come to "Penaty" to pose. Chaliapin's arrival caused a great fuss. Representatives of artistic circles arrived in Kuokkala to pay their respects to the renowned Repin and Chaliapin. They included the famous photographer Karl Bulla, a master of reportage. He in fact created his own visual record of Chaliapin, both in the midst of groups of guests and on his own. We see the singer clearing snow from the top of a frozen pond, preparing to go ice skating on the pond or standing close to a pipe as it pumped water from Repin's artesian well, and, of course, a number of photographs were taken in the artist's studio itself.

The most significant frame was one taken during a meeting. Chaliapin is reclining with Bul'ka on a Turkish divan by the window, and Repin is standing in front of a large canvas on which we can already see a drawing of a figure sketched out in charcoal and the head of the singer entirely painted in oil. This photograph has turned out to be a unique and priceless document which has preserved, albeit in general outline only, the subsequently spoiled portrait. Despite Repin exhibiting this painting at the Itinerants' Exhibition in Moscow in December 1914 and again in February 1915 in St. Petersburg, not a single photograph of it has been preserved.

We can not say why Repin decided in 1917 to superimpose a nude woman on top of Chaliapin's figure, although we can look at a number of facts which have an indirect bearing on the work. Komashka believed Repin repainted the canvas taking an old watercolour of Nataliya Nordman who had died three years previously, as his subject. However, this does not seem particularly convincing. Repin was a passionate enthusiast of painting from life, and therefore it is more than probable he would also have painted from life when "correcting" a work. But who was the subject?

Various memoirs recalling Repin in his later years refer to his tendency to fall in love, which remained intact to the end of his life, and recall how at the age of 72 he became fascinated with a French language teacher. We have established her name was Alisa Rivoir. Repin's archives contain a number of letters from her written in French, invariably including the opening line, "Dear Maitre". Letters would be sent from her to Kuokkala when lessons or meetings were rescheduled. In the summer of 1917 Madame Rivoir mentioned she was having problems with her passport, but she hoped that they would meet again in Paris at some stage.

However, such a meeting was destined never to take place, and the portrait of Alisa Rivoir remained unknown for a long time, as it was held in a private collection in Finland. It bears the date 1918, the date of its completion by Repin. It takes only the briefest of glances at the image to realise this nude has the same face as the one in the potrait. This means Repin was painting from life, and he used this opportunity to paint directly onto the canvas. Only Chaliapin's dog Bul'ka remains from his portrait, along with Repin's signature and an inscription on the left side: "Il. Repin 1914". Later, apparently at the time of sale, Repin changed the letters of his signature to those of the Latin alphabet, "Ilja Repin".

So there we have a brief summary, so to speak, of the history of this painting, which is so unusual and at the same time so interesting and intriguing.

Yelena Kirillina,
Senior Research Fellow, Penaty, House Museum of I. Repin.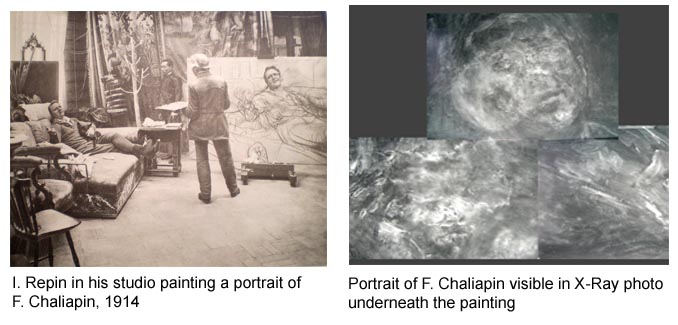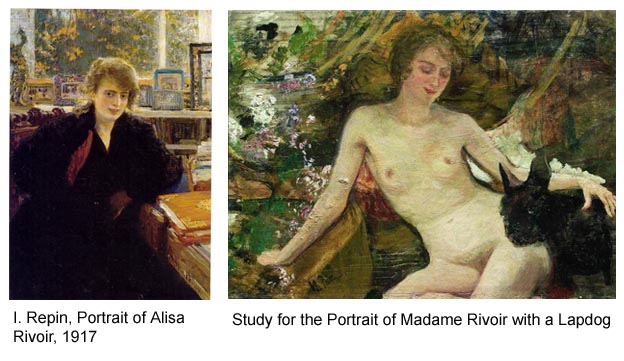 ---
Notes on symbols:
* Indicates 5% Import Duty Charge applies.
Ω Indicates 20% Import Duty Charge applies.
§ Indicates Artist's Resale Right applies.
† Indicates Standard VAT scheme applies, and the rate of 20% VAT will be charged on both hammer price and premium.