MacDougall Auctions 28 November 2008
28 November 2008
---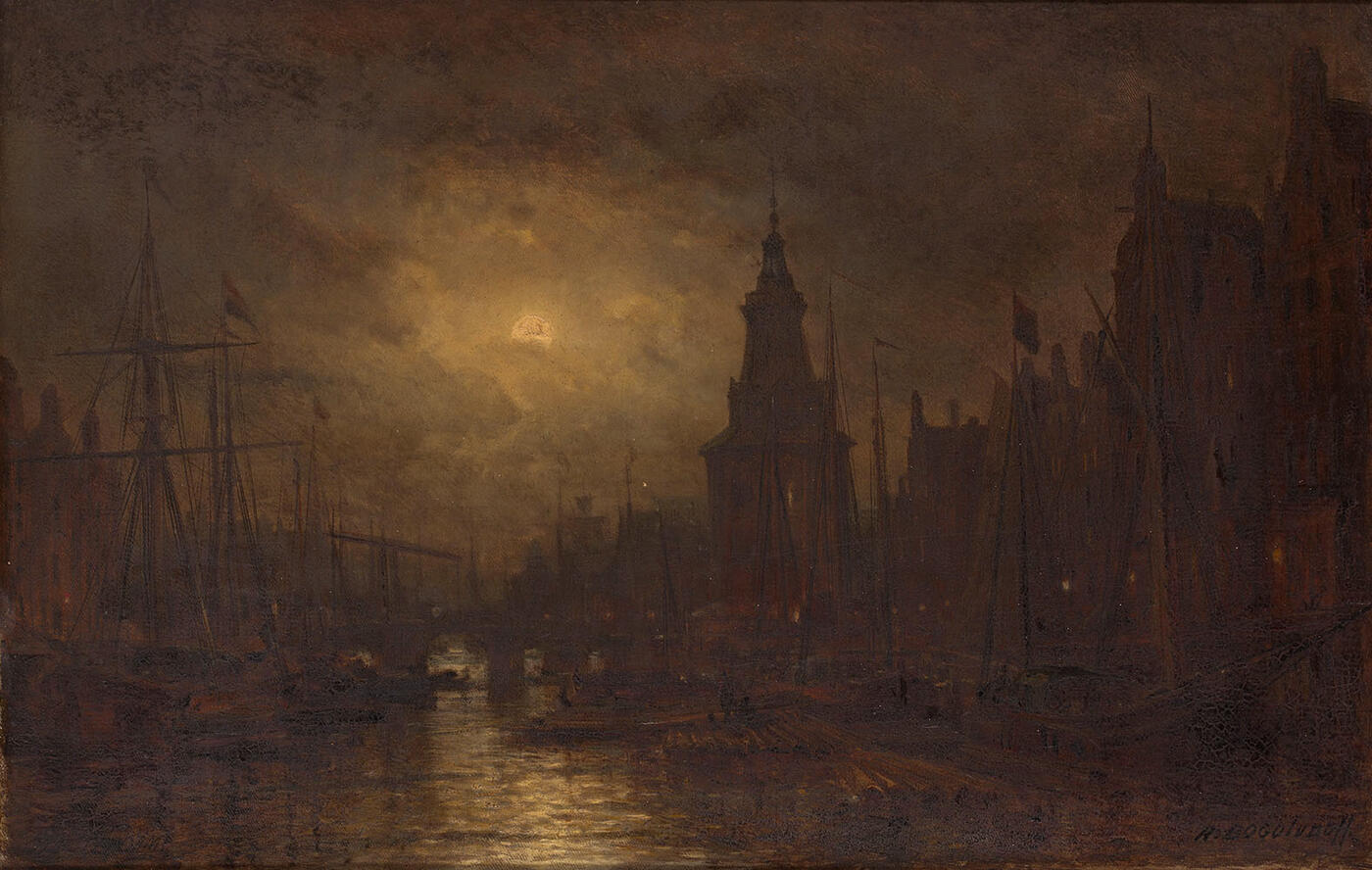 15. BOGOLIUBOV, ALEXEI 1824-1896
Amsterdam by Moonlight signed and inscribed in Cyrillic "Amsterdam", also further inscribed and numbered "264/N338" and "A.D.M. 26117" on the labels on the original frame and the stretcher

Oil on canvas, 32 by 50 cm.
250,000-300,000

This work hung in Emperor Alexander's dining room.

Provenance: Former collection of Emperor Alexander III, Anichkovskiy Palace, No. 264/338.
Thence in 1931 to joint stock company "Otel".
Private collection, Latin America.

Authenticity has been confirmed by Vladimir Petrov.

Views of Holland occupy a special place in Bogoliubov's creative oeuvre. On graduating from the Naval Cadets in 1841, Bogoliubov entered the navy as a warrant officer, and spent a great deal of time at sea. During one of his first long voyages, he spent time in Amsterdam, Haarlem and Rotterdam, where he became familiar with the works of the "old masters" and of contemporary European painters. This was followed by years of study in the Academy including a fateful (from a creative point of view) meeting with Karl Brulov, conversations with Aleksandr Ivanov in Rome and Paris, a long period spent working under French and German masters, a friendship with Corot and Daubigny, high profile commissions, close co-operation with Kramskoy and the Wanderers, a move to France, portrayal of the history of the Russian navy, and finally, the organisation of Russia's first museum open to the general public, which was named in memory of his grandfather Radishchev, a great thinker and publicist during the time of Catherine the Great. And all of this was merely a background to his unending, fevered landscape work– at sea and on the River Volga, in St. Petersburg, in Turkey, in Normandy and in the Crimea, in Italy and in Holland.

In 1859 after completing his Grand Tour of Europe which, along with the grand medal, was his graduation reward from the Academy of Arts, Bogoliubov travelled to Dusseldorf to begin work under the direction of the renowned painter Andreas Achenbach. Achenbach recommended that Bogoliubov should forget his previous work and be guided only by his own personal view of nature, and without further ado he sent him off to study in Scheveningen, a small seaside resort near the Hague. It was from this trip to Holland that Bogoliubov returned home with his first masterpieces.

The Academy of Arts awarded the title of Professor to Bogoliubov and its Council declared its gratitude, as, the resolution of the Council stated, "up to now none of the graduates of the Academy who have taken the Grand Tour have returned with such a large quantity of excellent studies and paintings which display, in addition to talent, particular endeavour and a striving for perfection".
Bogoliubov recorded his impressions of these travels in rich detail in a large number of varied sketches which were usually executed on special small panels. In these works he strived to achieve universality of form and communicated his own thoughts and feelings through his images of nature, achieving a high degree of expression on very small canvases. This gives his lively nature sketches the quality of studies for paintings. These open air landscapes, the painting style resembling at times either the Barbizon or the impressionist technique, are very direct and bear the stamp of Bogoliubov's individual painting style. The landscape Amsterdam by Moonlight which is presented for auction is one such small, yet lively and extremely characteristic work by Bogoliubov which was executed in a picturesque corner of Holland.

Bogoliubov's masterpieces from this period include a series of works executed in Holland – an autumnal Scheveningen landscape painted in a restrained palette of silver hues, View of the Environs of The Hague, and a number of views of Amsterdam which are now held in various museums in Russia: City on a river. Amsterdam (1870, held in the Rybinsky Museum of History, Architecture and the Arts) and Amsterdam (1885, held at the Saratov Radishchev State Museum of Arts).
---
Notes on symbols:
* Indicates 5% Import Duty Charge applies.
Ω Indicates 20% Import Duty Charge applies.
§ Indicates Artist's Resale Right applies.
† Indicates Standard VAT scheme applies, and the rate of 20% VAT will be charged on both hammer price and premium.