MacDougall Auctions 12-18 June 2008
12 June 2008
---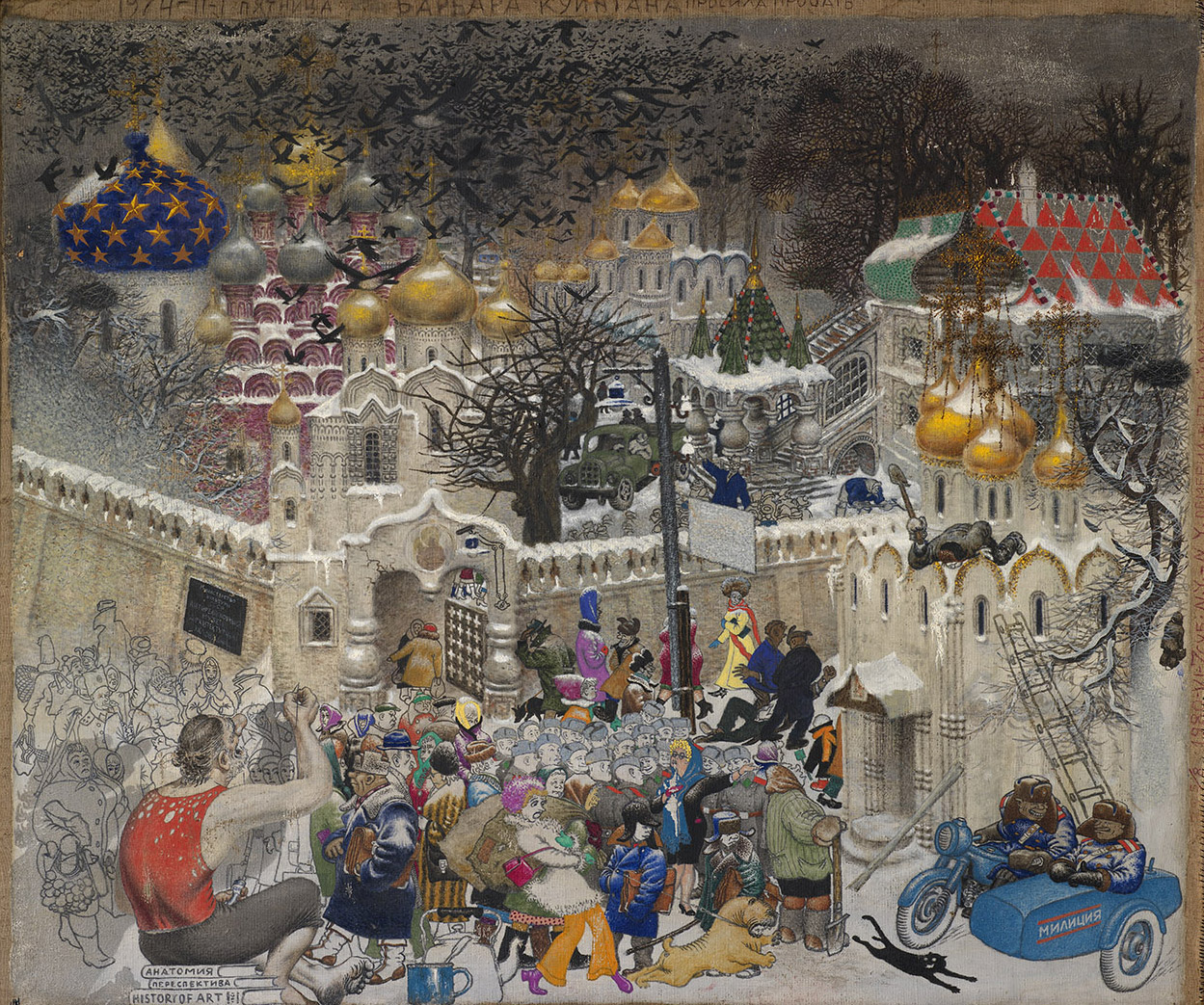 307. SITNIKOV, VASILY 1915-1987
Moskva 1973 (Moscow) titled and inscribed in Cyrillic on the reverse, also inscribed by the artist along the edge.

Oil on canvas, 102 by 122 cm.
100,000-150,000

Provenance: Acquired directly from the artist by the present owner.
Private collection, UK.

The work appears in the film Vasya about the artist directed by Andrei Zagdansky, AZ Films LLC, 2002.

Exhibited: Legends of the Russian Underground, MacDougall's, London, February-March 2008.

Literature: Z. Plavinsky. Vasily Sitnikov, Moscow 1998.
The Other Art Moscow 1956-1988, edited by I. Alpatova, Moscow 2005.
A. Glezer. Contemporary Russian Art, Paris-Moscow-New York, 1993.
A. Bruslovsky. Vasya Sitnikov and his Malaya Lubyanka/ The Time of the Artists, Moscow 1999.
Brusilovsky, A. Panteon of Russian Underground, State Russian Museum, Palace Editions, 2005, p. 49 illustrated.

Moskva, presented for auction, occupies a special place in Vasiliy Sitnikov's creative legacy. This monumental canvas, painted in 1973, is the culmination of a series of works which were devoted to ancient Russian monasteries. The "grey-blue Kudykinogorsk Monastery" composition used in this canvas is typical of the artist oeuvre, and is the aesthetic foundation of the artist's creative credo. The buildings are changed from the traditional image of the Kremlin as it might appear in a guide book, into an epic metaphor for Russia itself.

Sitnikov even devoted one of his letters to his brother to a description of the working method he used for his favourite subject: "Paint unassuming, ancient Russian monasteries. But do not adhere strictly to a documentary accuracy. It is not necessary. Never make sketches and do not be afraid of mistakes – you won't foresee them anyway. This picture is being crafted mainly with a besom or brush for sweeping the floor, using a trough which contains water and a couple of bowls of dark bluish-black and white tempera with the paint in its most fluid state. You can take an extra, third bowl of raw umber and have a set of gouache poster colours ready to hand. To begin with, the canvas has to be prepared in such a way that it is dove-grey. Start by being brazen, irresponsible and boorish and you will soon get the flavour of it".

"Then when it is starting to dry, with white paint you would hardly know is wet you furiously paint on the "sky", from the top down, until not even the last molecule of paint remains on the brush, going well below the assumed horizon. While the "sky" is drying you use the same wet besom, the size of a tablespoon, of black paint and, again allowing translucence and transparency, starting from the bottom and going up to the imagined horizon, also with furious speed, you paint in the great hill with fresh colour. And this is "Kudykin Hills"[…]

"Finally, taking the largest brush, I use just half-wet white very transparently and roughly, but barely noticeably touch in the towers, walls and gatehouse. And then, using dry paint, with the corner of the brush I make all this a little brighter with white. Next, start teasing out the corner tower. This is not a set at Mosfilm studios. It was once a military installation. Inside there was bustle, cannons, gunfire and smoke. So, just there use a lump of rag to botch in what the eye can hardly make out. You have to take just a ghostly small amount of paint, and you must only try to make a hit once with the crumpled up rag. A splodge for the body of the tower will appear [...] meaning I have created a splodge for the nearer corner tower […] and then a rather shapelessly outlined space stretches away. Remember that the brick walls have grown browner or have crumbled to dust. And this green glazed tiled roof is again an unformed blot. But again you have to touch in the walls unevenly, with interruptions, because they are old, in some places russet, in other places black and elsewhere again there is microscopic green growth. In a second go, you give a slap with the rag after you have just slightly darkened the towers and walls on both sides with some barely noticeable umber along the rounded parts. Don't be afraid to stray over the outline of the towers, for when you apply the finishing touches everything will come right and it will disappear …"

Despite his idiosyncratic painting techniques, Sitnikov's brush (and broom) produced works of an outstandingly high professionalism and level of execution. He would return to work on his canvases again and again, and refuse to sell "unfinished" work to the clients who were queuing up to buy them. Though he was demanding of himself during the execution of his paintings, Sitnikov scarcely concerned himself with their subsequent fate. It is for this reason that a masterpiece of the quality, scale and condition of Moskva represents a very rare opportunity for collectors. In the history of Soviet post war "unofficial" art, with its tales of persecution and violence by the authorities, its avant-garde experimentation and its bright personalities and dramatic fates, there were only a few artists whose presence, lifestyle and personality were as significant to the culture of the underground as their works themselves.

One such personality was Vasily Yakovlevich Sitnikov, a painter and graphic artist and someone who managed to create a legend out of his own life and who personified the idea of a mad genius.

As a result of his upheavals in Russia virtually none of his works have been preserved, and therefore the "return" of Sitnikov's creative oeuvre to his homeland is something we must look forward to, just as a full appreciation of his role and influence on Russian unofficial art in the late twentieth century has yet to occur.

At the time of writing, some twenty years after his death, the boundaries between fact and fiction in his life are already virtually indistinguishable.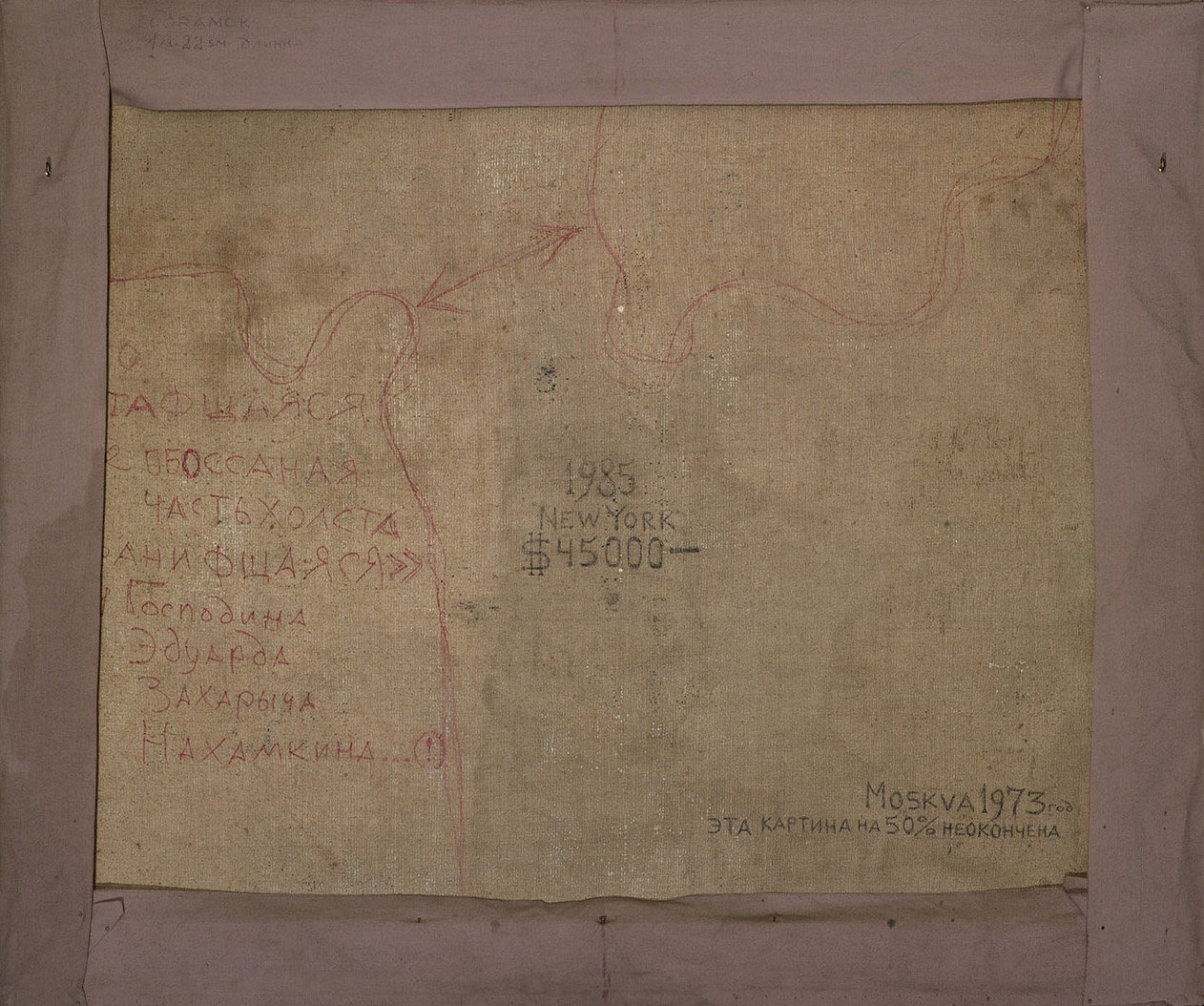 ---
Notes on symbols:
* Indicates 5% Import Duty Charge applies.
Ω Indicates 20% Import Duty Charge applies.
§ Indicates Artist's Resale Right applies.
† Indicates Standard VAT scheme applies, and the rate of 20% VAT will be charged on both hammer price and premium.