ÉCOLE DE PARIS AND OTHER MASTERS
21 June 2023
---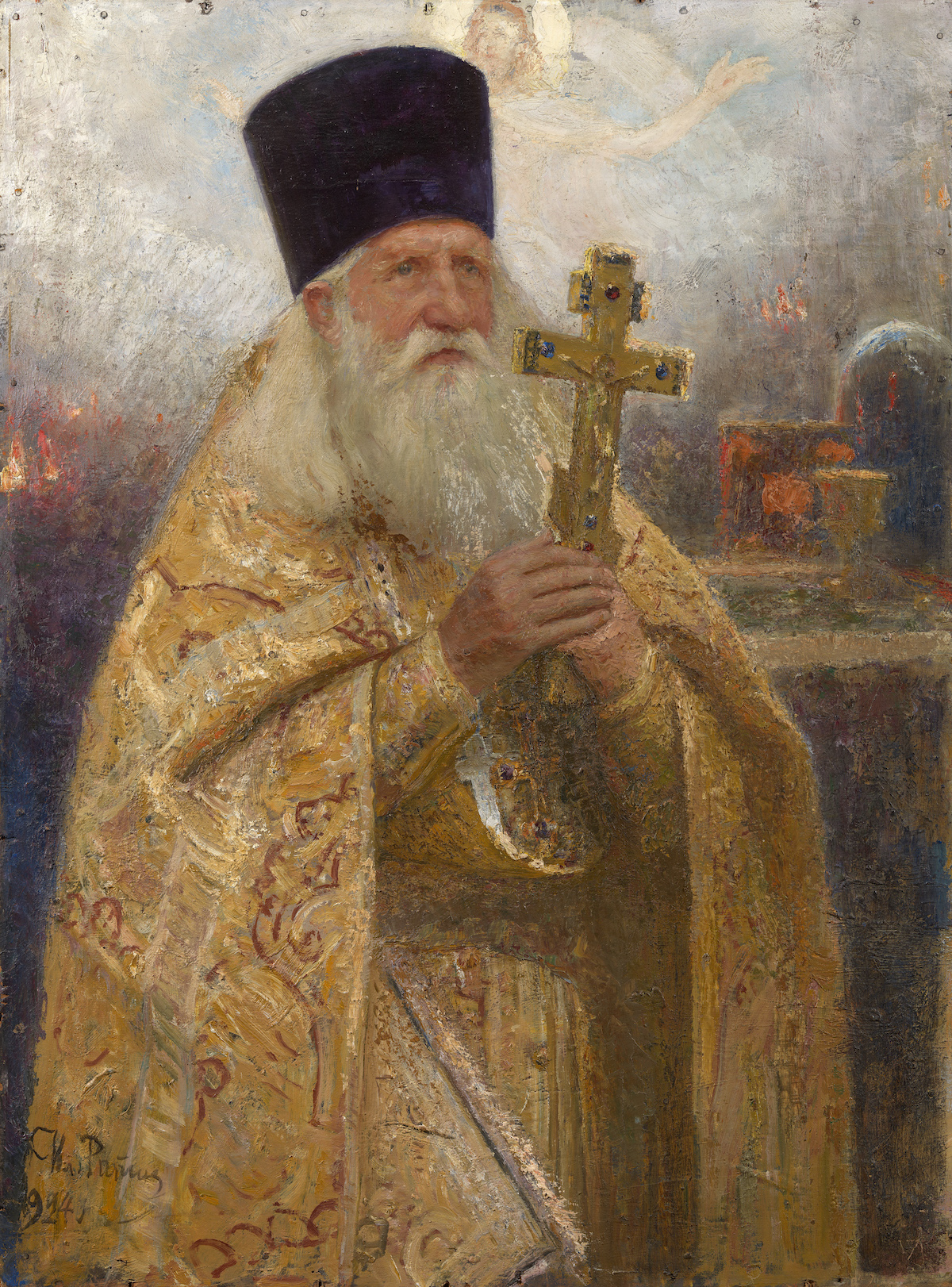 * 12. REPIN, ILYA (1844-1930)
Portrait of Father Ioann Tsvetkov, signed and dated 1924.

Oil on panel, 104 by 77.5 cm.
Sold for 312,525 GBP
Provenance: Collection of the artist, Kuokkala, Finland.
Acquired by Boris Osipovich Sirpo (1893-1967) in Finland in the late 1920s.
Collection of Boris Sirpo, Finland and USA.
Thence by descent to the present owner.
Private collection, USA.

Exhibited: Ilja Rjepin, Jurij Rjepin and Wasili Levi, Salon Strindberg, Helsinki, 1927.
Ilja Rjepin, Jurij Rjepin and Wasili Levi, Salon Strindberg, Helsinki, 1928.
Prof. Ilia Repinin teoksia, Salon Strindberg, Helsinki, April 1931.

Literature: Exhibition catalogue, Ilja Rjepin, Jurij Rjepin and Wasili Levi, Helsinki, Lindbergs Tryckeri Aktiebolag, 1927, No. 2, listed as Pappi ("Batjuska") - Prästen.
Exhibition catalogue, Ilja Rjepin, Jurij Rjepin and Wasili Levi, Helsinki, Lindbergs Tryckeri Aktiebolag, 1928, No. 7, listed under works by Ilya Repin as Pappi - Präst.


The present Portrait of Father Ioann Tsvetkov which is being offered for auction is one of the finest portraits painted by Ilya Repin during the 1920s. This work amazed the guests of the artist who saw it at his Penaty Estate and they frequently called it a masterpiece (I. Grabar, Repin, Volume 2, Moscow, 1964, p. 146).

Following the October Revolution, Repin's views underwent significant change, including his opinions about religion. The artist wrote to his friends about his return to worship. He explained that he had given his word never to cross the threshold of a church after Leo Tolstoy's excommunication in 1901, however, due to persecution of the religion after the Revolution, he wrote that "following the abuse inflicted by the Bolsheviks upon Christian holy places, I have reacquainted myself with Eastern Orthodoxy, which has made me feel really, really good." (Letter from I.E. Repin to Yu. I. Yakubovsky 1922, Handwritten Heritage Department of the L.N. Tolstoy State Museum F.64 KP4608 Inv. 57/2)

During the 1920s, he became a parishioner at the Church of Transfiguration in the village of Kuokkala. He usually arrived at the beginning of the service, stayed until the end and even sang in the choir. He became friends with Protoiereus Ioann Yakovlevich Tsvetkov (1849-1938) and the priest often visited Repin at Penaty and posed for the artist on several occasions. There are photographs of Father Ioann attending Repin's celebrations, including the artist's 85th birthday party in Penaty in 1929. It was also at the church in Kuokkala that Father Ioann officiated the funeral service and bid farewell to the artist upon his final journey.

Ivan Savin, a reporter for Vozrozhdenie newspaper in Paris, wrote of his impressions of the Portrait of Father Ioann Tvetkov when he saw it at Penaty: "This is a painting from 1924 – a portrait of a local priest in full regalia. In his all new approach, one still sees the old, mighty and everlasting Repin. It was at Penaty that I met the man depicted in this picture – the resemblance is uncanny. But the whole wonder of this piece is probably not purely in the external resemblance and the complete harmony between the model and his artistic depiction. Its wonder is in the inner beauty and power of a simple and completely Russian face with its serene eyes that look at you with a certain wisdom and a belief of enlightened depth. This hoary priest breathes with liveliness, great simplicity and godliness in his intricately decorated raiment, with a large cross in his hands (Ivan Savin, "At Repin's", Vozrozhdenie, Paris, 16 September 1926).

Ilya Repin shows truly outstanding technical skill in his portrait of Ioann Tsvetkov. During the last years of his artistic endeavours, he managed to bring the strongest sides of his artistic gift to life: a sophisticated vision of tonal value, the ability to reproduce living light in a composition and the use of its possibilities and properties to shape forms. This outstanding work shows particular meticulousness, especially in the application of the paint. Every shade of colour acts as a function of the colouristic whole, which is a sign of the artist's gift in tonal development while providing the portrait with vivid expressiveness.

Repin had exhibited Portrait of Ioann Tsvetkov at several exhibitions at Salon Strindberg in Helsinki, including the memorial show, and the work is listed in catalogues from the 1927 and 1928 exhibitions. The famous Finnish art critic Eduard Richter singled out this painting in his article about the 1927 exhibition as a "successful portrait of a priest in a yellow robe with a cross in his hand" ("P-r. E. Rjepin-nayttely Strindbergilla", Helsingin Sanomat, 24th April 1927).

In the late 1920s Portrait of Ioann Tsvetkov was acquired by Boris Osipovich Sirpo (1893-1967), a renowned violinist, conductor and founder of the Vyborg Music Institute, who lived in Finland between 1912 and 1939. In 1939 Sirpo immigrated to the USA and the work remained in his family after his death.


We would like to thank Tatiana Borodina, Director of Ilya Repin's Penaty Memorial Estate, for providing this note and additional cataloguing information.


1931 label on the verso of the present lot.
The present lot as listed in the 1927 exhibition catalogue.
The present lot as listed in the 1928 exhibition catalogue.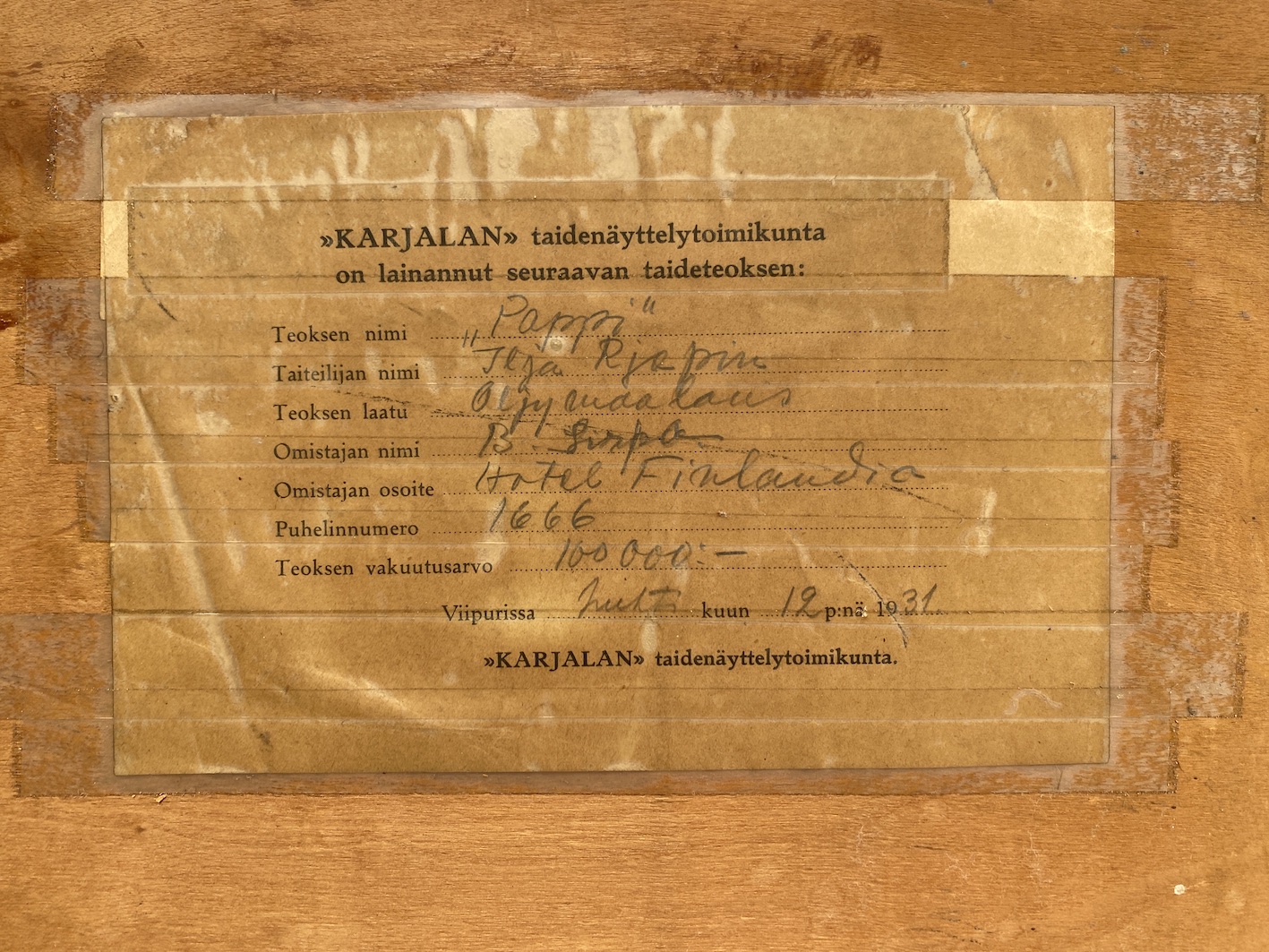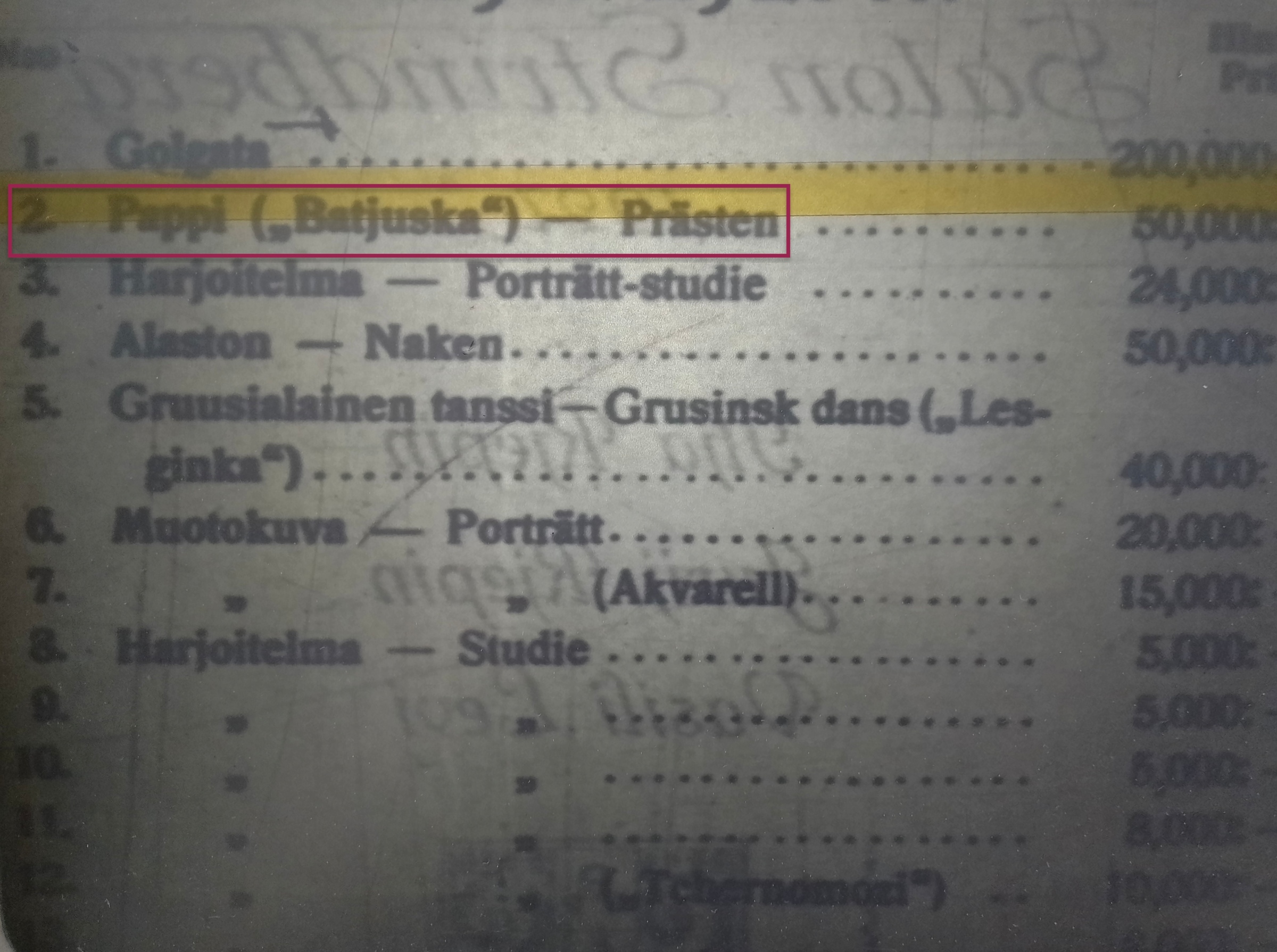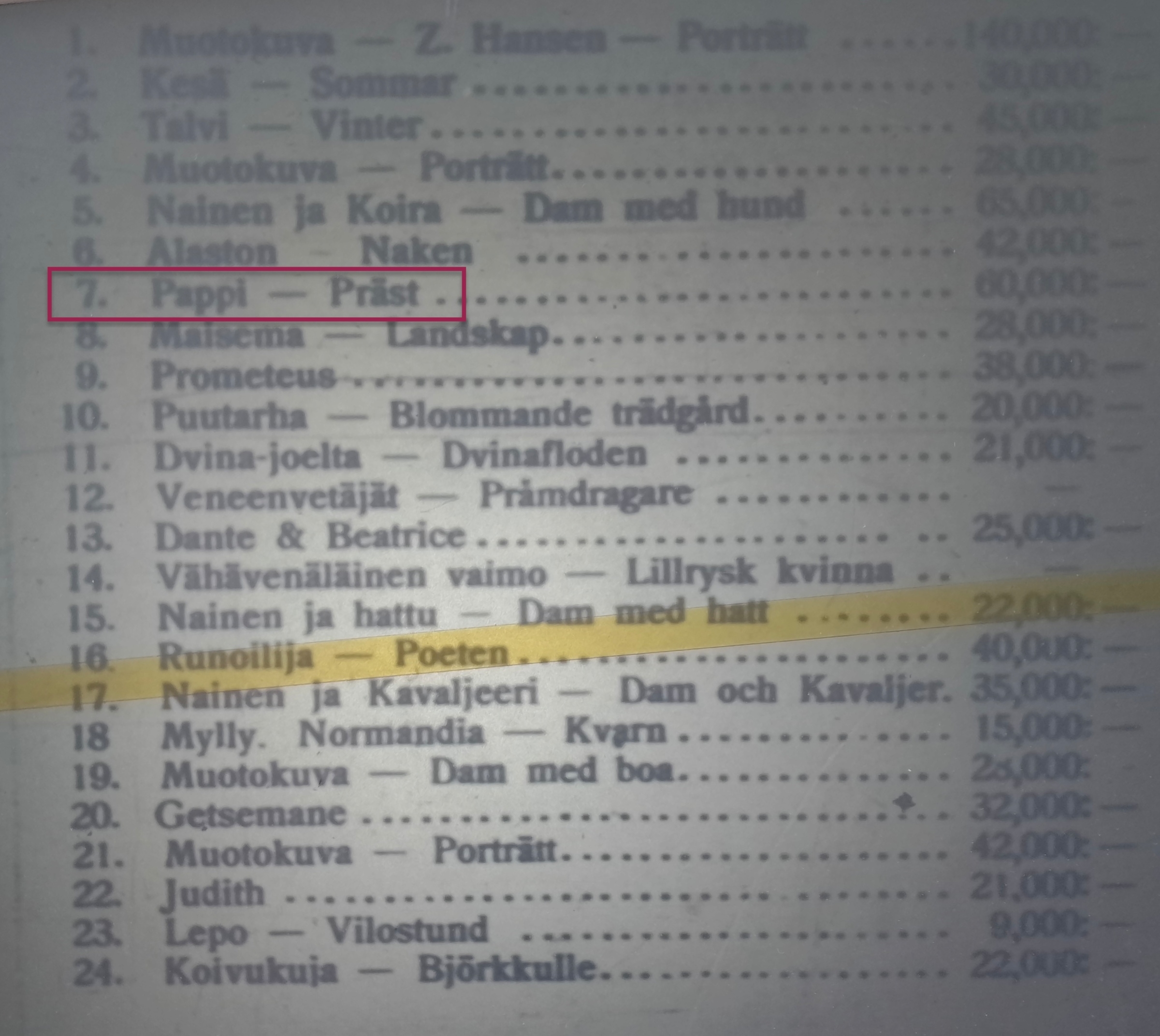 ---
Notes on symbols:
* Indicates 5% Import Duty Charge applies.
◎ Indicates the lot is located in Switzerland. Successful bidders would collect their lots in Switzerland after payment.
Ω Indicates 20% Import Duty Charge applies.
§ Indicates Artist's Resale Right applies.
† Indicates Standard VAT scheme applies, and the rate of 20% VAT will be charged on both hammer price and premium.