ÉCOLE DE PARIS AND OTHER MASTERS
25 March 2023
---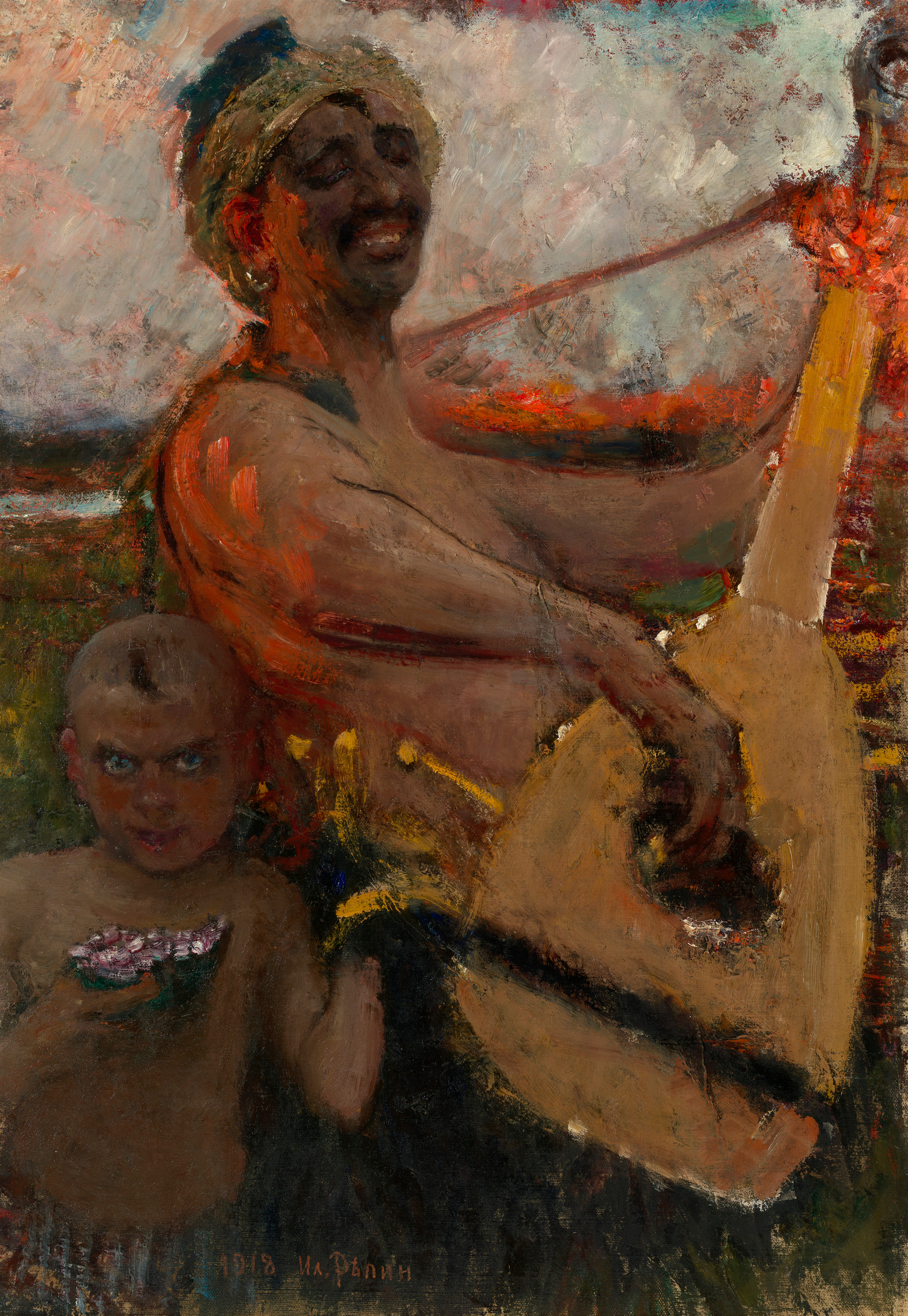 10. REPIN, ILYA (1844-1930)
The Blind Bandura Player, signed and dated 1918.

Oil on canvas, 113 by 78 cm.
250,000-300,000 GBP
Provenance: Important Silver, Russian Works of Art and Paintings, Christie's London, 25 November 2003, lot 155.
Acquired at the above sale by the present owner.
Private collection, UK.

Exhibited: Pervaia gosudarstvennaia svobodnaia vystavka proizvedenii iskusstva, Dvorets iskusstv (formerly Winter Palace), Petrograd, 13 April–29 June 1919.
Liljewalch's Konsthall, Stockholm, 1919.
The Ilya Repin Exhibition, The Kingore Galleries, New York, 1921, No. 9.

Literature: Exhibition catalogue, C. Brinton, The Ilya Repin Exhibition. Introduction and Catalogue of the Paintings, New York, Redfield-Kendrick-Odell Company, New York, 1921, illustrated in black and white on the frontispiece; No. 9, listed.


Ilya Repin's work The Blind Bandura Player presented here for auction is one of the most celebrated paintings of the artist's late period. It was numerously exhibited since 1918 in Russia, Sweden and the US. In the exhibition of 1921 in New York, it was proudly illustrated on the title page of the catalogue, indicating the significance of this masterpiece.

Repin found himself in exile with no means after Finland declared independence from Russia in 1917. The anti-Russian sentiment in Finland was then strong so the artist's entire existence was under threat. But the master's genius overcame the political and economic hurdles. After Repin donated part of his collection to the Atemeum Museum in Helsinki, he managed to organise his first ever personal exhibition abroad. It was received extremely well, by art lovers and critics alike. Soon Repin was recognised by the Western world as a great artist, which meant he could support himself by selling his works, amongst other things.

The art critic Edvard Richter, who knew Repin's work well, said of the master's paintings of that period: "Only when one has seen Repin's celebrated Ivan the Terrible and His Son, Religious Procession in Kursk Province, They Did Not Expect Him and Zaporizhzhian Cossacks Writing a Letter to the Turkish Sultan in the Tretyakov Gallery in Moscow, only then can one understand how sublimely skilled the artist can be in his mastery of form and in conveying the life and stirrings of the soul. We must bear all this in mind as we consider Repin's most recent works".

The critic felt that it was in his portraits of his contemporaries, whether famous ones like Tolstoy or just a simple street musician in The Blind Bandura Player, that Repin's mastery of form and colour reached its highest level of perfection, and that in terms of his palette and refinement of line these works were extraordinarily fresh and beautiful, conspicuous for their decorativeness.

Richter considered Repin, his talent undiminished, to be paying homage to all that was young and full of life. "These works," wrote Richter, "suggests to us that Repin, previously a master of mainly psychology and form, is only now towards the end of his career experimenting further with the combining of paint colours." According to the Finnish critic this was attested to by the artist's great interest in palette, first and foremost. In Repin's work with colour, Richter was especially struck by the artist's skilful use of white and red tones and this is seen reflected in full measure in the work presented for auction.



The present lot as illustrated in the 1921 exhibition catalogue.
The present lot as listed in the 1921 exhibition catalogue.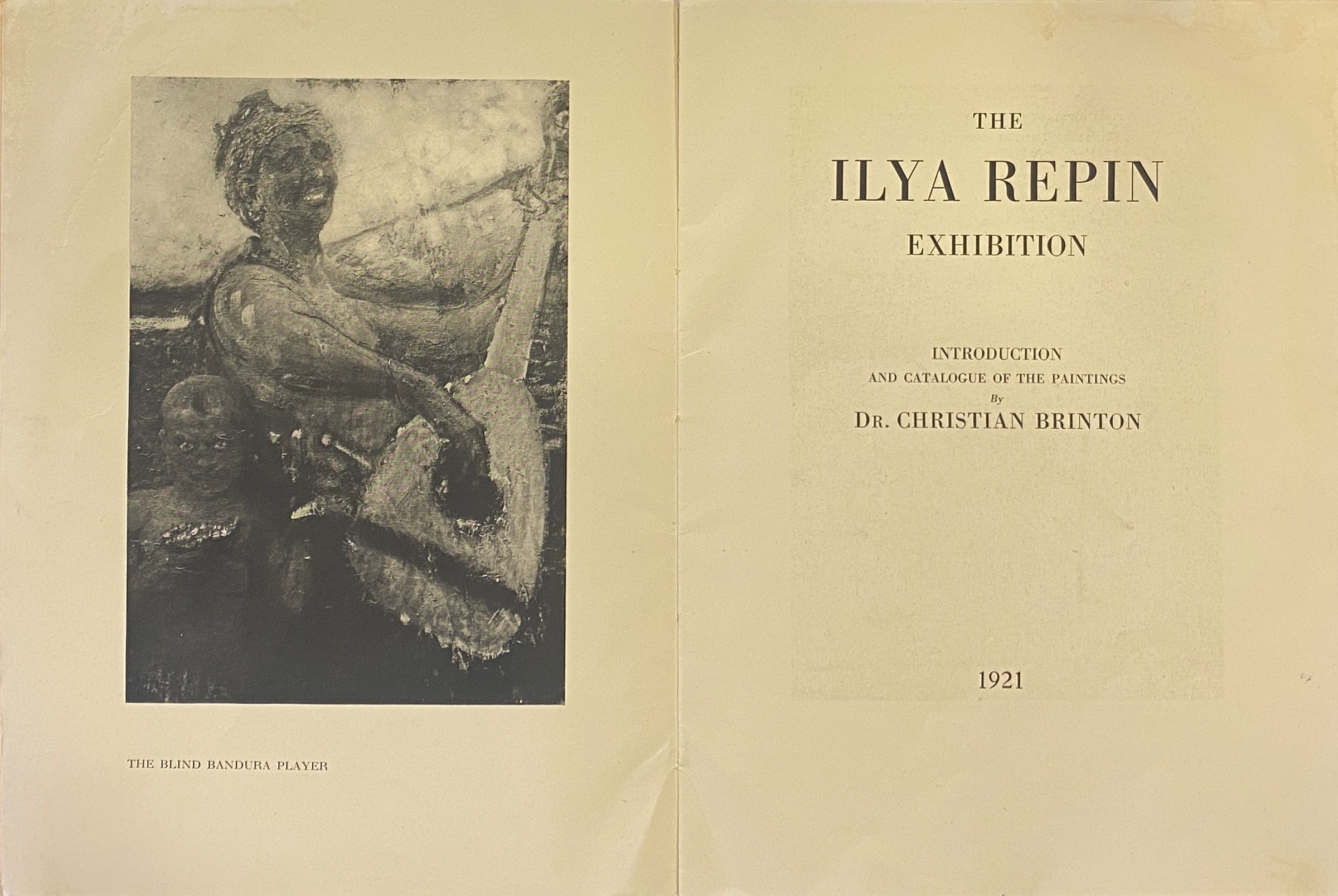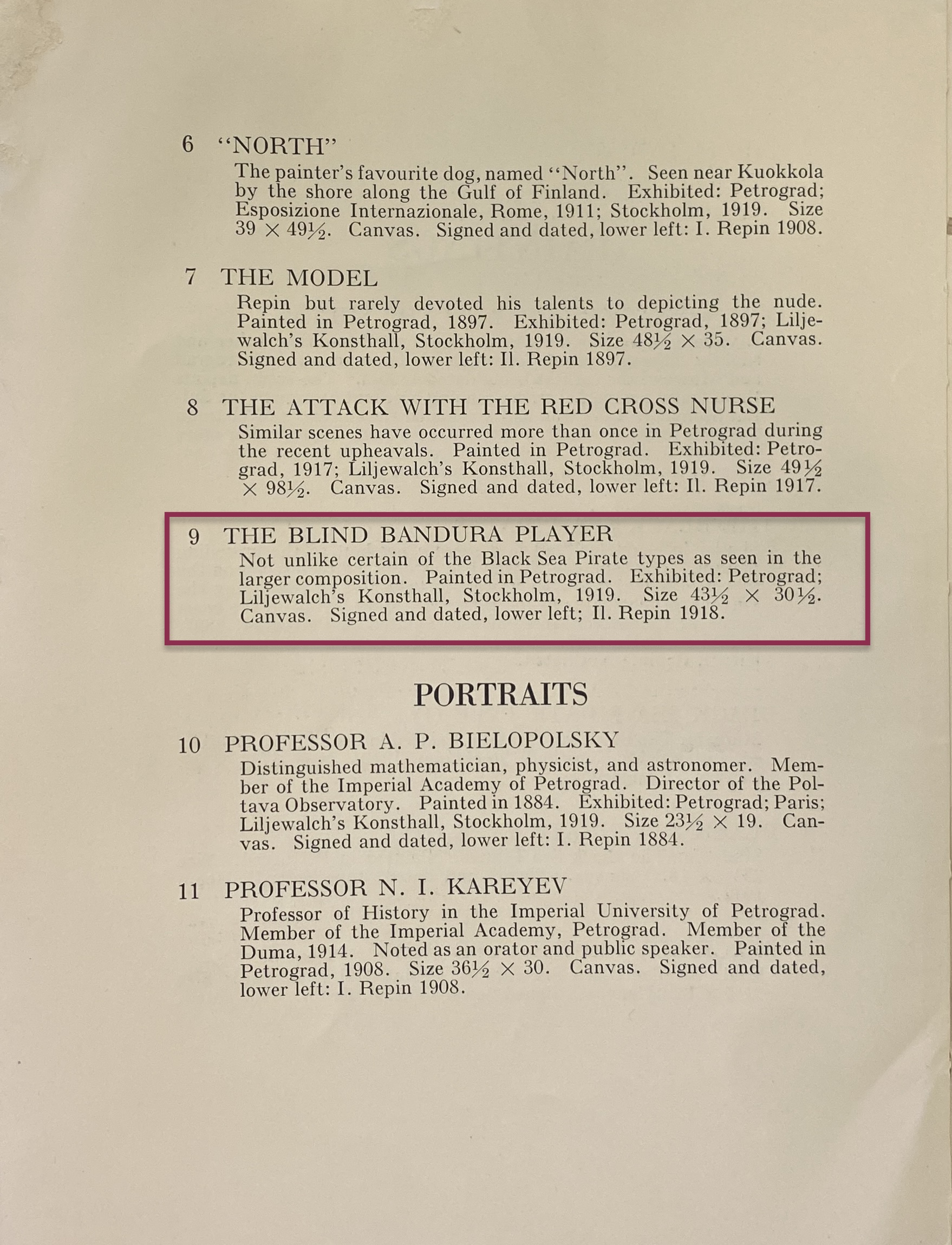 ---
Notes on symbols:
* Indicates 5% Import Duty Charge applies.
◎ Indicates lot is located in Monaco and successful bidders would have to make arrangements to collect or ship their lots from Monaco after the payment. An import duty of 5% applies if the artwork is shipped to the UK.
Ω Indicates 20% Import Duty Charge applies.
§ Indicates Artist's Resale Right applies.
† Indicates Standard VAT scheme applies, and the rate of 20% VAT will be charged on both hammer price and premium.