Important Russian Art
1 December 2021
---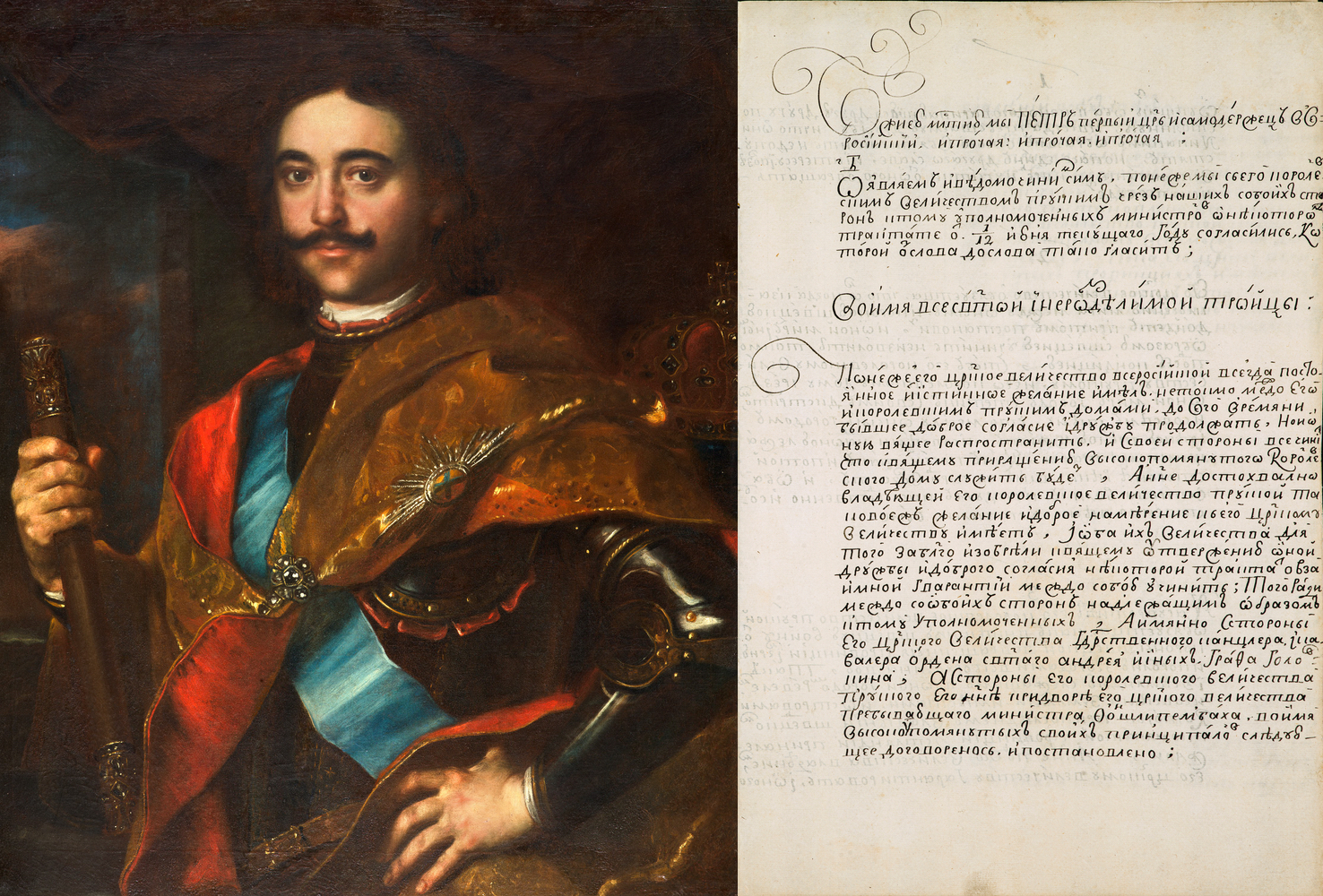 ◎ 15. Portrait of Peter I by Yan Kupetsky, with the Russo-Prussian Treaty of 1714
PROPERTY FROM A DISTINGUISHED PRIVATE COLLECTION, RUSSIA


600,000–900,000 GBP

KUPETSKY, YAN (1667–1740)

Portrait of Peter I.
Oil on canvas, 89.5 by 74 cm.

Executed in 1711.

Provenance: Collection of Louis Rudolf, Duke of Brunswick-Lüneburg, the father of Charlotte Christine Sophie, the bride of Tsarevich Alexei, eldest son of Peter I, and to Anthony Ulrich, Prince of Brunswick-Wolfenbüttel, the bride's grandfather.
Collection of Louis Rudolf, Duke of Brunswick-Lüneburg and Prince of Wolfenbüttel, Blankenburg Castle.
Important private collection, Russia.

Authenticity of the work has been confirmed by the experts G. Goldovsky and S. Moiseeva.
Authenticity has also been confirmed by the expert M. Garlanova.

Exhibited: Sokrovischa chastnoi kollektsii v Tsarskom Sele, Tsarskoe Selo State Museum and Heritage Site, St Petersburg, 6 June–23 September 2012.
Vzgliad iz proshlogo, Tsarskoe Selo State Museum and Heritage Site, St Petersburg, 22 January–21 March 2016.
Zhivopisnyi portret XVIII–XIX vekov.Sankt-Peterburg, The State A. S. Pushkin Museum, Moscow, 2 June–2 October 2016.
Istoriia v litsakh. Shedevry portretnoi zhivopisi XVIII–XIX vekov, Art Centre. Moscow, 20 May–20 September 2017.
Vystavka odnogo shedevra, Peterhof State Museum-Reserve, St Petersburg, 10 June–3 September 2018.
Peter I: kollektsioner, issledovatel, khudozhnik, Moscow Kremlin Museums, Moscow, 30 November 2019–8 March 2020.
Pisma i litsa Imperii. Portrety i pisma rossiiskikh imperatorov. Ot Petra I do Aleksandra II, Art Centre. Moscow, 15 October 2020–15 November 2021.

Literature: E. Šafařík, Johannes Kupezky, Prague, 1928, p. 80.
Exhibition catalogue, Sokrovischa chastnoi kollektsii v Tsarskom Sele, St Petersburg, Tsarskoe Selo State Museum and Heritage Site, 2012.
Exhibition catalogue, Vzgliad iz proshlogo, St Petersburg, Tsarskoe Selo State Museum and Heritage Site, 2016, pp. 41–43.

Related literature: Note from J. Kupecky (dated 22 September 1711) of receiving payment for the trip to Karlsbad and Torgau, where Peter I was sitting for him; Russian State Archive of Ancient Acts, Moscow, Fond Snosheniia s Avstriei, 1712, file 4a, p. 270, the work is mentioned in the document.

The appearance of a lifetime portrait of Peter the Great, particularly one that has been executed by the celebrated European master Jan Kupetsky and, what is more, with an impeccable, noble provenance, is a truly unique event on the art market.

Painted during the Russian tsar's visit to Europe in 1711, the canvas is a ceremonial portrait of a royal personage with all the attributes of power. Peter is depicted wearing a knight's armour and, over it, a gold-coloured mantle with a scarlet lining, fastened with a diamond clasp. He also displays the insignia of the highest Russian order – the star and ribbon of St Andrew the First-Called. In his hand, Peter holds a marshal's staff studded with precious stones, indicating his talent and success as a military commander, and behind him, against a grand drapery background, Kupetsky has placed a crown as a symbolic emblem of the monarch's power. Interestingly enough, the shape of the crown is North European, more typical of the German electors. There was certainly nothing like it in Russia. The artist was probably unable to consult any iconographic sources in order to show Moscow's royal regalia accurately. He was therefore obliged to resort to an allegorical depiction of that symbol of the sitter's august status – a symbol that is vital in a ceremonial portrait.

The history of the commissioning and creation of the portrait is typical of its time and is full of baroque twists and turns of fate. Driven by the geopolitical interests involved in expanding his influence in the Baltic and strengthening the Northern Union, the Russian tsar pondered a series of beneficial dynastic marriages for his children and nephews. In 1710, Peter gave his niece Anna Ioannovna to the Duke of Courland, and in the following year, 1711, he was preparing for the marriage of his son Alexei to Princess Charlotte Christine of Braunschweig-Wolfenbüttel, the sister-in-law of the Holy Roman Emperor Charles VI.

The marriage of the heir to the Russian throne to Princess Charlotte had been arranged for 13 October 1711 in Torgau. While he was making his preparations for attending the grand ceremony, Peter had, as usual, planned to fit many things into the trip. First of all, the state of his health, aggravated by the trials and tribulations of the Prut campaign, was in need of treatment. As a matter of urgency, the doctors recommended the tsar to take a cure at the hot springs, suggesting first Aachen, followed by the centuries-old resort of Carlsbad. Peter decided to combine the political and health benefits and, at the same time, to make an old dream of his come true: he would commission a cycle of portraits from a top European artist.

The choice fell on Jan Kupetsky, who had recently come to Vienna from Italy, an unusually prolific artist who was considered one of the greatest portrait painters of his time.

In Rome, he had already enjoyed the patronage of the Church nobility and the son of Poland's King Jan III Sobieski. Upon his arrival in Vienna, he painted numerous portraits of various royals – Emperor Joseph I, Elisabeth Christina vonBraunschweig-Wolfenbüttel, the future wife of Emperor Charles VI, the emperor himself, Prince Eugene of Savoy, and many Hungarian magnates, Polish princesses and other celebrities.

There is nothing surprising in Peter's showing an interest in the artist's work and instructing the Russian ambassador to the Vienna court, Baron Urbich, to invite Kupetsky to Carlsbad to paint his portrait while on he was taking the waters.But Kupetsky was apprehensive about meeting the Russian sovereign and did not want to go. The ambassador thenpassed the tsar's request on to Emperor Charles VI, and the artist was ordered to fulfil the "international" order so long as he returned to Vienna six months later.

Kupetsky's signature, preserved in the archives, confirms that he received an advance of 200 guilders from the Russian government, and he left Vienna for Carlsbad on 22 September 1711 (Podyapolskaya E.P. K voprosu o russko-cheshskikh kulturnykh svyazyakh v pervoi chetverti XVIII v. // Problemy obshchestvenno-politicheskoi istorii Rossii i slavyanskikh stran. Sbornik k 70-letiyu akademika M.N. Tikhomirova. Izdatelstvo vostochnoi literatury, Moscow, 1962).

As for Peter, he arrived at the resort on 24 September, so that the first session of work on the portrait is most likely to have taken place towards the end of the month. The tsar stayed in Carlsbad until 3 October, then spent 5 days in Dresden, and finally, from 13 to 19 October, attended the wedding festivities in Torgau. Kupetsky evidently followed in Peter's wake. He painted him again in Torgau, where he remained until the tsar's departure. By comparing these dates, we may conclude that Kupetsky painted Peter I during live sittings in late September and the first half of October 1711.

Kaspar Füessli, the artist's pupil and first biographer, testifies that Kupetsky and the Russian tsar "felt very much at ease during the portrait sessions. The tsar was extremely pleased with the artist's work, for which he rewarded him generously and expressed a desire to have several versions of his portrait. The tsar sent one of these portraits to St Petersburg so that coins could be minted from his profile and even invited Kupetsky to enter his service." (L. Berová, "Ján Kupecký – maliar ľudskej tváre" in Historická revue, year XIII, 2002, No. 4, p. 13.). Füessli recalled that later Kupetsky told him repeatedly that, of all the personalities he had painted, the Russian tsar had made the deepest impression on him, and that, if circumstances allowed, he would like to enter his service (Kaspar Johann Füessli, Leben Georg Philipp Rugendas und Johannes Kupezki, Zürich, 1758, pp. 26-27).

During his personal meetings with Peter, Kupetsky executed several images of the Russian tsar – a profile portrait of Peter (Von Fürstenberg collection), the portrait of Peter with a crown that is now to be auctioned, and a portrait of Peter in a leopard skin, leaning on a gun carriage (1711, Herzog Anton Ulrich-Museum, Braunschweig). This last one was engraved, shortly after painting, by Bernhard Vogel, Alexei Zubov and other masters, and became widely known.

It is impossible to determine today the chronological order in which the portraits were painted. One thing is clear, though: they had not been completed before the departure of the Russian delegation. It is thought that the artist was unable to send them to St Petersburg on time owing to illness, and, six months later, a vexed tsar wrote to his son, who had stayed on in Europe: "Send me my likenesses that were painted in Torgau immediately!"

However, the portraits were never taken to Russia and remained in the possession of the Herzoge von Braunschweig. Specifically, the ceremonial portrait of Peter I now presented at the auction was kept in Blankenburg, at the castle of Herzog Ludwig Rudolf von Braunschweig-Wolfenbüttel, the father-in-law of Russia's Tsarevich Alexei, Peter's son.

This depiction is not only a unique historical and artistic heritage item, but also a rare example of the early iconography of Peter. Painted in the somewhat expressive manner characteristic of a Baroque master and in a rich "Italianising"colour scheme, it conveys perfectly the image of a young, active sovereign who had yet to embark on the saga of Russia's great imperial history.


THE RUSSO-PRUSSIAN TREATY OF 1714.

Signed "Peter".
Ink on paper.

"By the grace of God, we, PETER, the First Tsar and Autocrat of All Russia, etc., etc., etc., declare and hereby make known that we and His Royal Prussian Majesty have, through our mutually to that authorised ministers, agreed on some treaty dated 1/12 June of this year, which reads the following, word for word:

In the name of the All-Holy and Indivisible Trinity

Whereas His Tsarist Majesty of All Russia has always had a constant and true wish, up to the present time, not only to continue the former good accord and friendship between his and the royal Prussian houses, but also to extend it further and, for his part, to do everything that will serve to bring about the greater augmentation of the aforementioned royal house, and [whereas] now His Royal Prussian Majesty, praiseworthy has a similar wish and good intentions towards His Tsarist Majesty, so both of their majesties have, for this good purpose, devised, for the greater affirmation of that friendship and good accord, and drawn up some treaty on mutual guarantees between them. To that end, in the name of their aforementioned principals, the following has been agreed and resolved by both sides between the duly authorised officials, namely, on behalf of His Tsarist Majesty, the State Chancellor and holder of the Order of Saint Andrew and others, Count Golovkin, and, on behalf of His Royal Prussian Majesty, Minister von Schlippenbach, who now attends the court of His Tsarist Majesty.

Peter."

The Russo-Prussian treaty of 1714, drawn up in Russian and German, was personally signed by Tsar Peter I and endorsed by the head of the Ambassadorial Chancellery, Count Gavriil Ivanovich Golovkin.

This landmark document, cementing agreements on an alliance, as well as guarantees and conditions for the division of conquered Swedish lands between Russia and Prussia, was drafted in June 1714 by Count Golovkin for Russia and by General Karl Friedrich von Schlippenbach for Prussia, and ratified by Peter I on 16 September.

As part of an ambitious foreign-policy plan to extend Russia's Baltic territories, a plan that Peter strove to implement throughout his life, a rapprochement with Prussia was a matter of particular importance.

From the early 1710s onwards, the tsar sought to enter into close contact with the duchies adjacent to the Baltic coast. This was required by the political and commercial interests of a country that wished to strengthen its position at sea. But there was another reason: through his political and matrimonial manoeuvring, Peter was seeking an opportunity to exert pressure on the ethnically German countries of the Holy Roman Empire. The tsar reckoned that this should give greater stability to Russia's international standing and ensure constant support from Austria and other German states in the event of Swedish reprisals or a Turkish attack.

Russo-Prussian relations started to "warm up" for the first time since the death of Frederick I and the accession to the Berlin throne of his son, Frederick William I (1713-1740). Peter had decided to win over the young heir back in 1711 by sending him gifts in the form of "giants" (lange Kerle), i.e. tall soldiers, whom the crown prince adored [K. Grünwald / K. Gryunvald, Franko-russkie soyuzy, Moscow, 1968, p. 324]. Similar gifts were also presented by the Russian monarch later, when Frederick William became king.

Soon after Frederick William had ascended the throne, the sovereigns also held a personal meeting. In October 1713, an alliance agreement was signed in Schwedt an der Oder, whereby Prussia joined the anti-Swedish coalition. From then on, the personal liking of Peter and the Prussian king promised to develop not only into a strong military alliance, but also into friendship at state level.

A Prussian envoy, Wolmar Anton von Schlippenbach, visited Russia in February 1714 to continue the negotiations. In Berlin, Frederick William I met Russia's chief diplomat, F.A. Golovkin, saying inter alia: "Now I am not pinning my hopes on anyone as much as on His Tsarist Majesty, and, most importantly, I have a special affection for the person of His Tsarist Majesty" [E. Hassinger, Brandenburg-Preussen, Rusland und Schweden. 1700-1713, Munich, 1953, p. 163].

At that time, Prussia was engaged in military action in the War of the Spanish Succession (1701-1714) and so could not openly oppose Sweden. However, this did not prevent Frederick William from seizing a number of territories belonging to the Swedish king. That could only mean one thing: at the end of the War of the Spanish Succession, the Prussian king had to declare war on Charles XII. And this soon happened.

According to the Russo-Prussian treaty of October 1713, Frederick William was to deploy his military forces immediately in Stettin and the lands between the rivers Oder and Peene, the major towns being Demmin, Wolgast and Anklam. Acting as a neutral̆ force, the Prussian troops took the territory into "sequestration" (cautionary presence) for the time being, until the belligerent parties – Russia and Sweden – withdrew their troops from there. But the mere sequestration of these lands did not satisfy the Prussian king. The ambitious Frederick William wanted more decisive action, nothing less than the transfer of the Swedish lands in Germany to Prussia. For his part, Peter I also realised that Prussia's joining the Northern Union would necessarily entail the cession of certain territories.

The crucial stage of these negotiations came with the signing of the defensive alliance on 1 (12) June 1714, whereby Stettin and all the surrounding area up to the River Peene became part of Prussia. Prussia guaranteed that it would leave Karelia and Ingermanland for Russia.

The conclusion of this treaty ushered in a really warm relationship between the two monarchs: "Your Tsarist Majesty may be quite sure that, for my part, I share the same feelings and wishes towards you, and you can make me the happiest of all persons if I find an opportunity to do something to please Your Tsarist Majesty," Frederick William wrote to Peter.

Prussia provided Russia with considerable assistance as early as 1715. Twelve thousand troops were sent from the kingdom to operate against the Swedes in Pomerania.

Further confirmation of the alliance was supplied by another meeting between Peter I and Frederick William I in November 1716 in Havelberg, which confirmed the agreements reached in 1714. The monarchs exchanged gifts – something that had come to be a tradition. It was thanks to the Prussian king that the famous Amber Room made its appearance in Russia. He presented it to his distinguished guest together with a yacht. The tsar wrote to Catherine: "The king gave me a handsome gift – a yacht, which is in Potsdam and is very well appointed – and an amber room, which I have long wished for" [Yu.A. Kozlova, "Russko-Prusskie otnosheniia v gody Severnoi voiny (1709-1717)" in Prepodavatel XXI v., 2018, No. 1, part 2, p. 271].

Peter had high hopes for the Northern Alliance, aspiring to reach a turning point and to win the war in the very near future. Although it took a few more years for these hopes to bear fruit, the treaty of 1714 was the first important success in the Northern Campaign for the tsar and was immensely significant for the development of Russo-Prussian relations. Prussia remained a loyal Russian ally and provided real help in the theatre of military operations against Sweden. In turn, Peter also remained a loyal ally for Frederick William I, agreeing, in particular, to the transfer of important territories to Prussia, thanks to which Prussia buttressed its position substantially in the Germanic region.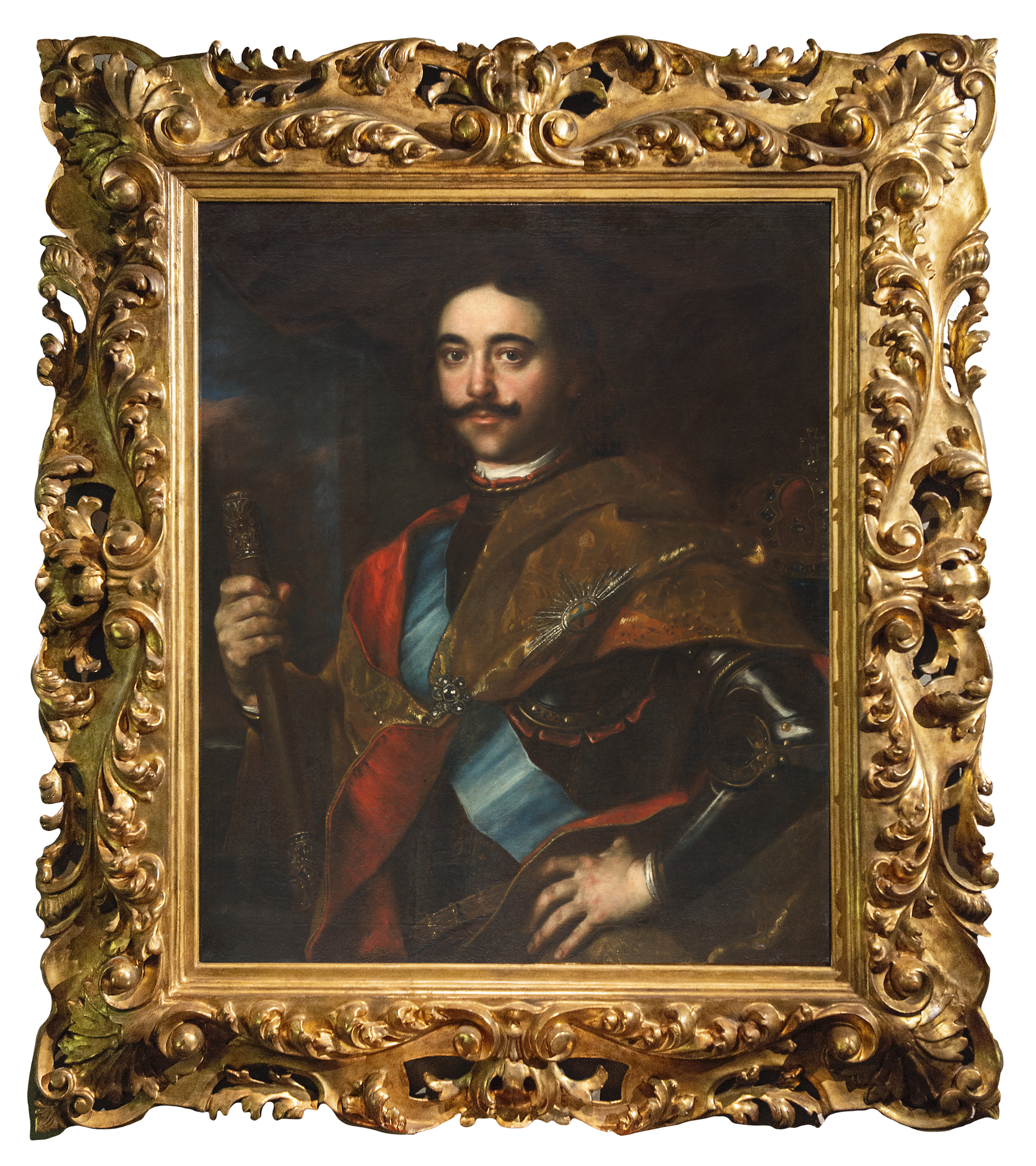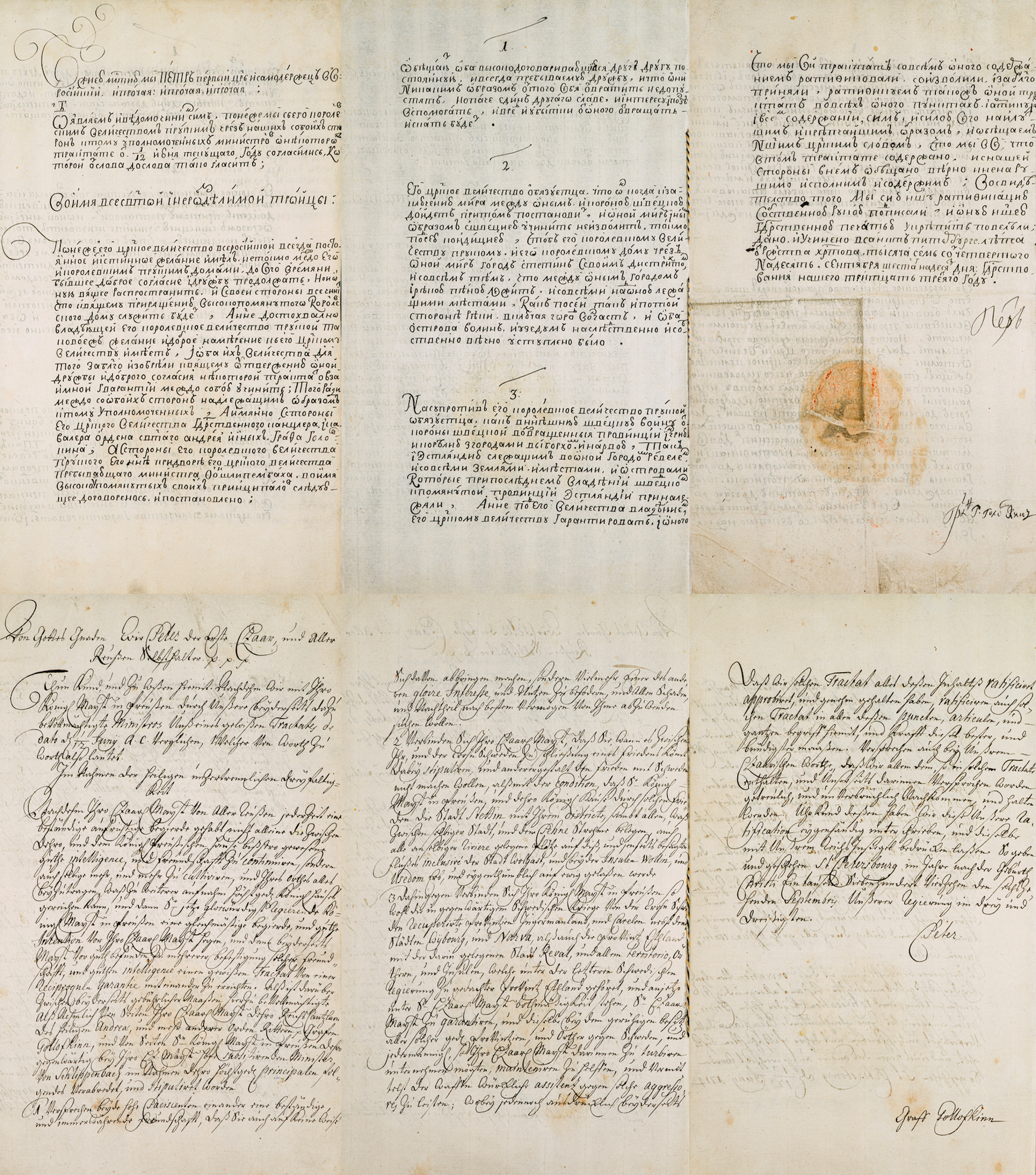 ---
Notes on symbols:
* Indicates 5% Import Duty Charge applies.
◎ Indicates the lot is located in Russia. Please note that permit for export from Russia has not been obtained. Successful bidders would collect their lots in Moscow after payment.
Ω Indicates 20% Import Duty Charge applies.
§ Indicates Artist's Resale Right applies.
† Indicates Standard VAT scheme applies, and the rate of 20% VAT will be charged on both hammer price and premium.