Important European Collection of Russian Art, plus Other Properties
30 May 2020
---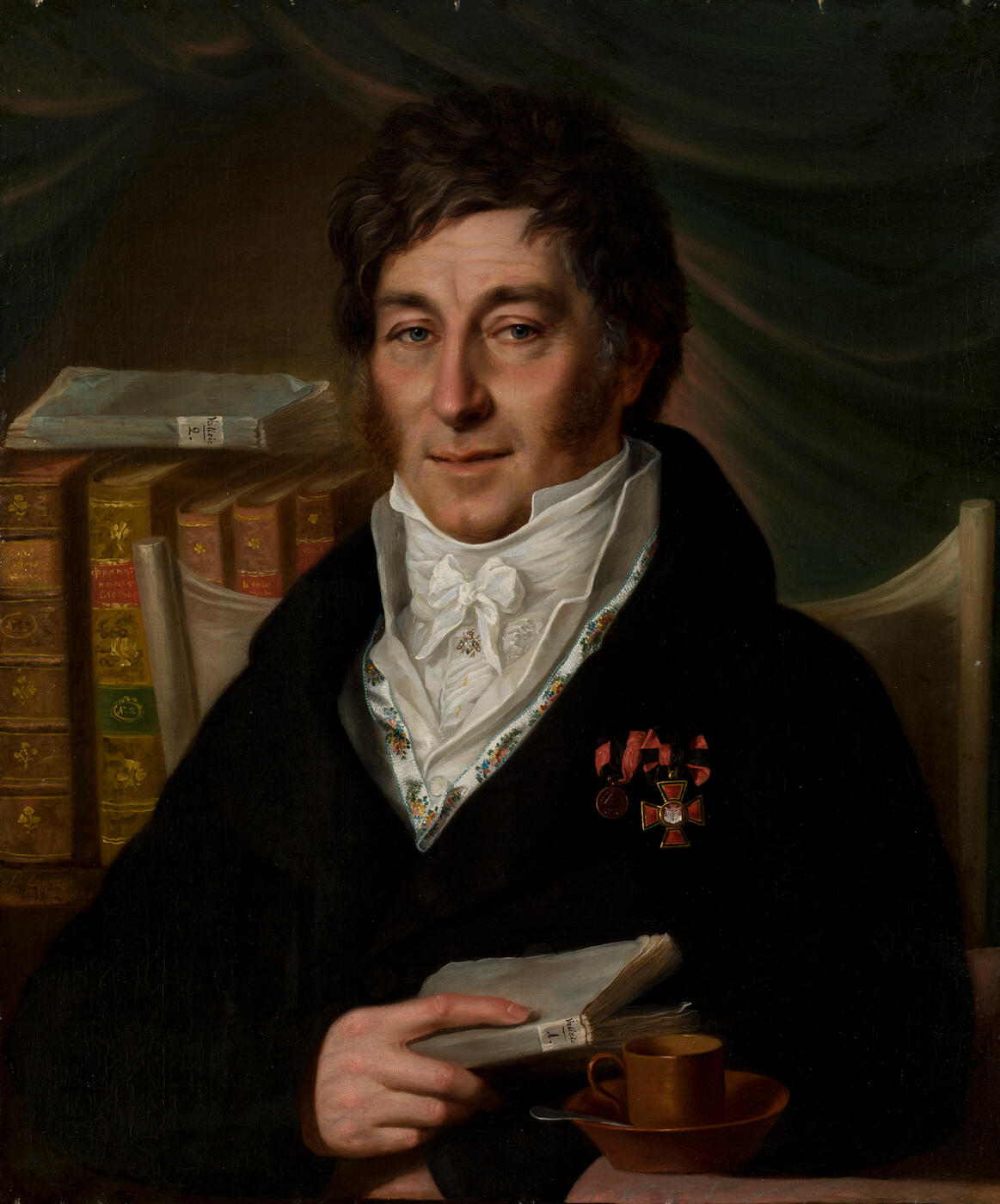 14. LEVITSKY, PETR (19TH CENTURY)
Portrait of Alexander Stakhiev, signed, inscribed "pinxit" and dated 1818.

Oil on canvas, 75.5 by 63 cm.
20,000–30,000 GBP

Provenance: Collection of Baroness von Mirbach, Latvia and Germany, 1940s.
Thence by descent.
Collection of an engineer and architect Leon Dietz D'Arma, Poland (plaques on the backing board).

Authenticity certificate from the expert S. Podstanitsky.

Literature: Leon Dietz, O neizvestnom portrete Levitskogo i liubvi romanticheskoi, manuscript, early XX century, The State Hermitage Museum, The Research Library, TS93.2.178, mentioned in the text.
N. Gershenson-Chegodaeva, Dmitry Grigorievich Levitsky, Moscow, Iskusstvo, 1964, p. 379, mentioned in the text.
N. Moleva, Dmitry Grigorievich Levitsky, Moscow, Iskusstvo, 1980, pp. 12–13, 222–224, mentioned in the text, Nos. 42, 43 and 44, illustrated.
Gosudarstvennyi Russkiy muzei. Zhivopis'. Pervaya polovina XIX veka. Katalog (K–Ya) , vol. 3, almanac, issue 193, St Petersburg, Palace Editions, 2007, p. 55, mentioned in the text.

The Portrait of Alexander Stakhiev, painted in 1818, boasts an exceptional provenance and illustration history, having been reproduced in several influential publications. Moreover, it is a unique artefact of its time, holding a key to one of the most intriguing literary mysteries of the epoch of sentimentalism.

The first to identify the mysterious sitter was the Polish intellectual, Leon Dietz. After World War II he wrote an article about this portrait, which he happened to inherit from Baroness von Mirbach, who had fled the Baltics in 1944 and settled in Germany. The article manuscript, which used to be kept in the library of the Hermitage, sheds light on the truly fascinating history of this portrait.

The stylish sitter, sporting prominent sideburns, dressed in a frock coat with an embroidery-trimmed waistcoat and a flamboyant tie in the early XIX century fashion, was the son of Alexander Stakhiev, an influential diplomat under Catherine the Great. Following his father's career advice, Stakhiev the younger also enrolled in diplomatic service, accompanying his father on a posting to Constantinople as early as 1779. He was then promoted to Court Counsellor, and as secretary to Baron Alexei Krüdener, Russia's special envoy to Denmark, he was posted to Copenhagen. When Stakhiev sat for the portrait, he had already been made Collegiate Counsellor and decorated with two prestigious orders: a Bronze medal in commemoration of the 1812 Civil War and the Order of St Vladimir, 4th grade, both of which are clearly visible in the portrait.

Stakhiev holds a volume of a then-popular novel Valérie, which references a famous love story connected with Stakhiev: whilst in the service of Krüdener, he became infatuated with the Baron's young wife Julia Krüdener, née Viettinghoff, a great-granddaughter of the renowned Russian field marshal Burkhard Christoph von Münnich. The affair proved the downfall of Stakhiev, who had to hand in his resignation and quit the Russian mission. Julia Krüdener, who was widowed in 1802, made a foray into literature and in Paris, 1803, published a novel in French entitled Valérie, which was based on their liaison.

The art historian Nina Moleva, who has traced the history of the portrait, argued that it was commissioned from Levitsky during Julia Krüdener's sojourn in Russia in 1818 and later inherited by her daughter, Juliette von Bernheim, before going back to her mother's family, one of the branches of the Viettinghoff lineage.
---
Notes on symbols:
* Indicates 5% Import Duty Charge applies.
Ω Indicates 20% Import Duty Charge applies.
§ Indicates Artist's Resale Right applies.
† Indicates Standard VAT scheme applies, and the rate of 20% VAT will be charged on both hammer price and premium.