5 June 2019 Important Russian Art Auctions, at Asia House
5 June 2019
---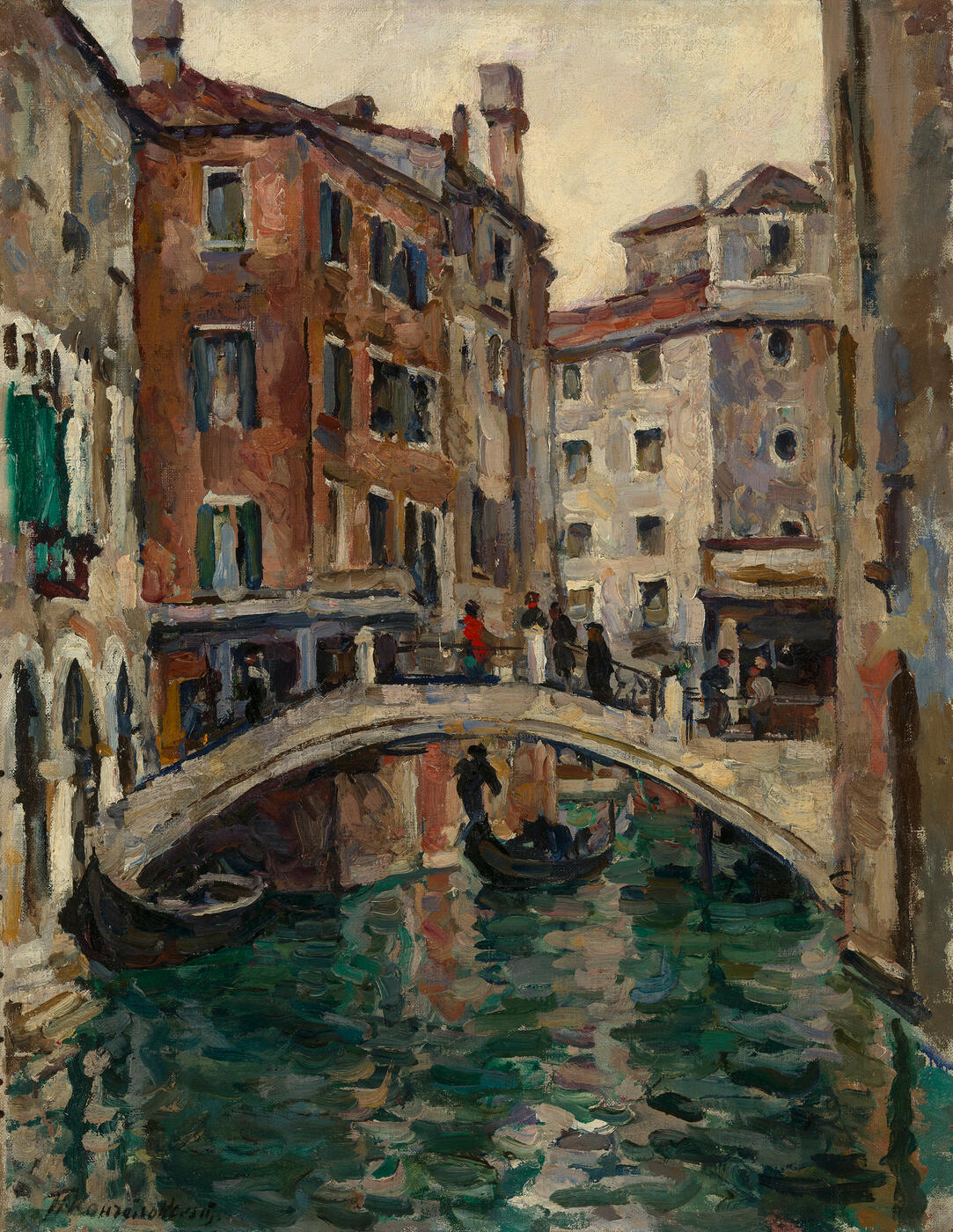 * 37. KONCHALOVSKY, PETR (1876–1956)
Santi Apostoli, Venezia, signed, also further signed, titled, numbered "551" and dated 1924 on the reverse.

Oil on canvas, 79 by 61 cm.
300,000–500,000 GBP

Provenance: Acquired by a previous owner from Konchalovsky's exhibition in London in 1925.
Private collection, UK.
Russian Pictures, Sotheby's London, 21 May 2003, lot 192.
Private collection, Switzerland.

Exhibited: Exhibition of P. Konchalovsky, London, 1925.

Literature: V. Nikolskii, Petr Petrovich Konchalovsky, Moscow, Vsekokhudozhnik, 1936, p. 12, listed under the year 1924.
Konchalovsky. Khudozhestvennoe nasledie, Moscow, Iskusstvo, 1964, p. 110, listed as "zhi 400".
M. Neiman, P.P. Konchalovsky, Moscow, Sovetskii khudozhnik, 1967, listed under the year 1924.

Santi Apostoli, Venezia, now presented for auction, is one of eight views of Venice that were painted by Petr Konchalovsky in 1924. The artist's trip to Italy that year was made possible by a auspicious combination of circumstances. After lengthy negotiations, diplomatic relations were established between the USSR and Italy early in February 1924, and the People's Commissariat of Education decided that the new Soviet art should take part in the Venice Biennale. Among the six hundred works selected for display in the USSR pavilion were several pictures by Konchalovsky. He made the most of the opportunity and submitted a business trip application.

Konchalovsky, who was at the time at a new stage of his creative work, had high expectations from another trip to Italy. However, once in Venice, due to the hassle associated with preparing for the exhibition, all he managed to produce were a few studies from Tintoretto. In search of perfect light and of outdoor scenes, the artist travelled south, to Sorrento and Naples, and to Capri where Maxim Gorky resided. From there, having made the most out of the views of Vesuvius, the region's picturesque sights, the rocky, dusty roads and the sea haze, he moved on to Rome, a city he knew so well and longed to return to since his first visit back in 1903. Going home from Rome, Konchalovsky yet again made a stop in Venice. This time around, Venice made a stronger impression on him, to the extent that he found it even more attractive than the Eternal City. Perhaps, this new appreciation was facilitated by Konchalovsky's reconnection with an old Parisian acquaintance of his, the artist Émile Bernard, a great expert on the history of Venice. Bernard was passionate about that grand city of canals and palaces and showed his Russian friend many of its hidden gems. In any case, the artist returned to Moscow convinced that in order to make the most out of Venice, one had to spend a long time living there — at least a year.

La Serenissima bewitched Konchalovsky with the beauty and expressive- ness of its architecture. The artist had a longstanding affection for architecture: architectural forms provided him with the most straightforward way of understanding structural and spatial properties and deconstructing the colours. Yet, the idiosyncratic, picturesque Venetian embankments, springing directly from the canals, bridges and houses, so captivated the artist that, by his own admission, he "... forgot all about his constructivist nature" and his propensity to conceptualise and deconstruct shapes.

This strictly painterly, "non-conceptual" approach fully applies to the view of Santi Apostoli, Venezia, In it, the artist did not simply portray what comes across as one of the more unusual city views — possibly, suggested by Bernard, — he also captured and conveyed Venice's highly peculiar colours: the cold, ever slightly gloomy tone of its age-old stone, the opaque green of the water's surface, and the warm, sun-heated colours of the old painted walls. The springy arch of the bridge, spanning the Canal of the Holy Apostles, acts as a dynamic centre for the whole composition — in architectural, narrative and genre sense. The arch propels centripetally and merges the massive, bulky buildings on either side of the canal, acting also as the focal point of everyday urban life that unfolds simultaneously on two planes — on the bridge and beneath it. All these elements, rendered with genuine enthusiasm and imbued with inner energy, fit together to present the image of a city that can be instantly recognised.

"I was sad to leave Venice," the artist later recalled, "... no matter how many painters depicted it ... Carpaccio, Bellini, Bassano, Canaletto, Guardi and Bellotto... they all had their own Venice, and they all painted it faithfully. How I regret now that, at that time, I was beset by a period of 'mindless' painting and that I didn't set myself any tasks of an analytical nature. Although we didn't stay in Venice for long, I still should have absorbed at least a tiny part of its soul... Yes, it was a happy, joyful trip. All the works I brought back were appreciated and successful... They would have made an even stronger impact had I not been captivated, to the point of complete enslavement, by the ideal beauty of what I had seen. Admittedly, this 'captivation' made my painting warmer and more emotional; however, while I was working, I wasn't fully in control of myself, and that, as I see it, is not good for an artist" (V.A. Nikolsky, Pyotr Petrovich Konchalovsky, Moscow, 1936, p. 95).

The following year, the artist showed over a hundred recent works at his solo exhibition in Paris. Konchalovsky's success was so great that it brought him international fame and provided an opportunity to show several selected works at a small exhibition at a private gallery in London. Among those canvasses was Santi Apostoli, Venezia. Despite the short duration of the London exposition, a number of the Italian works — Picking Oranges, A Bunch of Black Grapes, as well as several town landscapes — were bought straightaway at the exhibition. The work now offered for auction also ended up in a private collection in London, remaining in a family of art connoisseurs for several generations.
---
Notes on symbols:
* Indicates 5% Import Duty Charge applies.
Ω Indicates 20% Import Duty Charge applies.
§ Indicates Artist's Resale Right applies.
† Indicates Standard VAT scheme applies, and the rate of 20% VAT will be charged on both hammer price and premium.