6 June 2018 Russian Art Auctions
6 June 2018
---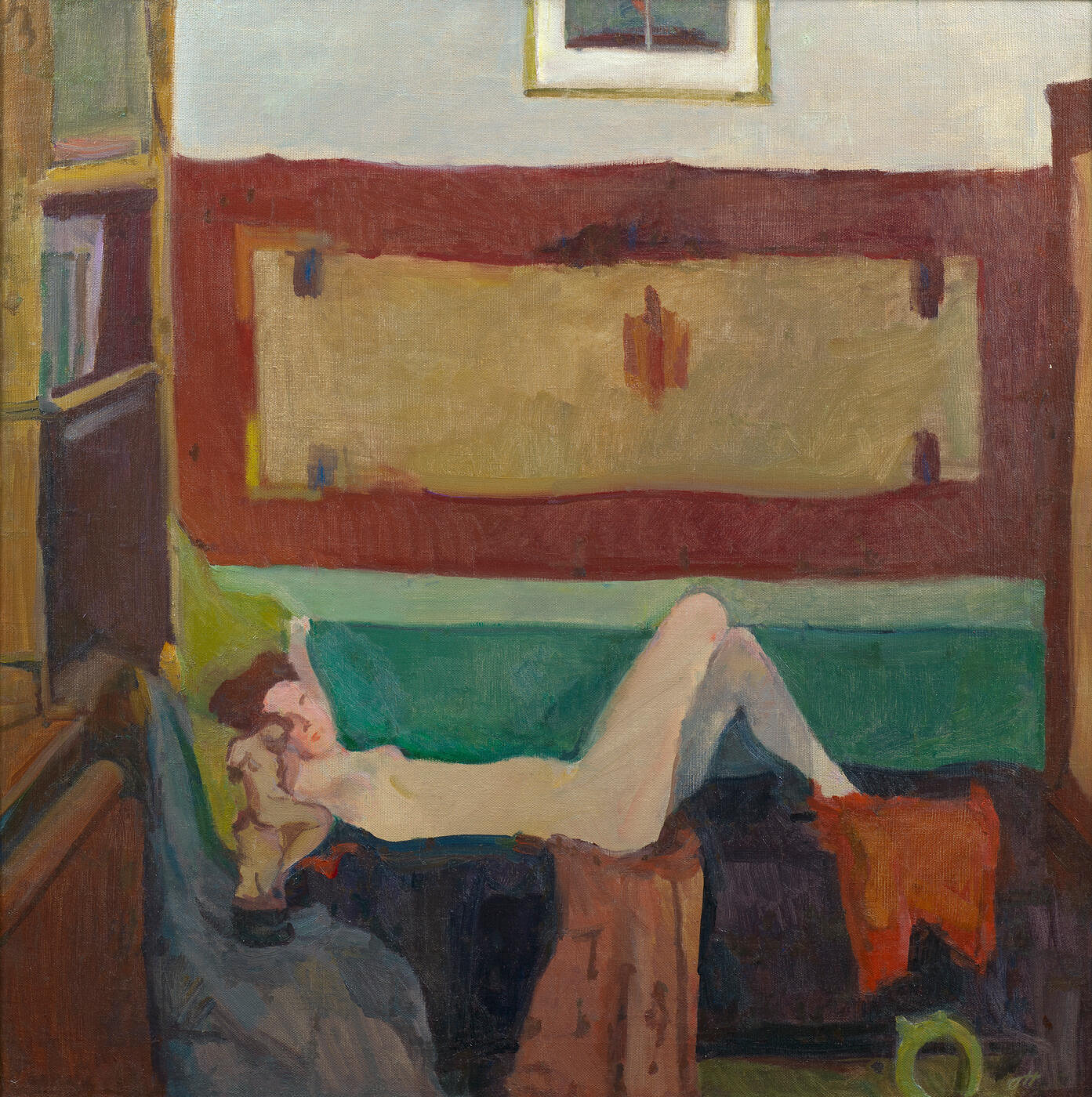 * 31. NISSKY, GEORGY (1903-1987)
Reclining Nude, signed with a monogram.

Oil on canvas, 93.5 by 92.5 cm.
180,000-300,000 GBP

Executed c. 1959.

Provenance: A gift from Nissky to the artist Max Birstein, Moscow.
Important private collection, USA.

Authenticity of the work has been confirmed by the expert Yu. Rybakova.
Authenticity has also been confirmed by the expert T. Ermakova.

Exhibited: Georgy Grigorievich Nissky. Zhivopis, akvarel, guash, Academy of Arts of the USSR, Moscow, 1963.
Niu v sovetskom izobrazitelnom iskusstve, Exhibition Hall of the Moscow Union of Artists, Moscow, 1995.

Literature: Exhibition catalogue, Georgy Grigorievich Nissky. Zhivopis, akvarel, guash, Moscow, Academy of Arts of the USSR, 1963, p. 25, listed under the works from 1959.
M. Kiselev, Georgy Nissky, Moscow, Izobrazitelnoe iskusstvo, 1972, p. 154, listed under the works from 1959.

The painting Reclining Nude, by the famous Soviet landscape painter Georgiy Nissky's, now presented for auction, is an extremely rare example of his exploring the genre of nude. Both at the anniversary review exhibition of the artist's work in 1963 and in the latest inventory of his output, Reclining Nude is the sole example of this genre. Although this work is primarily a study, its artistic qualities and history are most remarkable.

Nissky, who hardly ever made sketches and very rarely resorted to studies while working en plein air, preferred to create on the canvas a complete, thought-through image. Therefore, it is safe to assume that the idea behind Reclining Nude was by no means coincidental. Nissky painted the work in his studio at the "Artists' Colony" in Verkhniaia Maslovka Street, probably in a single sitting. He also invited an old friend who now had his own studio next door, Andrei Goncharov, to paint his "real-life study". Today Goncharov's Nude Model. In G. Nissky's Studio (1958) — which is similar to Nissky's work — is in the collection of the Moscow Museum of Modern Art.

It is quite fascinating to compare these two works. Goncharov's composition, more traditional and painted from an angle, enables him to convey in full detail the complexity of his arrangement. His viewing angle encompasses not only the nude model, but also a ceramic jug on the floor, a small casting of Rodin's The Thinker on a stool, and the whole variety of fabrics and drapes surrounding the model. Conversely, Nissky chooses a panoramic view from above, as is typical of his landscapes, an arrangement which allows him to include the whole corner of the studio. The nude model is in the centre of the composition, but the actual depicted space expands, drawing in a bookcase, an entire bed, and even a rug over the bed that cannot be seen at all in Goncharov's work. Although the colour in Nissky's picture somewhat reflects colour in real life, it has an ornamental function, rather than being an actual, objective representation. The colour planes contrast with each other, while the objects are juxtaposed, lending the canvas a particular flamboyance and dynamism.

Speaking of his method, the artist once confided: "I always... want to paint clearly, concisely, simply. I work and literally fall in love with a picture, and I don't leave it until I finish it." It seems like, tackling a genre quite far removed from a landscapist's home turf whilst competing with an artist friend, Nissky got quite involved and, spurning all unnecessary detail, created a generalised and succinct image, imbued with the spirit of his time.
---
Notes on symbols:
* Indicates 5% Import Duty Charge applies.
Ω Indicates 20% Import Duty Charge applies.
§ Indicates Artist's Resale Right applies.
† Indicates Standard VAT scheme applies, and the rate of 20% VAT will be charged on both hammer price and premium.