6 June 2018 Russian Art Auctions
6 June 2018
---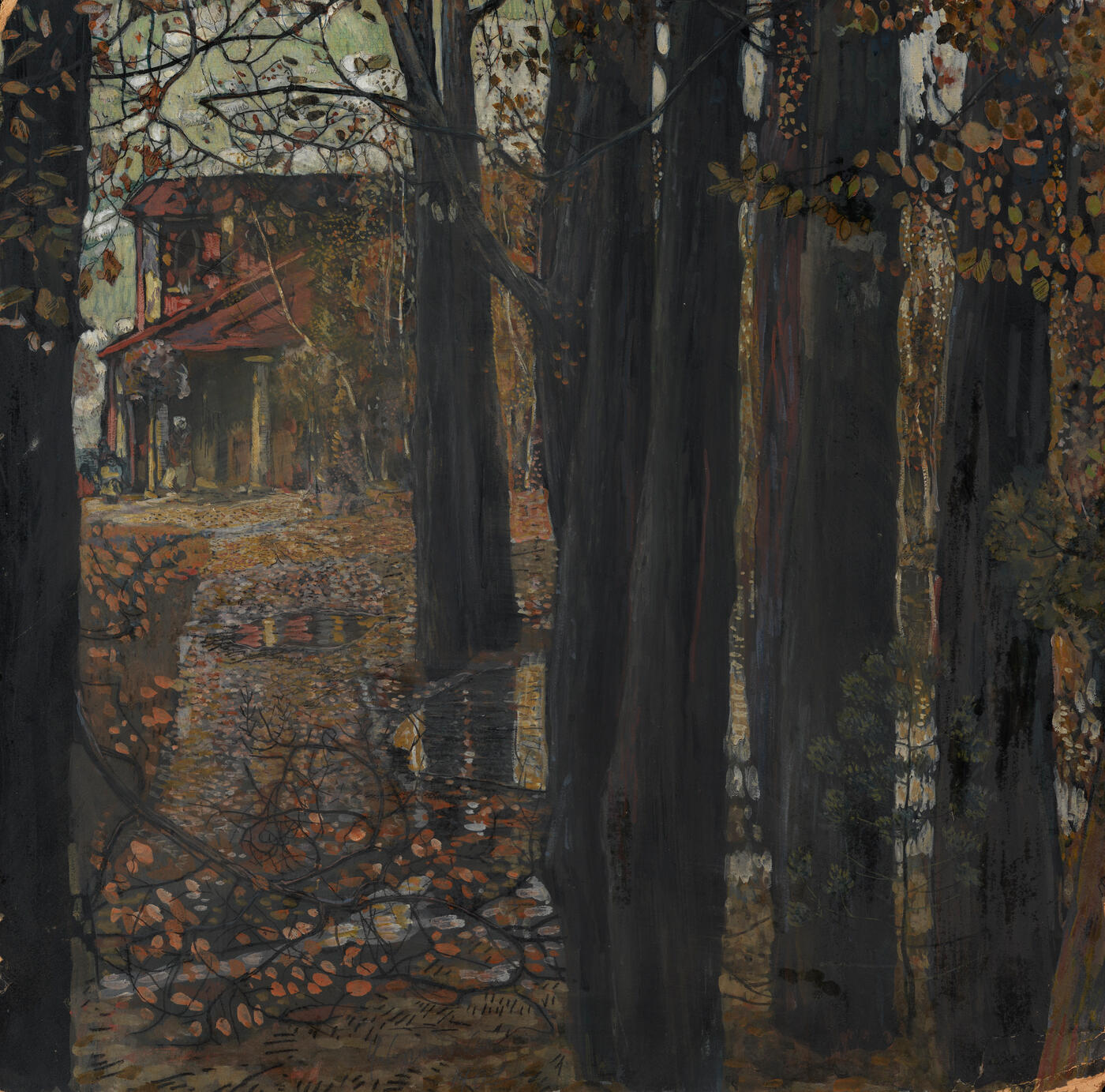 * 27. BRODSKY, ISAAK (1884-1939)
Autumnal Landscape, signed and dated 1907.

Tempera and oil on paper, laid on cardboard, 48 by 48 cm.
100,000-150,000 GBP

Provenance: Acquired in the 1930s by a previous owner.
Thence by descent.
Private collection, Germany.
Important private collection, USA.

Exhibited: Possibly, I.I. Brodsky. 1904–XXV–1929, Leningrad, 1929.
Possibly, Iubileinaia vystavka proizvedenii zasluzhennogo deiatelia iskusstv I. I. Brodskogo. 30 let khudozhestvennoi deyatelnosti. 1904–1934, Leningrad, Moscow, Kiev, Odessa, 1934–1935.

Literature: Possibly, exhibition catalogue, I.I. Brodsky. 1904–XXV–1929. Katalog iubileinoi vystavki, Leningrad, Iubileinyi komitet, 1929, p. 10, No. 22, listed.
Possibly, exhibition catalogue, Iubileinaia vystavka proizvedenii zasluzhennogo deiatelia iskusstv I.I. Brodskogo, Moscow, Vsekokhudozhnik, 1934, p. 10, No. 22, listed.
Possibly, I. Brodsky, Isaak Izrailevich Brodsky. Statyi, pisma, dokumenty, Moscow, Sovetskii khudozhnik, 1956, p. 174, listed with incorrect medium.

Isaak Brodsky's work Autumnal Landscape, now offered for auction, belongs to a rare series of landscapes which the artist painted in 1907 at the Imperial Academy of Arts dacha in Tver Province. These landscapes were commended at the Academy Review Exhibition and were endorsed for presentation to the Society for Encouragement of the Arts, which subsequently granted the painter a stipend for them. The works astounded everyone, including the Brodsky's teacher Ilya Repin in that they displayed a highly individual artistic style, a sensitive approach to the natural environment, profound lyricism, and were executed with distinguished maturity. They were a summation of the artist's creative searching of earlier years and introduced a fully-fledged artist with his own, recognisable style.

Together with the studies The Academy Dacha and Through the Branches, which were produced at the same time, Autumnal Landscape showcases Brodsky's talent as a draughtsman. The composition is distinguished by a solid structure and well-crafted planes, but, at the same time, by its poeticism and musicality that were to become the hallmark of the artist's landscape painting. Brodsky has a keen eye for the complex links and combinations between the lines and shapes and for the veiny interlacing of the branches. He subtly conveys the exquisite filaments of the foliage, and, using fine, mosaic-like brushstrokes, he minutely paints in every flash of sunlight and every leaf that has fallen from a tree. The diversity of colours that was so typical of the early Brodsky is in retreat: the artist achieves a tonal unity and a resonance of colour in the canvas, while individual colours seem to merge into one another. Ilya Repin commenting on similar works by his talented pupil, said that they "always murmur with the pure source of spring water".
---
Notes on symbols:
* Indicates 5% Import Duty Charge applies.
Ω Indicates 20% Import Duty Charge applies.
§ Indicates Artist's Resale Right applies.
† Indicates Standard VAT scheme applies, and the rate of 20% VAT will be charged on both hammer price and premium.