6 June 2018 Russian Art Auctions
6 June 2018
---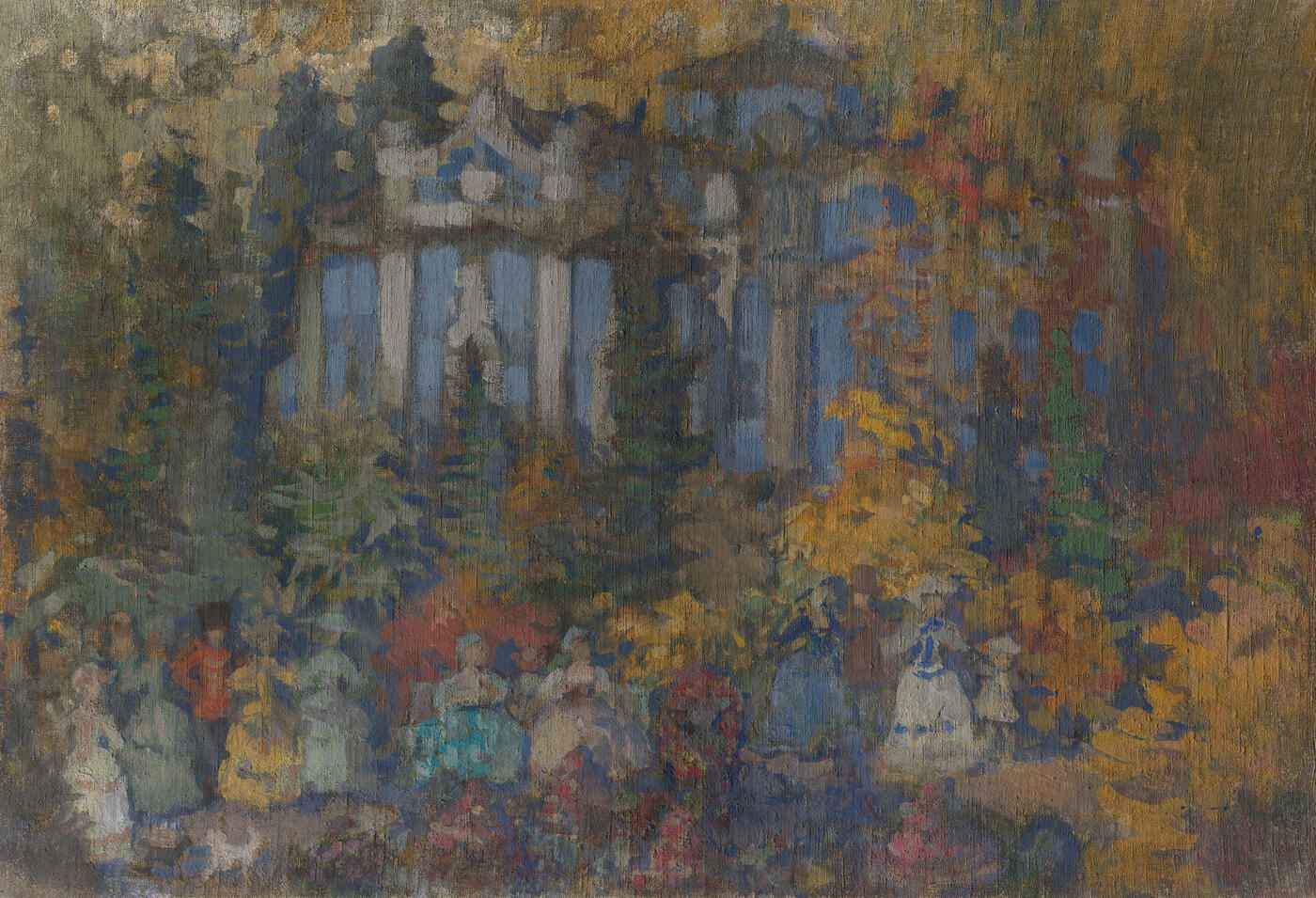 * 22. SAPUNOV, NIKOLAI (1880-1912)
Night-Time Celebration

Tempera and charcoal on canvas, 58 by 85 cm.
200,000-300,000 GBP

Executed in 1907–1908.

Provenance: Collection of Maria Alekseeva (1878–1942), a sister of Konstantin Stanislavsky, from 1911–1912 (label on the reverse).
A gift from the above to her husband Stepan Balashov (1883–1966), an opera singer (label on the reverse).
Collection of S. Balashov, Leningrad.
Thence by descent to the previous owner.
Important private collection, Europe.

Authenticity certificate from the expert I. Gofman.

Literature: Exhibition catalogue, Vystavka proizvedenii N.N. Sapunova (1880–1912). Katalog, Moscow, 1963, p. 27, listed as Teatralnyi siuzhet. Osen, park, gruppa nariadno odetykh guliaiushchikh.

Related literature: For similar works, see I. Gofman, Nikolai Sapunov, Moscow, Novosti, 2003, pp. 92–97, illustrated.

In the 1900s, Nikolai Sapunov created a whole suite of colourful "nighttime festivities", which came to be the supreme embodiment of the theatrical element in his work. The first works started to appear in 1902, when the artist assisted his teacher, Konstantin Korovin, in painting stage sets and earned enough money to make a trip to Europe, taking in Italy, Germany and Austria-Hungary. Today it is impossible to say whether Sapunov was inspired to create his "night-time festivities", but all of them — Night-Time Celebration (1902, State Russian Museum), Night-Time Celebration (1907–1908), now presented for auction, and the Night-Time Celebrations of 1907–1908 from the collections of the Saratov, Kiev and Yerevan museums — are undoubtedly united by a common theme and a special, fascinating rhythm.

In the work now offered, Night-Time Celebration, there is a resemblance to Korovin's paintings, especially his night-time Parisian landscapes: this similarity can be seen both in Sapunov's execution of a dark background with flashes of bright spots, which highlight the figures moving demurely or sitting in the darkness of a night-time park, and in his clear desire for mastery of the brush. But, at the same time, this canvas, like others in Sapunov's series of festivities and masquerades, shows his high regard for the retrospectivism, so characteristic of the World of Artmovement. In the ghostly, surreal light of the "theatre scene", one can see the outlines of a park's marble colonnade in the spirit of Watteau's The Pleasures of the Ball (c. 1715–1717), in front of which people taking a stroll are depicted — ladies in splendid, old-fashioned dresses and even a little dog. A motley crowd, filling the whole foreground, as if entranced by some kind of inaudible music, have taken their seats in pairs, waiting for the dancing to commence.

The very space of the park is theatrical and conventional. The artist's attraction to the theatre was by no means random: sketches for productions, both those that took place and those that did not, predominate in the artist's legacy. It allowed him to draw closer to the ideal of great synthetic art in his easel compositions too. There is, in their decorative effect, the throb of life — not of real life, but of a mirage, illuminated by the fiery imagination of the painter, placed on the stage and lit up by the footlights.

Sapunov's festivities give rise to a special genre of painting. They are executed with tempera and distemper, yet they definitely measure up to oil paintings in terms of the subtlety of their colour relationships. In a multicoloured kaleidoscope of sweeping, opulent brushstrokes — red, dark blue, yellow and green, with many shades and half-tones — the figures and objects seem to melt away into an exquisitely organised pictorial chaos of barely defined, vague shapes that can hardly be associated with anything specific. It was during that period that Sapunov jotted down in his notebook: "Yes, I am peculiar; paint and sound are my idol, my religion; in this lie my joy and my suffering ... I have new words, new harmonies."

The picture's "theatrical" provenance is also noteworthy. It was purchased at an exhibition in 1911 or 1912 by Maria Alekseeva, the younger sister of the world-famous director Konstantin Stanislavsky, and was kept in the family of her descendants for many years.
---
Notes on symbols:
* Indicates 5% Import Duty Charge applies.
Ω Indicates 20% Import Duty Charge applies.
§ Indicates Artist's Resale Right applies.
† Indicates Standard VAT scheme applies, and the rate of 20% VAT will be charged on both hammer price and premium.