29 November 2017 Russian Art Auctions
29 November 2017
---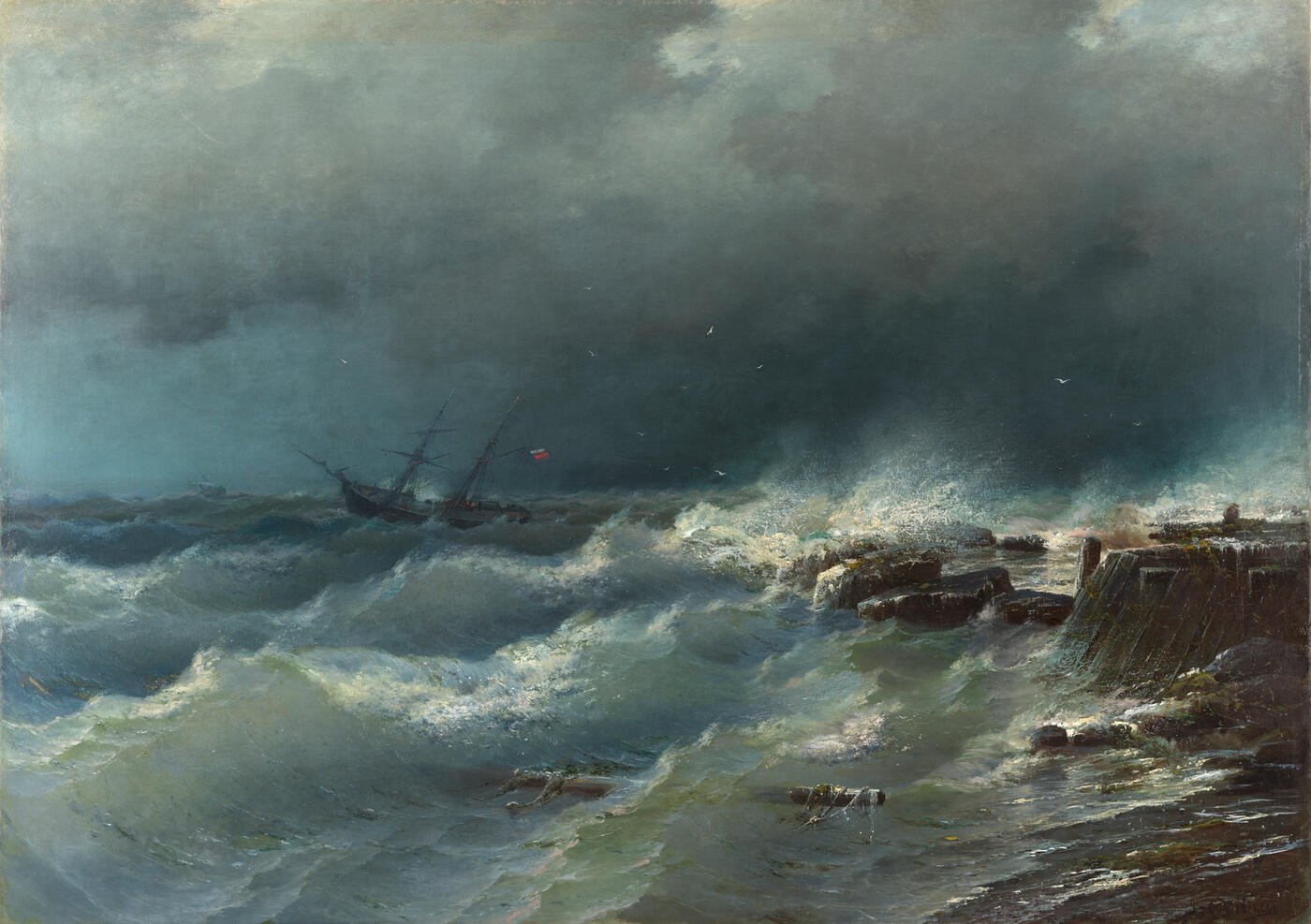 27. SUDKOVSKY, RUFIN (1850-1885)
Storm near Odessa, signed and dated 1881.

Oil on canvas, 180 by 250.5 cm.
400,000-800,000 GBP

Provenance: Collection of Pavel Pavlovich Demidov, 2nd Prince of San Donato (1839–1885).
Important private collection, Europe.

Authenticity of the work has been confirmed by the expert V. Petrov.

Exhibited: Vystavka rabot Rufina Sudkovskogo i Iuliia Klevera. Obshchestvo khudozhestvennykh proizvedenii Akademii khudozhestv, St Petersburg, 1882.

Literature: "Nashi khudozhestvennye dela", Novoe vremia, 22 February 1882, mentioned in the text.
F. Bulgakov, Albom russkoi zhivopisi. Kartiny i etiudy akademika R. D. Sudkovskogo, St Petersburg, 1897, p. 21, illustrated in black and white; p. 3, No. 16, listed.

The alluring distant blue of the sea, the sound of the rising tide and the salty foam of breaking waves were Rufin Sudkovsky's first childhood memories of the southern Ukrainian town of Ochakov, where he was born and grew up. They had a major impact not only on the future artist's course of life, but also on his choice the sea as his favourite subject. The two-metre canvas Storm near Odessa (1881), offered here at auction, reveals the artist's deep understanding of this element and his enchantment with it.

Sudkovsky's professional development was influenced by seascape painters of the previous generation: Ivan Aivazovsky, Alexei Bogoliubov and Lev Lagorio. However, he managed to find his own artistic approach to depicting water in all possible conditions. In contrtast to Aivazovsky, Sudkovsky always painted sea en plein air, producing multiple studies and sketches for his subsequent large-scale paintings. According to his contemporaries, he would spend hours at the seashore, observing the movement of the waves and trying to recreate their structure with mathematical precision.

A kind-hearted and gentle person, Sudkovsky nevertheless preferred to paint the raging elements, such as storms and gales. So realistic are his pictures that one may inadvertently be tempted to shield oneself from the sheer force of a dark rolling wave; or feel the salty taste of seawater. It is an effect of precisely this kind that the artist achieves in Storm near Odessa. Painted when Sudkovsky was already an acknowledged master, it ranks alongside his major works from museum collections, such as Pier at Ochakov, Gale at Sea (both 1881) and Breakwater at Odessa (1885).

In Storm near Odessa Sudkovsky manages to capture the foamy waves breaking on the rocks in an incredibly realistic manner. The white crests of the waves, painted with broad brushstrokes, seem to come to life against the smooth texture of the gloomy, dark sky. The artist succeeds in combining the romantic and epic moods, adding a philosophical dimension to the painting. This tempestuousness invariably communicates to the viewer a sense of solemn grandeur and implacability of the forces of nature.

In February 1882, an art critic for the newspaper Novoe Vremia wrote: "The paintings in the exhibition, Before the Storm in Odessa, Gale at Sea and Storm near Odessa, demonstrate that their painter is a first-rate marine artist. The translucency and brutal force of his waves can easily compete with waves of Aivazovsky, who, it should be noted, displays impressive elegance and a flair for effect, whilst Sudkovsky's seascapes, are undeniably more realistic."

Features that critics and the public particularly valued about Sudkovsky's art in his time, and which still attract interest today, are his commitment to nature, restrained palette and avoidance of certain artistic effects in favour of achieving a greater realism in his works. His paintings almost always sold out at exhibitions, making their way into Imperial properties and major collections, including those of Pavel Tretyakov and the Counts Sheremetev. Similarly, the work on offer here, Storm near Odessa, was acquired directly at an exhibition by Pavel Demidov, Prince of San-Donato and a member of one of Russia's wealthiest families.
---
Notes on symbols:
* Indicates 5% Import Duty Charge applies.
Ω Indicates 20% Import Duty Charge applies.
§ Indicates Artist's Resale Right applies.
† Indicates Standard VAT scheme applies, and the rate of 20% VAT will be charged on both hammer price and premium.